It's often described as Hollywood's biggest party, and on Sunday night the 72nd Annual Golden Globe ceremony lived up to its nickname as film and TV royalty rubbed shoulders with critical faves and newcomers alike — all with access to an open bar.
The big night saw big hitters walk away with honors. "Boyhood," the movie 12 years in the making, was rewarded for all the time invested as the film took the prize for best drama on the big screen. In the best comedy or musical category, it was Wes Anderson's "The Grand Budapest Hotel" that nabbed the win.
Those wins may have surprised some given a recent glitch on the Globes site that had "Selma" and "Into the Woods" taking the gold.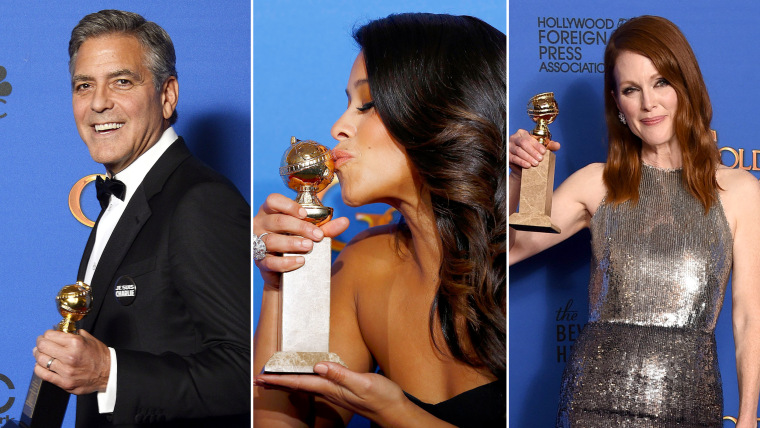 Read more: Bleep, sweat and tears! Your biggest Golden Globes questions answered
But the awards show wasn't just about wins — the Globes offered up a variety of surprises, shockers and oh-so-memorable moments throughout the night.
The real leading ladies
For the third — and evidently final — time, Tina Fey and Amy Poehler took the Golden Globes stage and delivered laughs that ranged from brash to biting. And no subject was off limits — not scandal-plagued star Bill Cosby ("I put the pills in the people," Fey said in her best Cosby voice), or even an A-lister like George Clooney, who got an earful from the gals about getting a lifetime achievement honor when his wife, Amal, is the big achiever in the family.
Read more: No holds barred! Tina Fey, Amy Poehler take on Cosby, Clooney at Golden Globes
As for Mr. Amal …
Clooney took the ribbing in stride, and actually directed a portion of his acceptance speech to his lovely bride. "It's a humbling thing when you find someone to love," he said as he looked out at his wife. "Even better if you've been waiting your whole life."
Shimmer and shine
Each awards season sees a new shade take the spotlight in the form of women's fashions, but this time around, an array of colors — including a patriotic palette of red, white and blue — hit the red carpet. But one look that topped them all was the gleaming assortment of metallic gowns.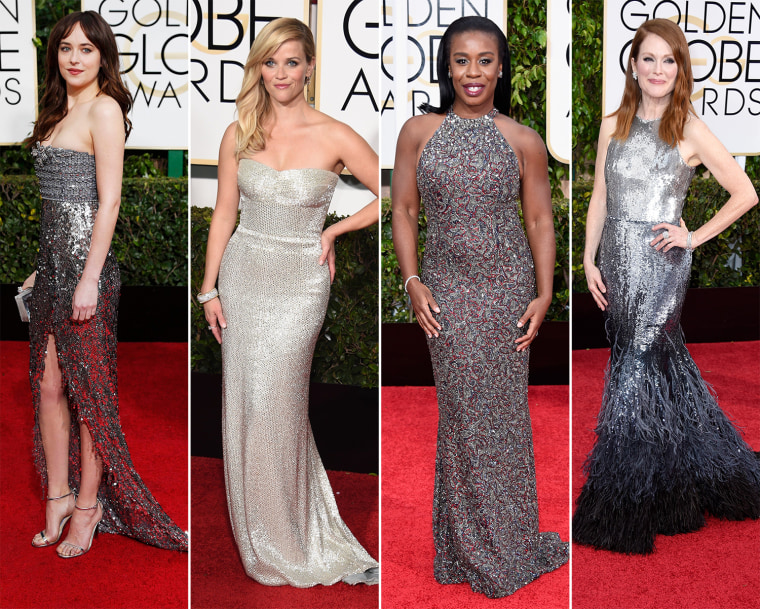 Cumberbombed
There was no ignoring one of the most buzzed-about current events in entertainment: The hubbub surrounding the Kim Jong-un assassination comedy "The Interview." Comedian Margaret Cho, decked out as alternate North Korean leader "Cho Jong-un," mocked the ceremony for a lack of "babies playing guitar" before turning the spotlight to an uncomfortable-looking Meryl Streep for a quick op. But in the end, neither Cho nor Streep was the star of that shot. Perennial photobomber Benedict Cumberbatch had the last laugh.

J.Lo's … awards
When Jennifer Lopez took the stage alongside Jeremy Renner, her co-presenter couldn't help but notice her plunging (and then some) neckline. As she offered to open the winner's envelope, she said, "I've got the nails." Renner shot back, "You've got the globes, too."

Ahem.
Powerful words
Of course, there were those who didn't play it for laughs on the stage Sunday night. For instance, when Jill Soloway accepted the best TV comedy honor for "Transparent," she offered a heartfelt nod to a transgender Ohio teenager who recently took her own life. "This award is dedicated to the memory of Leelah Alcorn and too many trans people who die too young," said Soloway.
Royal flush
As if there weren't enough glitz and glam for one evening, Prince — decked out in shining rock-worthy suit and a diamond-studded cane — decided to pop in and make a surprise appearance as a presenter. Needless to say, the crowd went wild.

What a night!

Be sure to check out the complete winners list for the 2015 Golden Globes here.
Randee Dawn and Ree Hines contributed to this story.