"Night at the Museum: Secret of the Tomb" actor Ricky Gervais is having a very good Thursday. For one thing, he got a brand new Golden Globe nomination for his Netflix series "Derek." And secondly, he's discovered a new lesson about drinking: It's never too early to start when you're sitting with Kathie Lee Gifford and Hoda Kotb on TODAY.
"That's pretty amazing," he said when they congratulated him on his latest honor. (Gervais already has one Globe award for the British version of "The Office," and earlier this year, he earned an Emmy nom for "Derek.") "First the Emmy, then this ... I'm really, genuinely blown away."

Gervais said he was still in bed in his hotel room when the Globe nominations were announced Thursday morning, and he was zinged by the ladies for being a late riser. 
"You get up earlier than me, but I start drinking later, usually," he grinned, referring to the large glasses of wine on the table. "I have more hours sober. I've been wasting my life. I've been giving myself a 6 o'clock watershed, and now I feel stupid."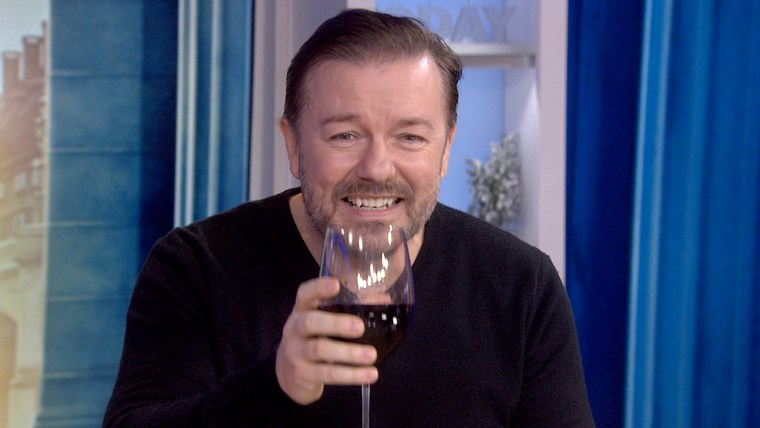 However he feels about imbibing during the early hours, Gervais is definitely not stupid to return to the "Night at the Museum" franchise, in which he's played museum director Dr. McPhee in all three films.
"I usually ad-lib," he confessed about the role. "It's silly. I love that character — cause he's one of those guys that isn't as witty as he thinks he is and isn't as funny and isn't as smart as he'd like to be. ... I love those socially awkward people. ... I've never been one to be embarrassed; I'm usually embarrassed for other people!"
"Night at the Museum: Secret of the Tomb" opens in theaters on Dec. 19.