When the Golden Globe nominations came out Thursday morning, there were numerous actors nominated for playing real people. The list includes Idris Elba as Nelson Mandela in "Mandela: Long Walk to Freedom," Emma Thompson as "Mary Poppins" author P.L. Travers, Chiwetel Ejiofor as enslaved Solomon Northup in "12 Years a Slave," Tom Hanks as Captain Richard Phillips in "Captain Phillips," and Matthew McConaughey as AIDS sufferer Ron Woodruff in "Dallas Buyers Club."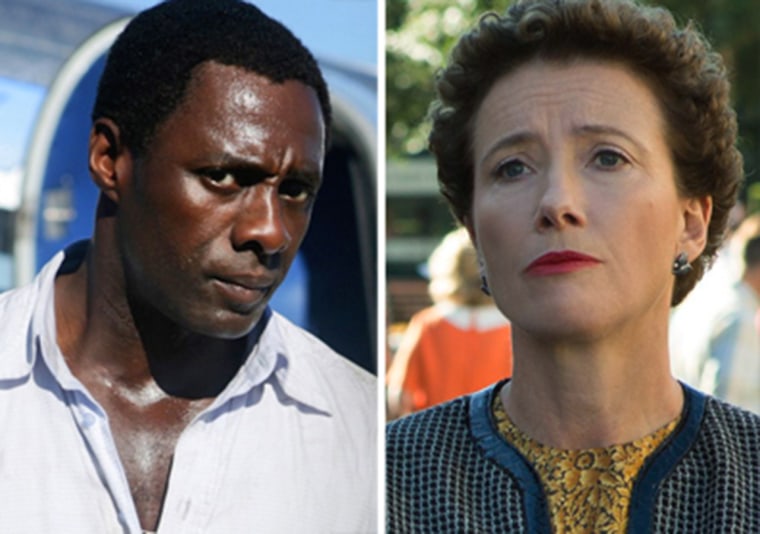 Actors are usually rewarded for creating characters, but for those playing real people, it's a delicate dance between making a part your own and respecting the real-life person whose life you're portraying onscreen. As the nominations show, many actors succeeded at that task this year, but none better than Elba as Mandela and Thompson as Travers.

Elba had perhaps one of the toughest tasks, playing Mandela, a beloved leader whose face and voice are incredibly well-known. 

"For someone who doesn't look like Mandela you have got to work harder to get the audience in there,' he said before the film's premiere, which took place just as news of Mandela's death broke.
But Elba's appearance is all but forgotten when he begins to speak and act. As Mandela ages, Elba acquires not just the careful walk and movements of a man in his 70s, but the stoop and stiffened mannerisms that a man might have acquired after decades of imprisonment in cramped cells and at hard labor. 
When he's finally brought forth from prison to meet with white South African leaders, now feeling the pressure of worldwide anti-apartheid outrage, he majestically arranges himself in a chair and suddenly, it's clear who the true leader in the room is.

Thompson has a different challenge. Even those who have every word of "Supercalifragilisticexpialidocious" memorized probably don't have any idea what the "Mary Poppins" author looked like or how she acted. 
But Thompson does an amazing thing. She pulls out the Travers who created Mary Poppins by acting astonishingly like a real-life version of the fictional nanny. When a bellboy asks if he can unpack her things, she snips, "Young man, if it is your ambition to handle ladies' garments, may I suggest you take up employment in a laundrette." If you close your eyes, you can easily envision Thompson's line delivery coming from Julie Andrews' mouth in a deleted scene from the movie. 

We won't know until Jan. 12 if Elba, Thompson or any of the other actors who took on real-life roles will take home the trophies. But in the meantime, a trip to the movies this month can mean a trip back into history.