Ahead of Thursday night's new episode of "Glee," the superintendent of schools in Newtown, Conn., sent out a letter to families warning them about the show.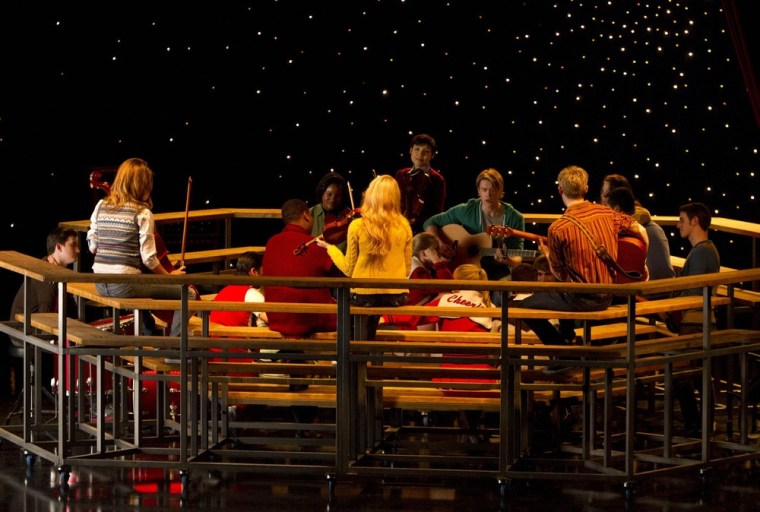 The reason? The plot centered around a school shooting. 
The letter, obtained by WNBC, reads:
Greetings,
I want to make you aware that the show "Glee" is featuring what could be a disturbing plot tonight and I want you to be aware so you can make an informed choice about watching this.  According to entertainment blog TVLine, tonight's episode includes shots in the halls "that rips the frothy high-school musical off its foundation and transports it to a dark and harrowing world."  "Allegedly, the rest of the episode is claustrophobic and emotionally charged, as students cower in the rehearsal room and consider their possible fates."
This has the potential to be disturbing to many of our students, so I wanted you to know ahead of time.
Janet Robinson
Superintendent of Schools
On Dec. 14, 2012, 20-year-old Adam Lanza shot and killed 20 children and six adults at Sandy Hook Elementary School in Newtown before taking his own life.
While no one was hurt on Thursday's episode of "Glee," titled "Shooting Star," the students of William McKinley High found themselves in a horrifying situation when a gun went off at the school.
The episode was emotionally harrowing, depicting terrified students crouching together, crying and fearing for theirs lives and those of their friends who weren't with them.
Much of it focused on the teens who were hiding in a darkened choir room trying to reach out to family and friends via text — yet jumping when cell phones rang or buzzed, worried that the shooter might hear the slightest noise they made.
In several heartbreaking scenes, the show was seen through cell phone cameras as students recorded final messages for their loved ones.
In the end, it was revealed that Becky (Lauren Potter), a student with Down syndrome, had brought her dad's firearm to school to protect herself. While showing the weapon to Coach Sue Sylvester (Jane Lynch) in her office, the gun accidentally went off in Becky's hand, and then fired again as it hit the floor after she dropped it.
When police could not find the gun after searching the school and interviewing students, Coach Sue told Principal Figgins that the incident was her fault. She claimed she was doing a daily safety check on her gun when it accidentally went off, and that she had dumped the casings in a lake and moved posters to hide the bullet holes. Due to a zero-tolerance policy toward firearms, Coach Sue was let go.
What did you think  of the episode overall? Share your thoughts on our Facebook page.
Related content:
More in The Clicker: