Newt Gingrich, former speaker of the U.S. House of Representatives, was a leader of the Republican Revolution of the 1990s and an author of the conservative book "A Contract with America." In his follow-up with environmentalist Terry Maple, "A Contract with the Earth," Gingrich turns his attention to the the environment. Here's an excerpt:

Preface
Why We Are So Committed to a Contract with the Earth
Terry Maple and I share a lifelong passion and persistent curiosity about the natural world.
In our childhoods, separated by the breadth of our great nation, in California and Pennsylvania, respectively, we spent countless hours outdoors examining the wealth of small creatures living in our midst.
We explored the hills, canyons, lakes, and streams near our homes and pestered our parents to take us to the region's natural history museums, nature centers, and zoological parks. In such places, we found inspiration, knowledge, and perspective. The environmental philosophy we espouse derives from an enduring respect for wildlife in all its splendid diversity. We are personally diminished by the loss of each and every species or essential habitat that cannot resist extinction.
As I travel the globe, I continue to visit local national parks, reserves and designated wilderness habitats, natural history museums, botanical gardens, aquariums, and zoos. Even when joyfully in the company of charismatic wildlife, I am reminded constantly that our failure to resolve serious environmental challenges will compromise the lives of our children and our grandchildren. However, if we engage our citizens and pull together in the same direction, I am confident we will avert a catastrophe and successfully renew the earth to its natural condition of abundance and vitality.
Environmental stewardship is everyone's responsibility, including Congress's. That is why I worked so diligently as Speaker of the House to protect the Endangered Species Act, historic legislation that has been mired in some controversy. Despite its flaws — and there are some — it is an essential conservation tool. In my evaluation of the legislation, I sought the advice of leading biologists such as E. O. Wilson and Thomas Eisner, esteemed members of the National Academy of Sciences. Good government depends on the counsel of our nation's best scientists. The Endangered Species Act is an excellent example of the value of civility, consultation, and collaboration. Mediation and compromise by interior personnel in the field (by contrast with office bureaucrats) have produced good results, a function of shared values and democratic ideals.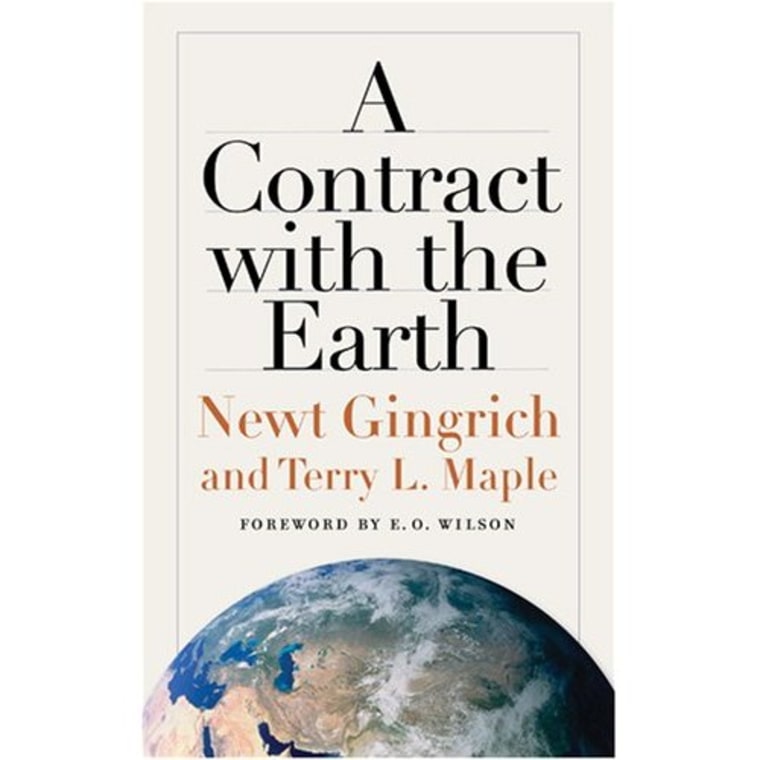 An early example of private-public partnerships emerged in Atlanta during the late 1980s, with the Atlanta Zoo's transformation from a rundown failing city zoo into a privatized, world-class facility rebranded Zoo Atlanta. Atlanta's local government recognized the need to restructure the zoo as a nonprofit organization with the assistance of Atlanta's entrepreneurial business community. Zoo Atlanta quickly became one of the most successful conversions of a zoo from government to nonprofit management. Terry Maple served as the founding president and CEO, responsible for administering the reforms of the new private-public partnership. He served nearly two decades as an entrepreneurial environmentalist, battle-tested on the front lines of conservation. We both recognize that world conservation will benefit from merging private and public interests, as entrepreneurial partnerships are incorporated to serve the common good.
Americans must reach a broad-based agreement on the environment. Adversarial politics has prevented a strategic consensus from driving our nation's environmental vision. As a result, we have become a conflicted, confused, and timid polity when it comes to environmental concerns. Historically, America has been a decisive nation. We must now take the necessary steps to return our country to a position of leadership on the environment. It is not too late to make a difference. Although I was trained for a career in academe, I've spent my entire adult life immersed in politics. I am convinced, however, the environment is an issue that transcends politics. Americans deserve candor on this subject: why the environment is so important to all of us, and why the time has come to act on what we know.
Environmental leadership requires the ability to look beyond stereotypes. Environmentalists are not exclusive to one political philosophy. It is quite possible to be a green conservative; indeed, a conservative philosophy is highly compatible with the mainstream, or entrepreneurial, environmentalism that Terry and I advocate. I am not surprised that liberal thinkers have also promoted green enterprise. Business is no longer regarded as an adversary to a clean environment. Rather, global industries are the source of brilliant, workable solutions to vexing environmental problems. There should be no exclusivity when it comes to the environment; everyone is welcome at the table, and everyone is needed.
No single enterprise, event, or idea will renew the earth. Instead, I believe it will take a movement composed of dedicated citizens who can see the world in a new way and who will work together to bring about revolutionary changes in the way we conduct our lives. A Contract with the Earth aims to inspire a commitment to protect the integrity of the natural world and to usher in a promising age of environmental problem solving.
I will continue to articulate and address these issues in my public life, and I invite you to participate in a continuing dialogue. Please tell us your story share your thoughts and experiences by going to www.contractwiththeearth.com and work with us to restore and protect the good, green earth that our Creator has provided.
— Newt GingrichExcerpted from "A Contract with the Earth" by Newt Gingrich and Terry Maple. © 2007 The Johns Hopkins University Press. All rights reserved. No portion of this may be reproduced or distributed without permission of the Johns Hopkins University Press.