One of the highlights of "Gilmore Girls: A Year in the Life" was seeing Luke and Lorelai back together. And when Scott Patterson visited TODAY with co-stars Lauren Graham, Kelly Bishop and Alexis Bledel Tuesday, we caught up with the actor to talk more about his return to Stars Hollow.
Patterson said his favorite moment for the TV couple involves the poignant speech Luke delivers to Lorelai in the "Fall" episode of the newly released Netflix revival (SPOILER ALERT).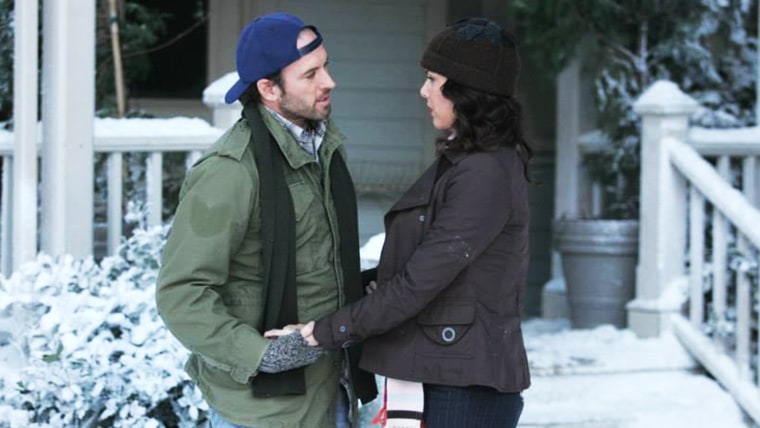 "In the kitchen, that's my all-time favorite Luke and Lorelai scene," he said. "She comes back and he thinks she's going to dump him, so that is the scene for my character and for the relationship. I knew it was my favorite when I read it, and it worked out really well."
Patterson is also partial to the very first scene they shared in the pilot of the original series.
"'Please, please, coffee coffee,' that was kind of my favorite," he shared.
However, there was one aspect of their romance that he'd have done differently.
"I didn't like that she proposed to me; I wanted to do that," he said. "I didn't like that. Luke's a traditional guy. That threw him off."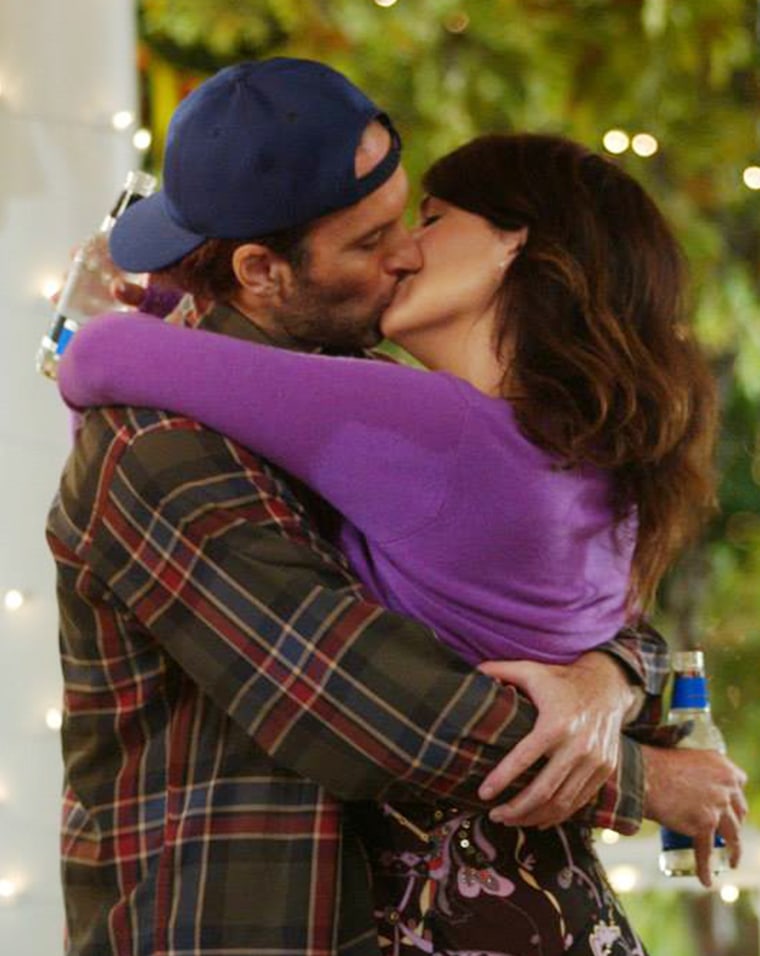 So, what's next for Luke and Lorelai?
"Grandparents? Kind of looks that way," Patterson said, referring to Rory's surprise pregnancy announcement that ends "Fall." "I just think they go on, in stormy weather, stormy seas, the tough, tough climbs, but they always manage to end up together somehow. I think that's their chemistry, you know? I think their chemistry is so pure and so strong, that's why it drives the two of them a little nutty sometimes. So inevitably it's a very passionate, sort of fighty relationship and headbanging and conflict, but they always end up together, because they love each other."
RELATED: More 'Gilmore Girls'? See what the cast had to say on TODAY
Lorelai, of course, had her share of love interests prior to Luke. Asked which of Luke's rivals he liked the least, Patterson named her Season 4 flame, with the unforgettable nickname.
"I think I was supposed to hate Scott Cohen, Max Medina, the most — the character hated him the most — but I liked Scott so much as a guy. Maybe Digger, because I just didn't get it. What the hell was that all about? Just the name alone, right? Digger."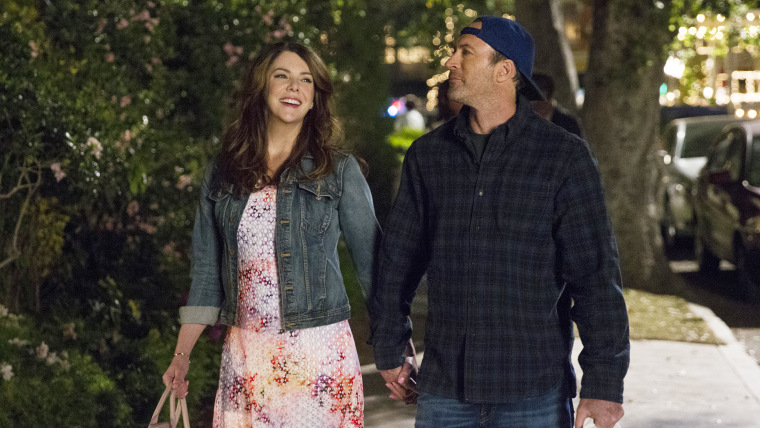 As for Rory's romantic future, Patterson said he hopes the baby's father — whose identity wasn't revealed in the revival's cliffhanger — is "somebody who's going to be available." He added, "You know, somebody who's not on a hit series, who can actually do the next one, know what I mean? So gosh, it's kind of a tossup."
Patterson said he can relate to Luke in some ways, but there's one key difference.
"I'm most like him in that I'm very loyal, and the people that I have in my life that I love, I love them very deeply, like Luke. But I am unlike him temperamentally. You know, he's wrapped a little tight, that guy, so I'm not like that at all. I can be like that, but I'm usually a lot looser than that guy."
RELATED: Look at how much fun 'Gilmore Girls' fans are having watching new episodes
Patterson, who estimates that the grouchy plaid-clad Luke's Diner proprietor owns "probably 10" of his signature flannel shirts, admitted he's stolen a few items from the "Gilmore" set over the years.
"Everybody does — hats, menus, whatever you can sneak out of there," he said. "They do check your trunk sometimes when you leave that studio, especially in the last couple years, but during the run of the (original) show, we were pinching stuff left and right; it was beautiful."
Patterson said Luke's Diner would probably get only three stars on Yelp, explaining, "People would complain that he's grumpy or something." But what would Luke be doing if he weren't running Luke's?
"Running a pancake house," suggested Patterson. Or, "being the lead singer of a rock band."
RELATED: 15 perfect gift ideas for fans of 'Gilmore Girls'
Patterson himself just released a single, "Haha Song," with his own band, SmithRadio (hear it here) — and he says Luke would be a fan.
"He would love it," Patterson said. "He really has good taste. He'd rock out to it, because it's got a bit of a throwback sound to it, like an '80s punk sound, but it's a little more elevated, a little more sophisticated with a little glam in it, a little Bowie." He continued, "Yeah, I think he'd be in the front row with his shirt off, rocking out after having a horrible fight with Lorelai."