Giada De Laurentiis is showing off some of her favorite recipes, including parmesan pork chops and a lemon pesto shrimp roll. But what makes these dishes so special? They all feature five basic ingredients. With lemon, parmesan cheese, olive oil, chicken broth and cannelini beans, you will have the basics you need to create these three tasty dishes. 

Parmesan pork chops with piquillo pepper mash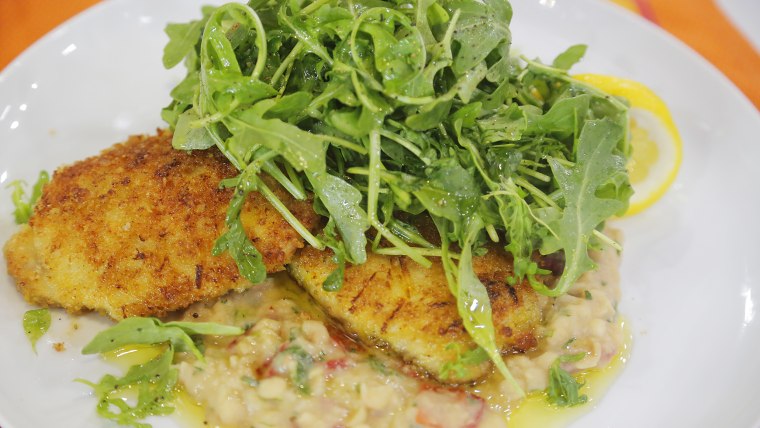 2 (15.5-oz.) cans of cannellini beans, drained and rinsed
1 cup low-sodium chicken broth
1 teaspoon ground cumin
8 piquillo peppers, diced
2 tbsp. extra-virgin olive oil, plus 1 tsp.
2 tbsp. Italian parsley, chopped
2 tsp. kosher salt, divided
1 cup panko breadcrumbs
2/3 cup parmesan cheese, grated
2 tsp. lemon zest (from 2 large lemons)
3 eggs
1/3 cup flour
8 boneless center cut pork chops, cut 1/3 inch thick
2 cups baby arugula
1 tsp. lemon juice (from half of 1 large lemon)
Add the cannellini beans, chicken broth and cumin to a medium saucepan. Bring to a simmer over medium-high heat. When the mixture begins to simmer, start mashing the beans with a potato masher or a fork. Continue to simmer the mixture, mashing and stirring occasionally, until it has thickened slightly (about 5 minutes). Using a rubber spatula, fold in the piquillo peppers, 2 tbsp. olive oil, parsley and 1/2 tsp. salt. Set aside. The mixture will continue to thicken as it sits.
In a shallow bowl or pie plate, mix together the panko, cheese, lemon zest and 1/4 tsp. salt. In a separate shallow bowl, whisk the eggs. Place the flour and 1/4 tsp. salt in another separate bowl. Season the chops on both sides with 3/4 tsp. salt. Dredge each chop in the flour, then egg, followed by the parmesan mixture. Be sure to press the cheese mixture onto the chops to coat well. Continue until all chops are coated.
Preheat a large skillet over medium-high heat. Add enough olive oil to coat the bottom of the pan, and warm for another minute. Carefully add the chops to the pan, cooking in batches if needed — be sure to not crowd the pan. Cook each pork chop for about 3 minutes per side or until golden brown and crispy. Remove from the pan and drain on a paper towel. Continue with the remaining pork if needed.
In a medium bowl, toss together the arugula, lemon juice, 1 tsp. olive oil and the remaining 1/4 tsp. of salt.
To serve, spoon a bit of the mashed cannellini beans in a circle on the plate. Place two parmesan chops criss-crossed on top of the purée. Top with a handful of the salad. 
Salmon in lemon brodetto with white bean purée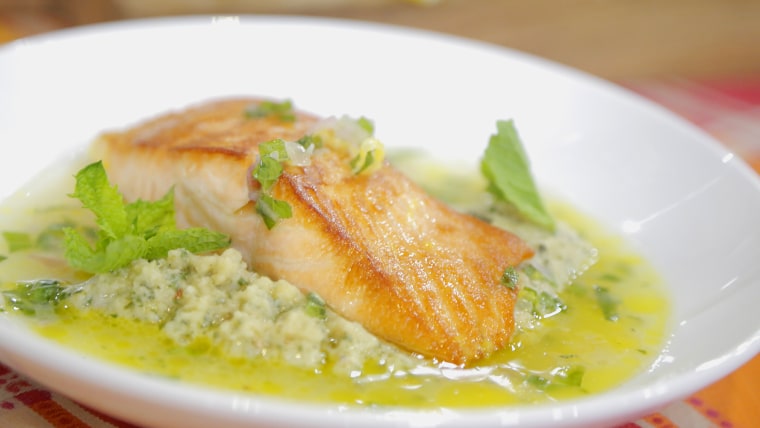 For the lemon brodetto:

2 tbsp. olive oil

1 shallot, diced

Juice of 2 lemons

Zest of 1 lemon

2 cups chicken broth

1 tbsp. fresh mint, chopped

Warm the olive oil in a medium saucepan over medium heat. Add the shallots and sauté until tender (about 7 minutes). Add the lemon juice, zest and broth. Bring to a simmer, and keep covered and warm over low heat.
For the white bean purée:
1 (15.5-oz.) can cannellini beans, drained and rinsed
1/3 cup fresh mint leaves, chopped
1/8 tsp. kosher salt
1/4 tsp. red pepper flakes
1/2 cup extra-virgin olive oil
1/3 cup parmesan cheese, grated
Combine the beans, mint, salt and red pepper flakes in a food processor and purée. With the machine running, add the olive oil in a steady drizzle. Add the parmesan cheese and pulse to combine. Set aside.
For the salmon: 
4 (4- to 6-oz.) pieces of salmon

1/4 cup olive oil
Kosher salt 
Freshly ground black pepper
Warm the olive oil in a large, heavy skillet over high heat. Season the salmon with salt and pepper, and sear until a golden crust forms (about 4 to 5 minutes on the first side). Flip the fish and continue cooking until medium-rare (about 2 minutes or more depending on the thickness of the fish).
To assemble: 
Add 1 tbsp. of chopped mint to the lemon brodetto and divide between 4 shallow dishes. Place a large spoonful of bean purée into the center of each bowl. Place a salmon piece atop each mound of bean purée. Serve immediately.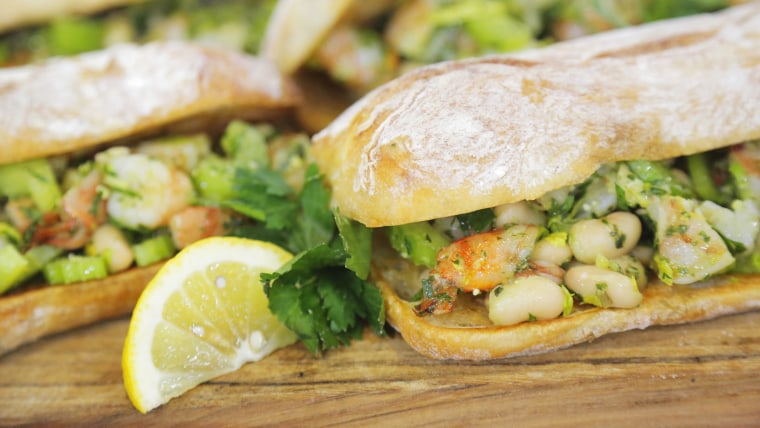 Lemon pesto shrimp roll

For the pesto: 
1 cup basil leaves
1/2 cup Italian parsley leaves
1 clove garlic
1 tsp. lemon zest (from 1 large lemon)
2 tsp. lemon juice (from half of a lemon)
1/4 tsp. kosher salt
1/4 cup parmesan cheese
1/3 cup extra-virgin olive oil
Place the basil, parsley, garlic, lemon zest, lemon juice, salt and parmesan in the bowl of a food processor. Pulse until coarsely chopped. With the food processor running, drizzle in the olive oil until the mixture is combined and forms a smooth sauce.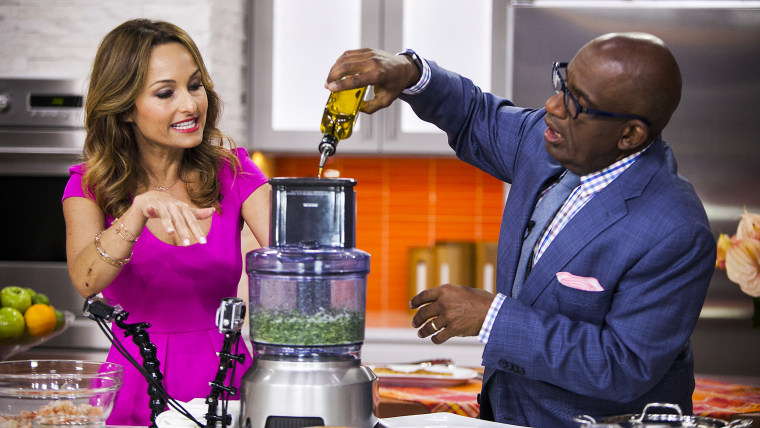 Pour into a small bowl and place a piece of plastic wrap directly on the surface of the pesto. Set aside.

For the shrimp: 

1 cup white wine
2 cups low-sodium chicken broth
5 sprigs of tarragon
1/4 cup extra-virgin olive oil
1/4 tsp. kosher salt
1 lb. extra-large shrimp, peeled and deveined (26 to 30) 
Add the white wine, chicken broth, tarragon, olive oil and salt to a medium saucepan.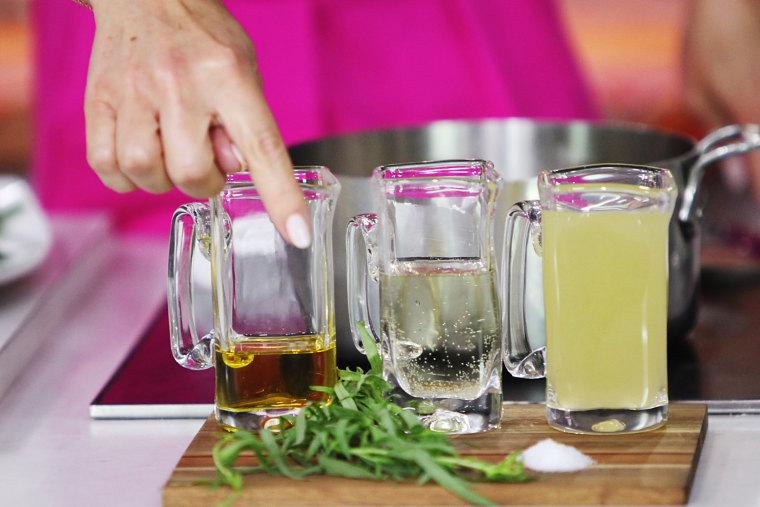 Place the pan over medium heat and bring to a simmer. Simmer to infuse the broth (about 5 to 7 minutes). Place the shrimp in a large heatproof bowl. 

Pour the hot poaching liquid over the shrimp, making sure the shrimp are completely submerged, and cover the bowl with plastic wrap. Allow the shrimp to poach for 10 minutes. Remove the shrimp from the broth and allow them to cool completely.
For the salad: 
2 tbsp. celery leaves, chopped
2 tbsp. parsley leaves, chopped
2/3 cup celery, chopped into 1/3-in. pieces
1/3 cup cannellini beans, drained and rinsed
4 small ciabatta rolls, split horizontally
3 tbsp. mayonnaise
Chop the shrimp into bite-sized pieces and place in a medium bowl. Add the celery leaves, parsley, celery and white beans.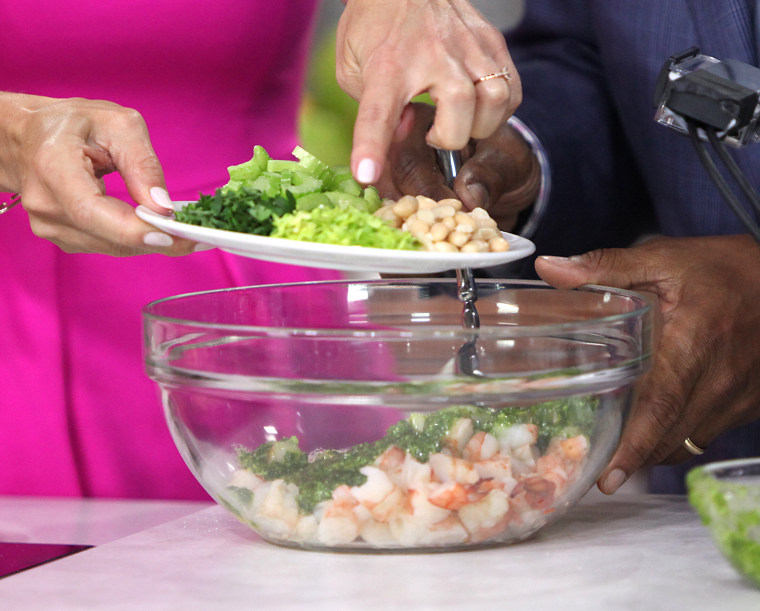 Toss gently with a rubber spatula to combine. Add 1/4 cup of the pesto to the salad and lightly toss just to coat. 

To assemble the sandwiches: 
Preheat the broiler to high. Brush each cut side of the ciabatta with 1 tsp. mayonnaise. Place on a baking sheet, cut side up, and broil until golden brown (about 3 to 4 minutes). 
Divide the shrimp mixture evenly among the bottom halves of the ciabatta rolls. Drizzle with more pesto if desired, top with the other half of the roll and serve.