If you think wielding proton packs and dodging globs of ectoplasm make for a strange job, just wait until you find out what the women of "Ghostbusters" were doing before their entertaining careers.
Melissa McCarthy, Kristen Wiig, Kate McKinnon and Leslie Jones paid a visit to "The Ellen DeGeneres Show" Wednesday and shared their less-than-star-studded past jobs — which, for Jones, involved being a telemarketer for the Church of Scientology.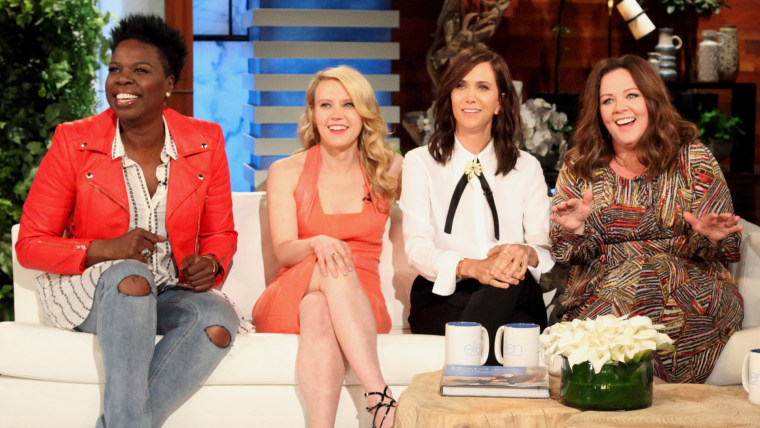 "Uh, yeah, they kinda still don't know I'm not a Scientologist," she said to the amusement of her co-stars. "I lived in Glendale, I needed to pay the rent and it was a very easy interview. I just acted crazy!"
MORE: 'Ghostbusters' cast visits Boston children's hospital in costume
Then McKinnon confessed to once taking a job she wasn't exactly qualified for.
"Umpire ... for little league," she recalled. "In retrospect, should have brushed up on the rules of softball before litigating them. But I didn't. Oh, I got yelled at! Oooh, they did not like my calls — and they were bad, bad calls."
MORE: Surprise! TODAY's Al Roker featured in new 'Ghostbusters' trailer
And Wiig?
"I was an umpire for a Scientology baseball team," she deadpanned.
But really, Wiig and McCarthy were much more interested in talking about the actor who took the job as their receptionist in "Ghostbusters" — the always-easy-on-the-eyes Chris Hemsworth.
Just the mention of his name had all of the ladies exclaiming something that sounded like "maaahwaaahaaaw!"
We totally understand.
Follow Ree Hines on Twitter.