"Ghostbusters" fans, get ready for some more sliming: Dan Aykroyd told TODAY on Monday that the third installment in the classic franchise is gearing up for an early 2015 start.
"It looks like we'll be in pre-production in the spring now, from what I'm hearing," he told Carson Daly during his visit. "It should be good."
That kind of news should make fans feel a lot like this: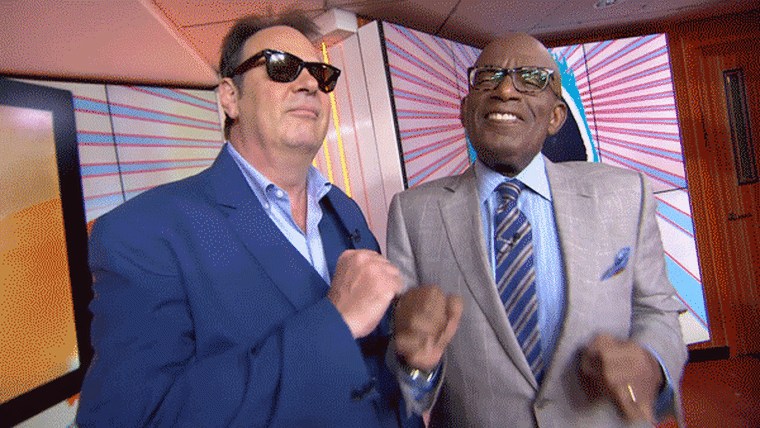 And it is news of a sort, since information on "Ghostbusters III" has long been full of rumors. The film has an IMDb page with Aykroyd and original director Ivan Reitman attached as producers, but casting and other details have been hard to come by. Back in 2012 Akyroyd talked about making a third film in an interview with Empire magazine, but Bill Murray was not interested in participating. Since that interview, one of the original film's co-stars, Harold Ramis, has passed on — throwing another wrench into the possible third film.
But 30 years on from those original films (the 1984 mega-hit was followed up in 1989), Aykroyd still apparently has fond memories of moviemaking in New York City. "We owned the city here for a while!" he said.
"The first day we went out and were stealing shots all over Manhattan. No permits, nothing," he said. But when the actors strapped on their big ghostbusting "rigs," he said, "it was pandemonium. Because people didn't know what we were yet. And here we are with the packs and the tube, that green tube that we have there. You know what that's for?"

He paused, and nodded knowingly, "When you see a ghost, you get scared, sometimes you lose it...."
Check out the video to hear about Aykroyd's newest film, "Get On Up," and hear his thoughts on the loss of the great James Garner, whom he worked with in 1996's "My Fellow Americans."