A robotic dog, a talking kitchen and Furby is back but now his facial expressions change with his moods, a feature called "emoto-tronics." These are just some of the hot toys that made the top 10 holiday lists generated by magazine publishers and retailers. But are these electronic wonders really any better than toys that didn't make the list? Maybe it's just time to take a serious look at the alternatives, and consider some good, old-fashioned, clean fun.
Good clean funWell, some of it is not that clean. Take, for example, Disgusting Science courtesy of Scientific Explorer. Packaged in a simple Ziploc bag — considered by some scientists the best invention since the test tube — the contents even smell gross when you open it. The kit comes with 4 Petri dishes, 4 cotton swabs (another useful device), a balloon, a magnifying glass andmost of the ingredients you'll need to make some "sickening slimy snot," mix up a batch of flatulent yeast or coagulate some fake blood, and more. You may have to round up some additional household items, such as a small saucepan, cooking oil and vinegar, to conduct the experiments. Recommended for ages 8 and up, the kit costs $15 and requires adult supervision.
Instead of supplying the ingredients for specific concoctions, a similar kit Bacteria Farm, released last year bySmartLabs, encourages independent experimentation. The company provides the Petri dishes, a few cotton swabs and some powdered gelatin for $12.99. Budding microbiologists, ages 8 and up, have to track down the bacteria. A few places likely to have a rich selection of samples include: "between your toes, inside your nose, on the soles of your shoes, behind your ears or someone else's (if they cooperate)," according to the 24-page book "The Good, The Bad and The Ugly," included with the kit, which explains the science of bacteria. Most adults can even learn something new from the colorful pamphlet. Did you know there are millions of bacteria in one drop of spit and that a debate among scientists still rages if Martian bacteria was indeed found on a meteorite that fell to the Earth?
Aspiring botanists may prefer a tabletop terrarium from Dune Craft. But watch out for those green thumbs. Seeds for 10 varieties of meat-eating plants, including a Venus Fly Trap, a Purple Pitcher Plant and Cobra Lilies, come with the plastic terrarium Carnivorous Creations. Actually, there's no need to worry about those precious thumbs — the carnivorous plants pretty much stick to a diet of bugs and meat. "They won't eat human hands, and snakes are too big for them" says a company representative. The plants favor hamburger. "But any meat will work," she adds. The terrarium retails for $24.99.
Not just for girls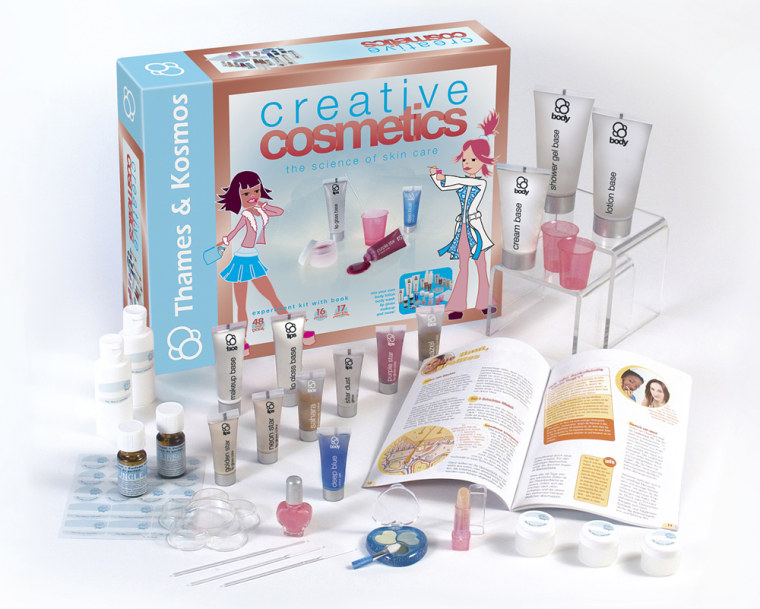 Science doesn't have to be gross to appeal to kids. A new kit from Thames & Kosmos called Creative Cosmetics teaches kids about the science behind the largest and heaviest organ in the body: the skin. The cosmetic kit is a bit pricier than its gross counterparts at $59.95. But it comes with enough equipment and ingredients — along with common household ingredients —to mix up a variety of cosmetic products, including body lotion, shower gel and lip gloss. Recommended for ages 12 and up, Creative Cosmetics is "primarily for girls … but by no means exclusively for girls," says the 48-page book about the science and history of cosmetics included with the kit.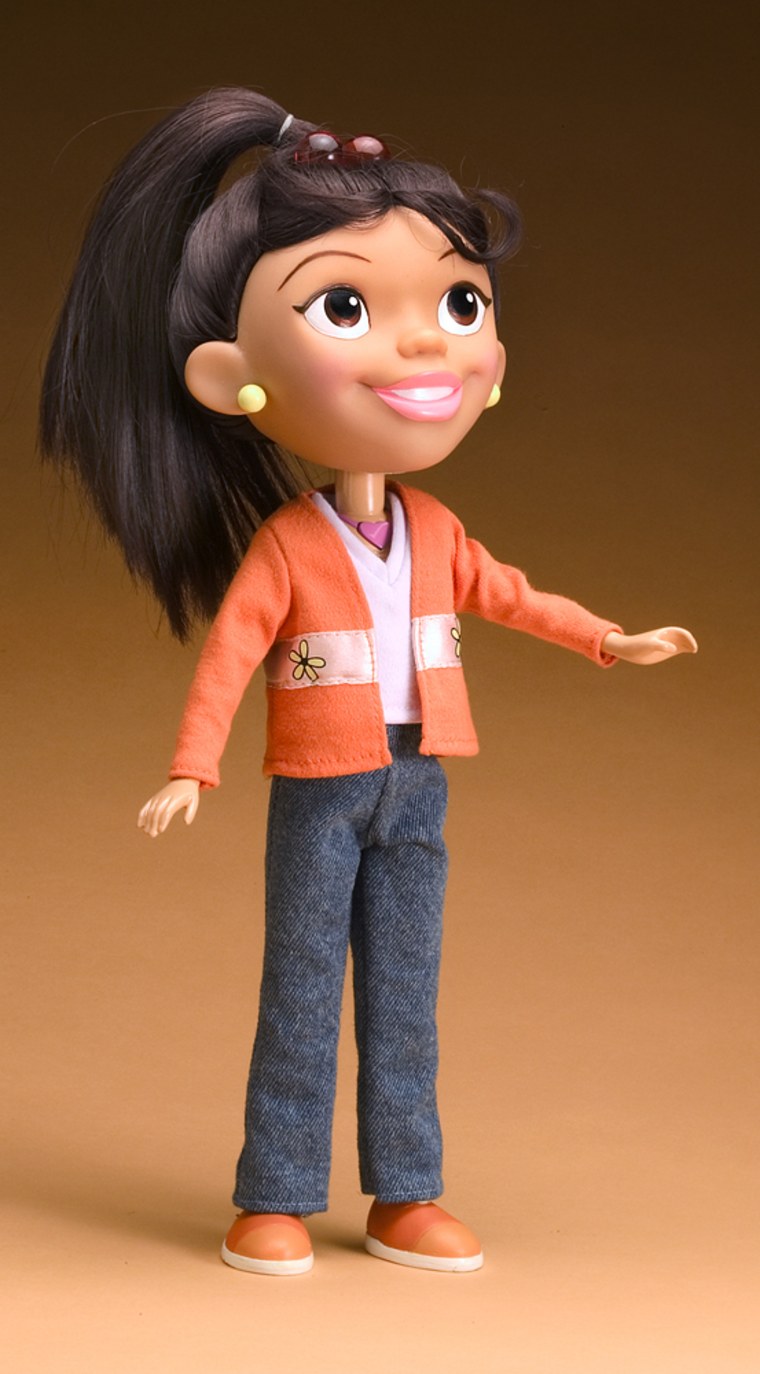 Science kits may have come along way but unfortunately it's still a challenge to find dolls that reflect the diversity in the human population. Enter: Eso Es! Maya or That's it! Maya, a product of Toy Play LLC. Priced at $24.99 and recommended for ages 4 to 8, the 14-inch pose-able doll is based on the character in Scholastic Entertainment's animated series on PBS "Maya & Miguel." The show features 10-year-old Hispanic twins Maya and Miguel Santos.
Yes, she's electronic but she is also bilingual. Press the small pink locket on Maya's neck and she speaks a mix of 10 English and Spanish phrases. "Hola, me llamo Maya;" "Que pasa?" and "I have an idea" are just a few expressions among her repertoire. Like Maya on the show, the doll's ponytail spins when she has a great idea, or actually every time she speaks. And what's a doll without accessories? A change of clothes and shoes plus some cool accessories are included.
Get SmartOf course, spy stuff is always cool. And in honor of Don Adams (1923-2005), a.k.a. Maxwell Smart on "Get Smart," it's hard not to mention spy toys this year. Toy company Wild Planet does not yet make a shoe phone like the one Smart used on the 1960s television show but the toy company released five new products this year, all designed for spies 6 years old and up.
High-tech security system Lazer Tripwire, $29.95, is comprised of red laser beams "just like banks and museums use!" according to the description on the box. The Spy Night Patrol-Listener, yellow-tinted, night-vision goggles priced at $19.95, has a special listening device attached. The Spy Nightwriter, which costs $16.95, not only produces a super-bright blue light but also spell outs messages in the air. The Spy Pen-X2, $14.95, doubles as a voice recorder. And the kid-designed, wrist-mounted Spy Light Hand, $6.95, puts "illuminating power right at your fingertips."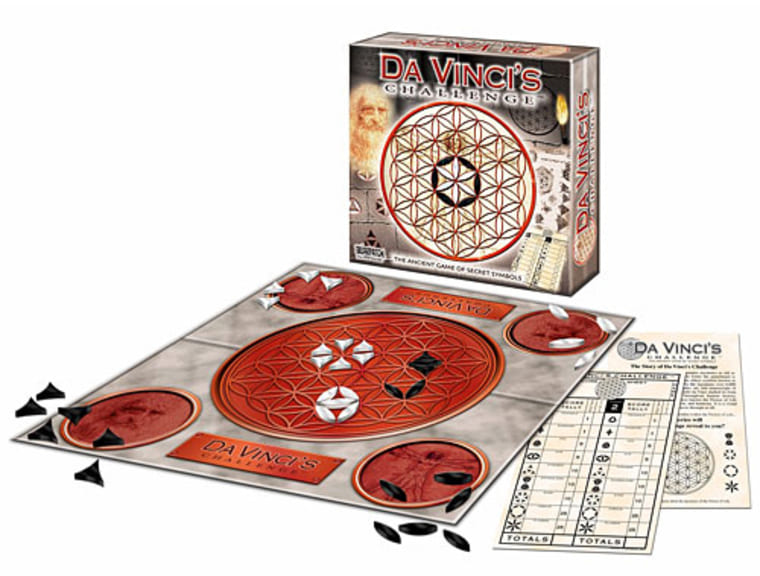 Bored with the same old board games? Consider Da Vinci's Challenge, a new board game from Briarpatch. Da Vinci's Challenge, recommended for ages 8 and up, has nothing to do with Dan Brown's novel "The Da Vinci Code," says a company representative. The game, which retails for $24.99, consists of a simple board that features The Flower of Life, an ancient symbol of overlapping circles, plus 144 oval or circle-shaped pieces that resemble marble stones. The object of the game is build different patterns with the plastic pieces, ranging from a simple triangle (1 point) to the more complex pyramid or hourglass (10 points.)
The Da Vinci connection? Apparently Da Vinci studied the Flower of Life to help him understand proportions and geometry for use in practical applications, says the company representative.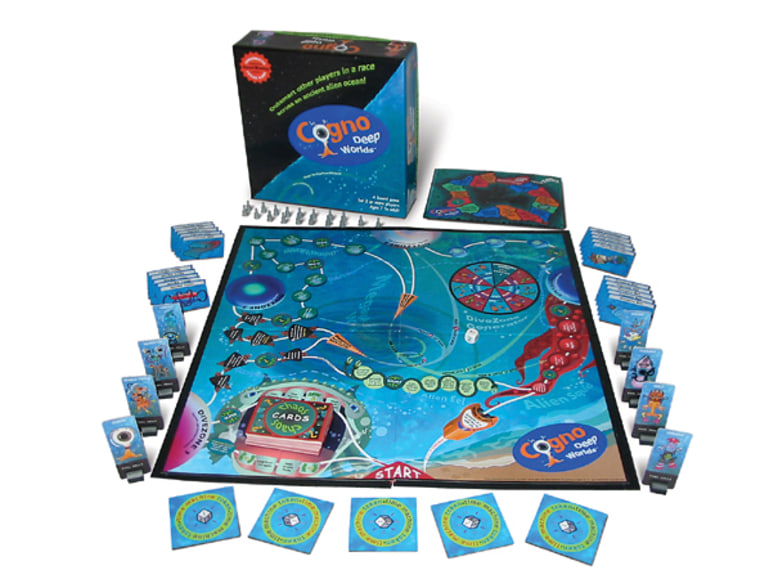 Other challenging new board games this season include Platypus Games' Evolution and Cogno Deep Worldsfrom DoubleStar, LLC. Evolution has little to do with Darwin's theory but challenges teams of players or "tribes" to take on increasingly difficult tasks on the game's evolutionary ladder. Recommended for teens to adults, the game retails for $34.95. Priced at $29.95, Cogno Deep Worlds takes players, ages 7 and up, on a race across an ocean on another planet.
Some places to shop for the above toys, and other cool toys, include Brain Builders, Dave's Cool Toys, Discover This, Exploratorium Store, Growing Tree Toys, Kazoo Toys and The Silly Goose Toy Store.
Remember to read the directions carefully and look for sales.