/ Source: TODAY contributor
It's been 40 years since "The Partridge Family" drove their creatively painted bus to the top of both the Nielsen ratings and the music charts. But for some of the cast, life continues to imitate art.
Danny Bonaduce, the smart-mouthed brat who was always stirring up mischief, is still firing off deprecating wisecracks and getting in trouble. David Cassidy, the rock-star teen idol, is still touring the world and playing to sold-out stadiums, arenas and concert halls. Shirley Jones, the singing mother of the musical screen family, continues to sing and act.
"My whole career was launched" on the show, Cassidy told TODAY's Matt Lauer Tuesday in New York, where he (Keith Partridge), Bonaduce (Danny Partridge) and fellow cast members Brian Forster (Chris Partridge) and Suzanne Crough (Tracy Partridge) reunited for the first time in nearly 20 years.
"I've been blessed to be able to say I'm still out singing those great songs, playing hits. To touch so many people's lives and bring light into them — it brings light into my life now," Cassidy said. "Every day of my life, someone comes up to me and says, you brought so much happiness to me and so much joy to me."
From stardom to Office Max
Bonaduce, after well-publicized battles with drug and alcohol addiction as well as a period of homelessness, also continues to perform — now as a radio personality on WYSP in Philadelphia.
Crough and Forster live considerably less public lives.
"I'm [a] semi-retired, underemployed actor, musician, race-car driver," Forster said with a laugh.
"I'm an office manager for Office Max," Crough reported. "I have two daughters, I'm married, I have a normal job."
Although "The Partridge Family" was about a musical group, the cast members admitted to Lauer that Cassidy and Jones — his real-life stepmother — were the only members who actually sang. (It wasn't a secret; the real musicians were accurately credited on their albums.)
"I was very good at being Milli Vanilli," Crough joked. And Bonaduce was so clueless that he had to be told by Cassidy that the bass guitar he held was supposed to be plucked and not strummed.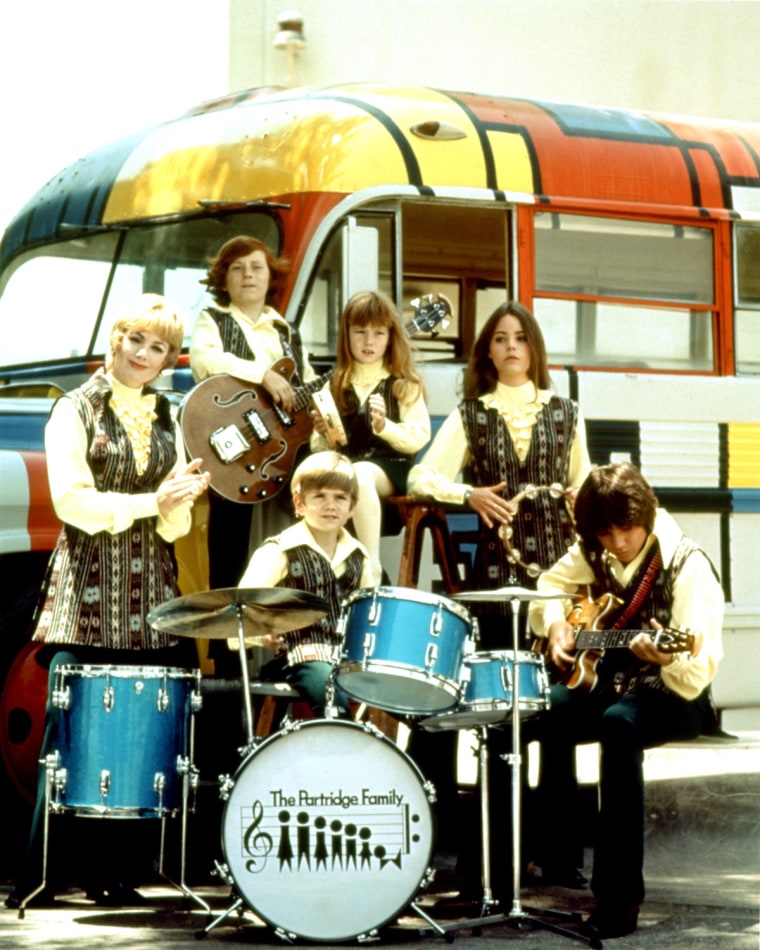 Even Cassidy, who was a musician as well as an actor, had to fight to get the producers to allow him to sing for real on the show. As he told Lauer, he was hired for his teen-idol looks, not his musical ability.
"Doing the pilot, I was lip-syncing somebody else's voice," Cassidy said. Only when the show was picked up by ABC was he allowed to sing.
Bigger than the Beatles
In very little time, David Cassidy was a bigger star than the Beatles. His 1970 hit "I Think I Love You" was the biggest record of the year, with more than 5 million sales.
"He outsold the Beatles in 1970. 'I Think I Love You' came out on the same day as 'Let It Be,' " Bonaduce said of Cassidy. " 'I Think I Love You' topped at No. 1. 'Let It Be' stopped at No. 6."
(Editor's note: Bonaduce's musical history is a little off. Actually, "Let It Be" topped the charts earlier that same year. It was the No. 1 Billlboard song for two weeks [April 11 and April 18]. "I Think I Love You" hit No. 1 the week of Nov. 21.)
Having tasted teen idoldom, Cassidy said he has great sympathy for young idols like film star Robert Pattinson of the "Twilight" series. "The world and the culture is so different now," Cassidy said. "I can't even imagine having to deal with the TMZ concept. Our culture is so celebrity-obsessed now. It was nothing like that, thank God."
"The Partridge Family" achieved its success in spite of mixed reviews. The Christian Science Monitor was decidedly unimpressed with a show about a single mother of five who packs the kids into a brightly colored bus and earns a living singing pop songs.
"Would that every fatherless, financially distressed American family could successfully take up guitars against a sea of troubles like grin-and-bear-it Shirley Partridge and her five winsome moppets," the review read. "The show stacks implausibility upon implausibility, from the hit record to the psychedelic bus they tool around in. Danny Bonaduce as the 10-year-old wheeler-dealer provides a few faintly funny moments, but it's all so predictable that the viewer is left with a sense of wasted time and effort — not the least of which was his own."
But the public saw something else. First there was the music, which was hugely popular with the public. And there was something about the plucky mom and the boisterous kids and the romance of the open road.
"I think it touched a nerve in everybody at the time, coming out of the '60s and still having that freewheeling kind of thing," Cassidy said. Wherever he goes, he went on, he hears from people who all say the same thing: "Wouldn't it be cool to be traveling around and playing music and having the opportunity to tour and be rock stars?"
He ain't sexy, he's my brotherCassidy was 19, but had the androgynous good looks of someone younger. Girls fell in love with him on sight; rumor has it that Susan Dey, who played Laurie Partridge, was one of the females smitten by his charms.
But Crough said his allure was lost on her. "All my friends were going, 'I love David. Don't you love David?' and I would say, 'No. He's like my brother. That's creepy.' "
From the Waltons to the Simpsons, the Ricardos to the Sopranos, television's evolving portrayal of families has held up a mirror to a changing America.
The TV family was like a real family, Bonaduce said. Although onscreen he was at constant war with Dave Madden's character, manager Reuben Kincaid, the young actor spent nearly every weekend with his co-star.
"He was like a father to me, and did a better job than the first," Bonaduce said. And Jones, he added, "was like a mother to me ... she tried to ground me a couple of times."
Jones, who is 75, could not join the four on TODAY because of a performing tour she's currently on, singing with 17 symphony orchestras in 17 nights.
Dey, who has cut off contact with fellow cast members, was also absent, as was Madden, who doesn't like to fly.
The TODAY Classic TV Families Reunited series began Monday with a reunion from another '70s hit, "Eight Is Enough," and concludes Wednesday with a "227" reunion.