"Downton Abbey" fans, Christmas has come early this year! The long-discussed charity video George Clooney made with the cast of the popular "Masterpiece" show on PBS finally aired in the U.K. last week, and is now available Stateside in all of its glory.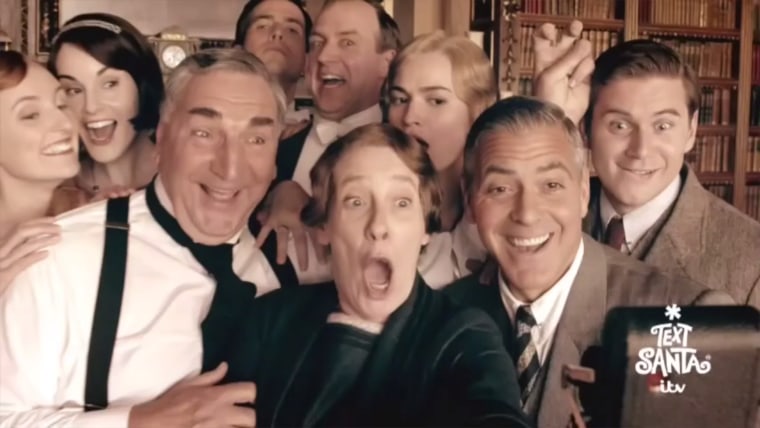 Riffing on the "It's a Wonderful Life" concept of having a major character (Lord Grantham, who has again lost the family fortune) witness what life would have been like had he never been born, the 9-minute-plus video is packed with inside jokes, characters acting very uncharacteristically, and of course one "George Oceans Gravity" (aka "Lord Hollywood," aka Clooney) running the abbey in Grantham's absence.

Here are just a few of the high points you won't want to miss:

The Dowager Countess' adventuresome antics
Not only is she shown in a newspaper photo breaking the world ski-jump record, the Countess (Maggie Smith) is at one point so charmed by Lord Hollywood that she gracefully rolls off the sofa.
Thomas spies because it's in his contract
After being discovered hiding behind a curtain by Lord Hollywood, he reveals that yes, it's part of his job description as a footman to gather all kinds of information. "Carry on," says Clooney/Hollywood. And we know he will ... though Thomas is not getting the kiss he's puckering up for.
More guest stars!
In addition to Clooney, Jeremy Piven turns up with some naughty nightwear for the ladies of the Abbey, wearing his "Mr. Selfridge" outfit. The "angel" in white who ushers Lord Grantham through his never-lived life is played by Joanna Lumley, inhabiting her classic "Absolutely Fabulous" character of Patsy Stone. And the bald man sitting at the desk? That's the show's creator and head writer, Julian Fellowes. 
Without Lord Grantham, everybody gets drunk
From the servants downstairs imbibing the abbey's liquor (while playing strip poker!) to the upstairs family grandly enjoying their drinks in crystal glasses with little paper umbrellas, everybody seems just shy of being soused.
There's lots more fun stuff for "Downton" and Clooney fans alike, so be sure to check it out! And let's not forget that the best news about the video is this: It was all done in the name of charity, as part of the U.K. channel ITV's Christmas charity initiative, "Text Santa."
May all your Lord Hollywood holidays be bright.