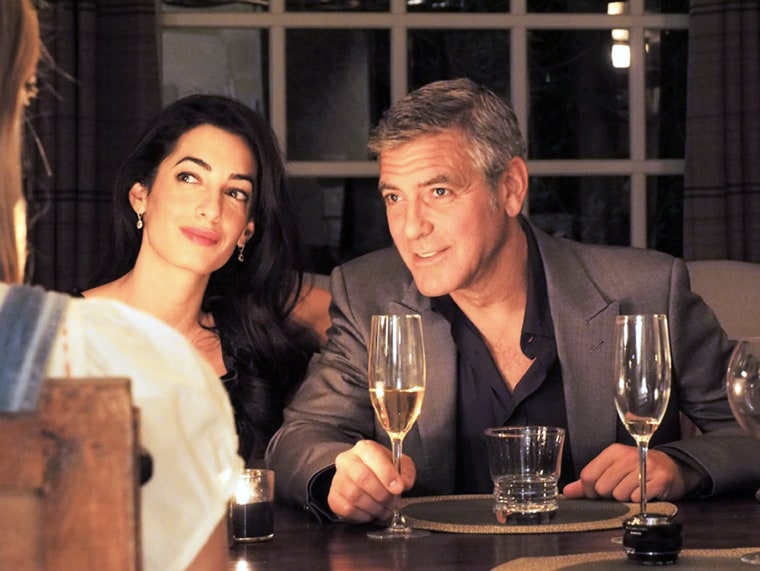 Oscar-winner George Clooney is swinging away at a British newspaper over "a completely fabricated story" that his fiancee's mother opposes the marriage on religious grounds – a report that he said put his family at risk.
In an op-ed in USA Today, Clooney said The Daily Mail report incorrectly reported that Amal Alamuddin's mom was a member of the Druze religion and referred to jokes about traditions in the religion "that end up with the death of the bride. Let me repeat that, the death of the bride."  
"The irresponsibility, in this day and age, to exploit religious differences where none exist, is at the very least negligent and more appropriately dangerous," Clooney wrote in the op-ed. "We have family members all over the world, and the idea that someone would inflame any part of that world for the sole reason of selling papers should be criminal."
Sign up for top Entertainment news direct to your inbox 
Alamuddin was born in Beirut, Lebanon, but her family moved to the U.K. when she was a girl. She attended Oxford and holds a law degree from New York University. Her engagement to Clooney was made public in April.
Clooney noted that he is the son of a newsman and accepted that newspapers would write about his private life. But he said he was disturbed at the number of news outlets that picked up the Daily Mail report.
He said that when the Daily Mail puts "my family and my friends in harm's way they cross far beyond just a laughable tabloid and into the arena of inciting violence."
On Wednesday, The Daily Mail responded to Clooney's concerns about the story.
"The MailOnline story was not a fabrication but supplied in good faith by a reputable and trusted freelance journalist," the statement read. "She based her story on conversations with a long standing contact who has strong connections with senior members of the Lebanese community in the UK and the Druze in Beirut. We only became aware of Mr Clooney's concerns this morning and have launched a full investigation."
The publication went on to say that, despite all of that, they take Clooney at his word. "We accept Mr Clooney's assurance that the story is inaccurate and we (apologize) to him, Miss Amal Alamuddin and her mother, Baria, for any distress caused."
The story has since been removed from the website, and The Daily Mail now plans to contact the actor's reps "to discuss giving him the opportunity to set the record straight."