George Clooney took a British newspaper to task on Wednesday for its reporting regarding his engagement to Amal Alamuddin. In the process, the actor vaulted to the top of a growing list of celebrities who are standing up to tabloid journalism, the paparazzi, and sharing the pitfalls of being in the public eye.
In his exclusive opinion piece for USA Today, Clooney blasted the Daily Mail for a report that claimed Alamuddin's mother is opposed to her daughter's upcoming marriage on religious grounds. Clooney wrote that the "completely fabricated story" put his family at risk by exploiting "religious differences where none exist." It was a dramatic form of rebuttal from the son of a journalist who certainly recognizes that his private life is a source of fascination for news outlets.
Sign up for top Entertainment news direct to your inbox
In the 24-7 Internet age, it's increasingly common to see celebs tripping over each other to try to get or stay famous by sharing yet another personal tweet or selfie. So when someone like Clooney speaks up, he joins a small band of stars taking varying degrees of action in an effort to protect their privacy and their reputations, or to control a message that is increasingly difficult to harness.

Kristen Bell and Dax Shepard
The "Veronica Mars" star and her actor husband took a much-publicized stand against the paparazzi earlier this year when they called for a boycott against magazines that pay for photos of celeb kids. "They shouldn't be punished for who their parents are," Shepard said in a tweet sparking the cause, months after his daughter Lincoln was born. "We now have a duty as parents to protect this little one," Bell told TODAY. News outlets such as People magazine and TODAY quickly agreed to abide by the couple's wishes and publish photos of celeb kids only if they were shared by the parents first.
Jennifer Garner and Halle Berry
The two A-list actresses were at the forefront of the fight championed by Bell and Shepard when they testified before the California State Assembly in an effort to protect their children. "They have a bounty on their heads every day," Garner said of her three children with Ben Affleck. Berry said that her 5-year old daughter was afraid to go to school because "25 grown men" were there waiting for her. The stars' efforts paid off as a law was enacted to keep the paparazzi away from kids.
Tom Cruise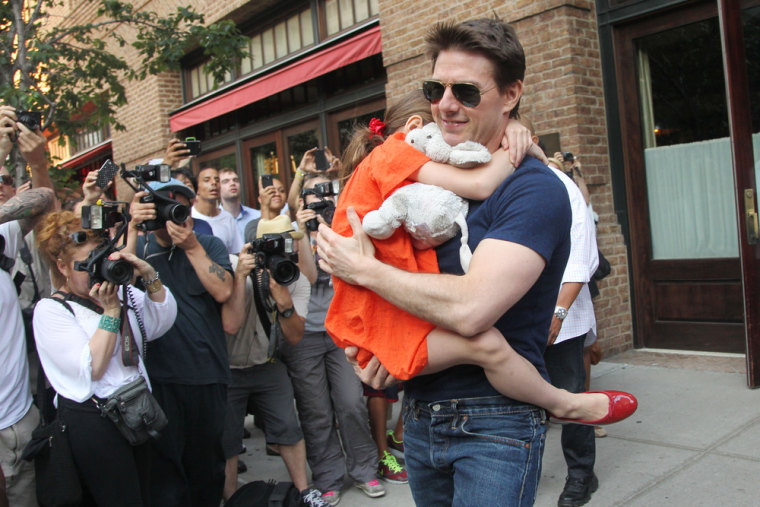 The action star has been no stranger to salacious tales over the course of his career, whether the focus was his love life or religion or something else. He fought back in a big way in 2012 with a $50 million defamation lawsuit against the publisher of In Touch Weekly and Life & Style, for a story saying he had "abandoned" his daughter Suri after his divorce from Katie Holmes. Cruise initially just wanted an apology and retraction, and eventually settled out of court.
Emma Stone and Andrew Garfield, Anne Hathaway and Adam Shulman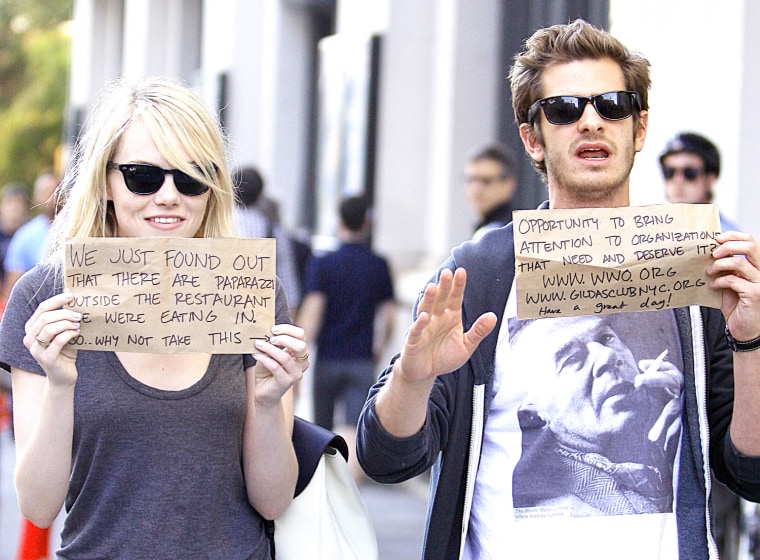 For stars without kids, the focus is still on their faces when they step out in public. Stone and her boyfriend Garfield spearheaded a trend in 2012 that was recently copied by Hathaway and her husband. They're turning their privacy invasion into an opportunity to get an important message across, as they hold up handwritten signs directing whoever is seeing their pictures to give to a charity or visit well-intentioned organizations online.
Alec Baldwin

The former "30 Rock" star beat Clooney to the op-ed punch with an essay for New York Magazine back in February in which he said it would be the last time he talked about his personal life in an American publication. The actor, who has a history of run-ins with the New York tabloids and paparazzi, went so far as to say he might bolt the Big Apple for Los Angeles. The piece came across as tough to swallow from a guy who admittedly isn't the best at nurturing his public image. "I'm self-aware enough to know that I am to blame for some of this," Baldwin wrote. "I definitely should not have reacted the way I did in some of these situations." 
Follow Kurt Schlosser on Google+