Television's longest-running medical drama has been away from the small screen for seven years, but "ER" fans still hold out hope for a reunion one day.
As it turned out, Tuesday was that day. Sort of.
Jimmy Kimmel promised his late-night audience an "ER" reunion, and he definitely delivered on part of that promise in a skit featuring Doug Ross himself, George Clooney.
But when Dr. Ross needed a scalpel, he didn't have much help at County General Hospital.
"Julianna Margulies?" a seemingly confused Clooney asked.
"She's filming 'The Good Wife,' so she couldn't make it," Kimmel told him.
MORE: Time for a checkup: As 'ER' turns 20, our favorite docs then ... and now
Kimmel offered excuses for all the missing stars: Eriq La Salle? "Jury duty." Noah Wyle? "Taco Tuesday." And Anthony Edwards? Well, his character died a long time ago. Also, "he's at Soul Cycle."
But someone was willing to make a house call and help out — or rather a "House" call.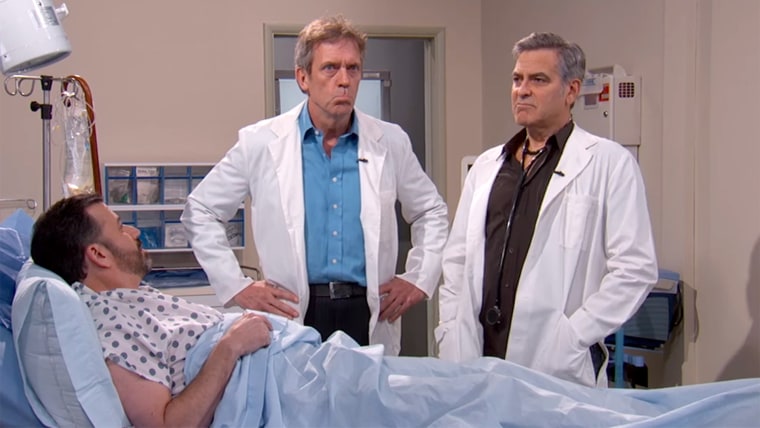 "I was not technically on ER," Hugh Laurie said as he entered the scene.
"Well, close enough," Clooney shot back.
Soon enough both stars where shouting out medical-sounding gibberish over their ailing patient, Kimmel.
MORE: George Clooney helps his parents adopt Nate, a rescued dog no one else wanted
For a while, it looked like they were losing him, but then Laurie remembered something from their old "TV medical school" days: CPR to the beat of The Sugarhill Gang's "Rapper's Delight" can always save the day.
Hearing George Clooney rap certainly saved ours!
Follow Ree Hines on Twitter.