When Leslie Jordan first came to Hollywood in 1982, it was still taboo to be a gay star. In his new book, the actor — best known for his Emmy-winning role as Karen's pretentious rival Beverley Leslie on the hit series "Will & Grace" — writes about the struggles and successes he encountered along his journey. An excerpt.
IntroductionI stood backstage at the 2006 Emmy Awards in a blind panic.
The week before, at the Creative Art Emmys, I had been awarded Outstanding Guest Actor in a Comedy Series for my work on "Will & Grace." Because of that win, I had been invited to become a presenter at the Emmys. I was to present awards for outstanding comedy writing and outstanding comedy directing with my copresenter, Miss Cloris Leachman.
But the question at hand was, where in the world was Cloris?
I had been told by the stage manager she had suffered a "wardrobe malfunction." Wasn't that the term used for that unfortunate incident involving Janet Jackson? My God, had her breast popped out? The woman was eighty years old! No, I was told, someone had stepped on the train of her dress, and ripped it all the way up the side.
Why, I wondered, would anyone in her right mind wear a dress with a train to this cattle stampede? But that seemed to be "the look" of the 2006 Emmys. I had yelled hello to Debra Messing as we were herded into The Shrine Auditorium and she, too, was bent over, thrashing through waves and waves of white net, trying to sort out her train. Apparently she had also been stepped on by some oblivious Emmy attendee.
"Is Miss Leachman going to make it in time?" I nervously inquired. "I do not want to go out there alone!"
Too bad I'm eight years sober, I thought. I remembered some "advice" that Mr. Pat Buttram, the wonderful character actor who played Mr. Haney on "Green Acres," had given me years earlier, when we were doing a live radio drama from the Gene Autry Museum. As the two of us stood off-stage, ready to make our entrance, Mr. Buttram pulled a silver flask from his back pocket, held the flask aloft and offered me a swig.
"No … no thank you, Mr. Buttram," I stammered.
He stared at me in disbelief. "You go out there alone?"
But now I was without a flask and could not avail myself of a swig of courage even if I had wanted to. Besides, it was not worth losing eight years of sobriety to Miss Leachman's wardrobe malfunction.
"Oh, thank God, here she comes!" I heard the stage manager cry.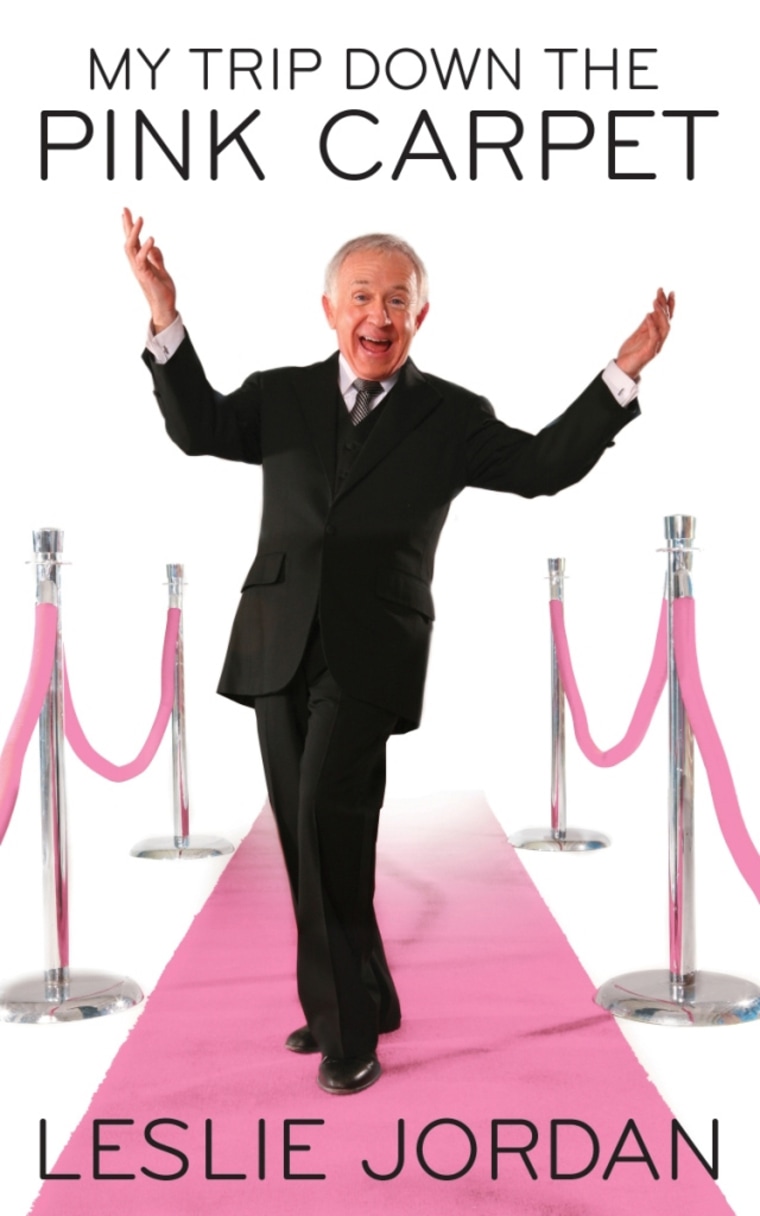 I spotted Miss Leachman, parading regally toward us like the Queen of Sheba, with a coterie of wardrobe assistants kneewalking while frantically sewing and stapling her dress together.
The stage manager yelled above the backstage din, "And in five ... four ... three ... two …"
Cloris grabbed up the mended part of her dress and took my hand in hers, and we swept on stage to a thunderous applause — in honor of her eighth Emmy win. She was now the most decorated actress in Emmy history, surpassing Mary Tyler Moore by one. I looked out over that enormous audience filled with the biggest and brightest Hollywood stars and stood rooted to the spot.
Oh my gosh.
My introduction to the magic of Hollywood was in a darkened motion picture theatre in Chattanooga, Tennessee, in 1959. My mother took me to see "Darby O'Gill and the Little People." I was barely four years old, but I stared wide-eyed at the big screen and did not move or make a peep for an hour and a half. On the ride home, I stood in the back seat and boldly began to belt out the theme song at the top of my little lungs. "Oh, she is my dear and darlin' one. Her eyes are sparklin' full of fun …"
I remembered most of the words. And what I did not remember, I made up.
In 1982, I stepped off a Greyhound bus at the corner of Vine Street and DeLongpre Avenue in downtown Hollywood. I had twelve hundred dollars sewn into my underpants. I had a tiny suitcase. And I had dreams. I had dreams as big as the California sky! You see, back where I grew up in East Tennessee, there were lots of hills and lots of foliage, but when I stepped off that bus, all I saw was sky.
Bless my sweet, simple heart!
I had no idea what I was up against. Bear in mind that 1982 was years before "The Ellen DeGeneres Show." It was years before "Queer Eye for the Straight Guy," "Queer as Folk" and "Will & Grace." Foremost in my mind as I stepped off that bus was: It might not be a good idea to let anyone know that I am a homosexual. I decided I was going to make a real effort to "butch it up," and hide any signs that I was a Big Homo.
The funny thing is, I am, without a doubt, the gayest man I know. I fell right out of the womb and landed in my mama's high heels. With all due disrespect to the Christian Right, ain't none of that "choice" s--t here! But I was so riddled with internal homophobia, so consumed with doubt, shame and self-hatred, that I felt the need to try and pull it off. My devout Southern Baptist upbringing had left me with beliefs that were indelible, at least at that time in my life.
Cloris pulled me from my reverie. "You know, dear, I've won eight of these but one never forgets the first one."
"Oh, Miss Leachman," I gushed, "I take mine everywhere with me! I even sleep with it! It's the only woman I've ever slept with."
Huge laughter.
Sitting in the first few rows were: Warren Beatty and Annette Bening, Geena Davis, Kyra Sedgwick and Kevin Bacon, Megan Mullally, Julia Louis-Dreyfus, Heidi Klum and Seal, John Lithgow, Jeffrey Tambor, Stockard Channing, Blythe Danner, Calista Flockhart, Harrison Ford, Bob Newhart, Ray Liotta, James Woods, Candice Bergen, William Shatner. The list went on and on. Not to mention the big guns from England, Jeremy Irons and Helen Mirrin.
Oh my gosh.
So how did this self-conscious young man, who stepped off the bus in 1982 riddled with shame and inner homophobia, become the silver-haired, confident, openly gay man who stood before a jury of his peers in 2006 to present one of the highest awards possible — and throw out the line, "It's the only woman I've ever slept with" without hesitation, without one iota of self-doubt, and certainly without any shame?
Well, this is my trip down the pink carpet.
These are my stories.
These are my songs.
Excerpt from "My Trip Down the Pink Carpet" by Leslie Jordan. Reprinted with permission from Simon & Schuster.