Of all the times over the past 30 years that Garth Brooks performed his hit "If Tomorrow Never Comes," in the largest arenas in the world, it may never have resonated as much as it did last Thursday in a 90-seat Nashville club.
That's because the country crooner joined his songwriting partner on the tune, Kent Blazy, at the B for a special benefit for a local hospice. This wasn't just any gig: For Blazy, it meant giving back to the Alive Hospice that was there for him when his wife, Sharon, died after a battle with a brain tumor in 2009; for Brooks, it meant supporting a close friend.
"Garth and I have been friends since before he was 'Garth Brooks,' since he was cleaning churches and selling boots," Blazy told TODAY. "He's just one of the great people who always remembers where he came from."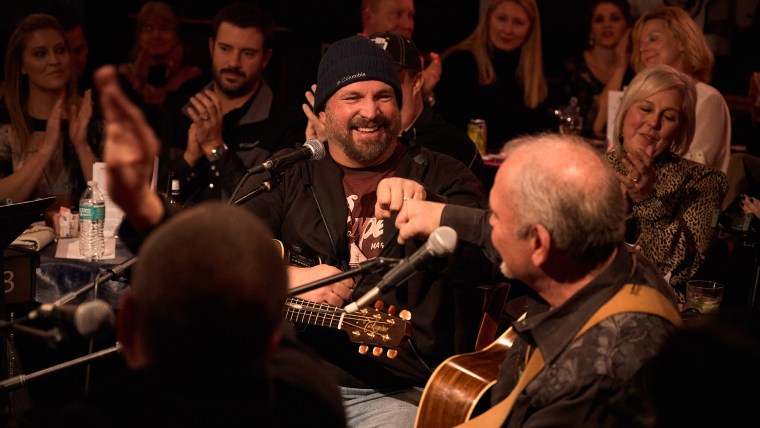 There was a lot for the friends to reminisce about on Thursday night as they played a number of their collaborations, including "Ain't Going Down 'Til the Sun Comes Up."
But one song in particular dominated the conversation. The Feb. 1 show happened to coincide with the 30th anniversary of the day Blazy and Brooks penned "If Tomorrow Never Comes" — a song that would have meant so much to them even even if it wasn't the first No. 1 in both of their careers.
Sure, it was the tune Brooks performed for a Capitol Records exec in 1988 on that same Bluebird stage. But the lyrics of the love song have taken on a whole new meaning after Sharon was diagnosed with a meningioma brain tumor 16 years later.
"When we got together to write it, we were just writing a song for our wives," said Blazy. "You pray for a song as a songwriter that touches people's hearts... but going through what we did, it's a comforting thing to let her know at the time how I felt about her.
"The song every year grows even more over the years. Sometimes I hear it on the radio while driving and I have to pull over because I get emotional."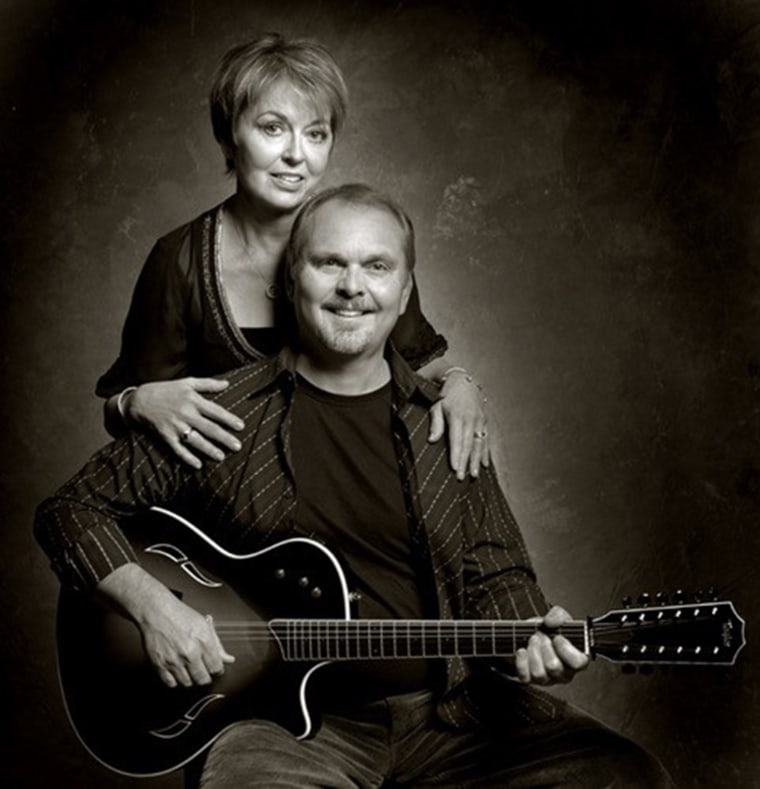 Blazy had been playing fundraising shows for Alive Hospice for years before his family needed their care in the last few months of Sharon's life. His passion to their cause goes far beyond the dollars and cents he raised over the years — although the money raised from the $250 tickets and the signed $12,500 guitars they auctioned off Thursday sure help.
"By sharing his story, Kent has given the world a very special gift," Anna-Gene O'Neal, President and CEO of Alive Hospice, said by email. "Unless your loved one has been in hospice, it is difficult to understand the power of the experience. Kent lets us into that experience by speaking of his last days with Sharon with such grace and peace. It was an honor for us to care for them, and we are eternally grateful for his devotion to Alive."
On Thursday though, most fans who contributed to the cause were just enjoying the music. Blazy still laughs at the memory of a married couple from Washington State who asked Brooks to settle an argument. "The guy had engraved a lyric from "Papa Loved Mama" in his wedding ring, but his wife said that it was not a love song," recalled Blazy. "So he raised his hand (between songs) and asked Garth."
"Sure enough, (Brooks) said it was a love song. So the husband said, 'See, I told you!'"
Nobody, though, is a bigger fan of the 14-time Country Music Awards winner than Blazy.
"Who would have thought 30 years ago when we sat down to write 'If Tomorrow Never Comes' that all these amazing things would happen?"