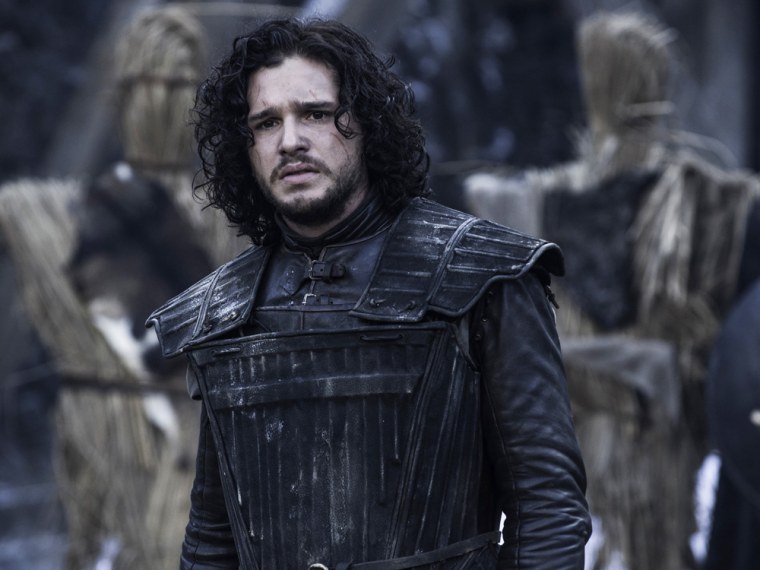 Kit Harington's Jon Snow has been warning the men at Castle Black all season long, and this Sunday the Night's Watch finally faces its greatest enemy — the Wilding army  — on "Game of Thrones."
"I think it's as big as 'Thrones' has gone at the moment. I mean, I think it's no secret that it's the most expensive episode that they've ever made and a lot of that is due to the CGI," Harington told AccessHollywood.com, referencing Wildling giants, whose feet appear in the episode sneak peek. "I haven't seen any of that yet, obviously, so that's going to be a new thing for me, but yeah, it's pretty huge in scale. I think it's as big as TV goes, and that was incredible to be one of the leading actors in that episode. … I feel hugely privileged."
VIEW THE PHOTOS: 'Game Of Thrones' Season 4 Pics — Volume 3
And it will be a major episode for young Jon, who had to stand up to his commanders in the Night's Watch in season four, when they seemed unwilling to believe the news he brought back from his time with the Wildlings.
VIEW THE PHOTOS: 'Game Of Thrones': Season 4, Episode 8 — 'The Mountain & The Viper'
"Jon keeps warning The Wall at Castle Black, and Alliser Thorne, that this army is approaching, that this thing is going to happen and finally, in episode nine, we get this pay off of that whole storyline this season," Harington said. "And so I hope it doesn't disappoint, really, because it's meant to have been leading up to this."
The sequences for the battle at The Wall were shot in Belfast, Northern Ireland, and it left the cast and crew exhausted.
VIEW THE PHOTOS: 'Game Of Thrones': Scenes From 'Breaker Of Chains'
"Oh God, you have no idea," Hartington said. "It was two solid weeks of night shoots and you get into a very strange headspace when you're doing that because you're getting home at 6, 7 in the morning when it's getting light and then you sleep all day. ... Humans aren't nocturnal creatures, so we all got very disorientated and quite emotional by the end."
Having completed his action film, "Pompeii," before returning to the set of "Thrones" for season four, Harington said his body was able to compete with the demands of the intense fight sequences.
VIEW THE PHOTOS: 'Game Of Thrones' Season 4, Episode 4 — 'Oathkeeper'
"Physically, I'd just come off a movie where I was fighting non-stop, so I was in quite good shape for it, but I think it was very mentally draining," he said.
"Game of Thrones" returns Sunday night at 9 p.m. on HBO. Harington also stars in "How to Train Your Dragon 2," opening June 13 in theaters.