Actress Maisie Williams is just like many teenage girls — if you send her a mean tweet, it's going to hurt.
She might play a fighter on TV, but the "Game of Thrones" star told TODAY.com that she's not immune to the self-confidence issues plaguing young women today. She's also not above reading fans' social media comments or the magazine articles that latch onto celebrities' every errant remark or questionable outfit —an inevitable part of growing up.
RELATED: Maisie Williams watches 'Game of Thrones' with tipsy 87-year-old grandma
"As much as people say don't read it, it's impossible," Williams said. "It's like saying there's a red button, don't push it."
"I'm sure you can think back to a time where you've cringed at things you've said, and you regret things you've done, and the difference for me is that it's documented and it's never going to go away," she added.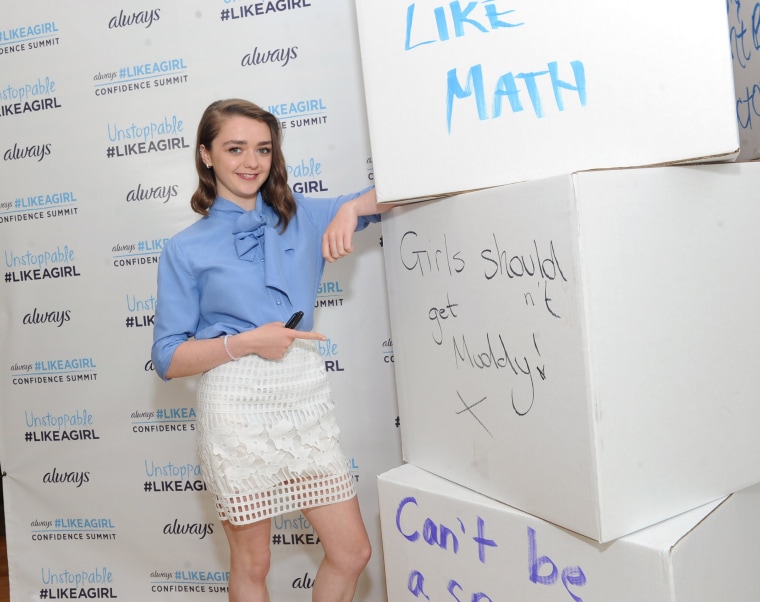 TODAY.com sat down with Williams, 18, after she hosted this week's #LikeAGirl Confidence Summit in New York City, sponsored by Always. The social media campaign dedicated to boosting confidence among girls first went viral last year, and Always premiered a new video at the summit.
To Williams, "like a girl" stands for not caring what others think.
"To be like a girl means you can make decisions in your life without having to worry about what anyone says," she said. "Because I know my brothers don't. Not at all."
For some young women, that's easier said than done. Research commissioned by Always shows that more than half of girls experience a drop in confidence during puberty.
Williams has been disheartened by the obstacles women face, particularly in Hollywood.
"I feel like the biggest thing that we struggle with is getting our point across without someone commenting on what we're wearing first," Williams said.
It's a complaint we've heard before — most notably when Reese Witherspoon encouraged red carpet reporters to dig deeper than the usual "Who are you wearing?" at this year's Oscars.
For Williams, she's found some confidence playing the feisty Arya Stark on HBO's "Game of Thrones."
MORE: 'Game of Thrones' actress teases new season, darker Arya Stark
"Arya was always so oblivious to gender stereotypes and didn't realize that what she was doing wasn't a typical girl thing to do," she said. "I think as my confidence started to drop and I started to believe what people were saying — 'you can't dress like that, you should try a little harder,' because I was wearing jeans and a jumper — as that started to build, I would always think of Arya and how she would never even think twice about a comment like that. She doesn't care about what people think and she is who she is and she wants to be happy."