Anyone can thank fellow nominees and an agent, but some Golden Globe Award recipients — and their quick-thinking colleagues — deserve a bonus trophy for delivering hilarious acceptance speeches.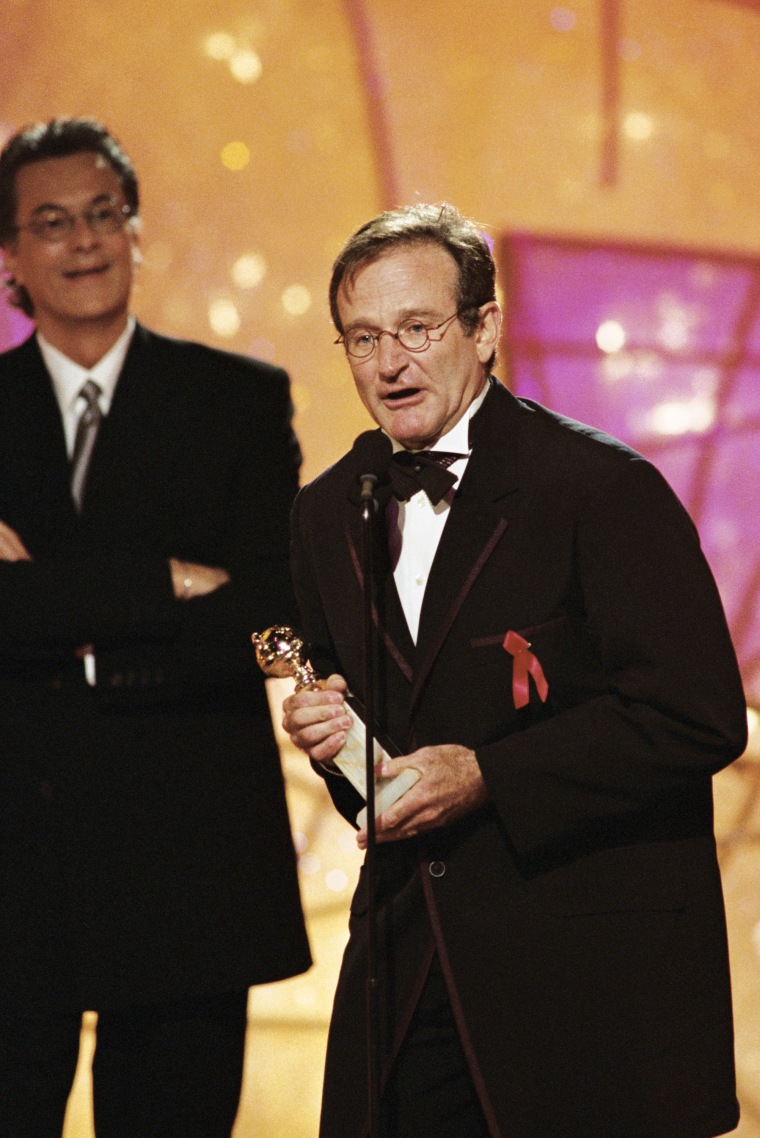 TODAY.com painstakingly searched the Golden Globes archives to rank the 10 funniest acceptance speeches of the past 25 years. (Note: To keep this list focused, it excludes monologues and comedy bits occurring before a winner is announced.)
10. Amy Poehler (2014)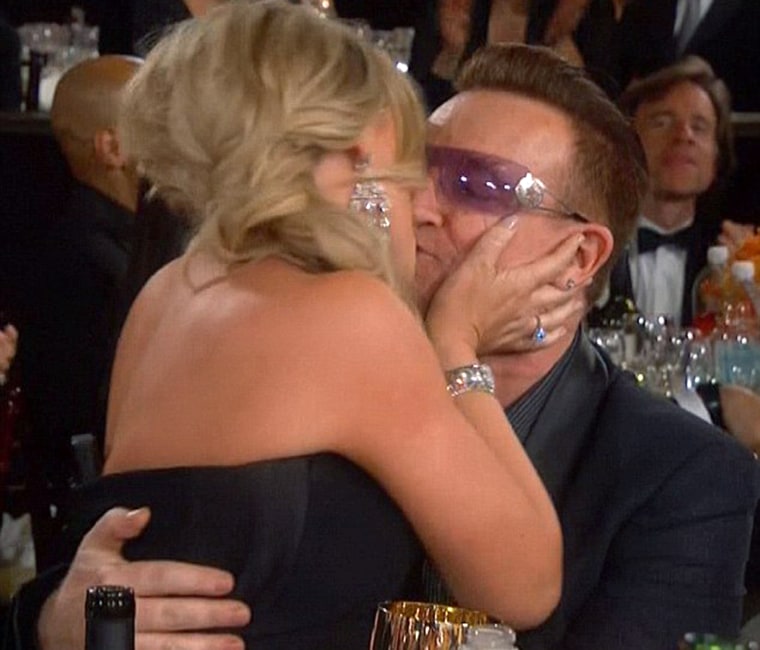 Already seated on U2 singer Bono's lap and receiving a shoulder massage during the recap of nominees, the ceremony co-host planted one on the rock star — OK, maybe a few more kisses followed — when she learned she'd won for her work on NBC's "Parks and Recreation." Poehler's actual acceptance speech was more earnest, but the on-the-lap, off-the-cuff make-out was more than enough to kick off this list.
RELATED: No holds barred! Tina Fey, Amy Poehler take on Cosby, Clooney at Golden Globes
9. Charles Durning (1991)
Poehler wasn't the only one to steal a few pecks before approaching the mic. Winning for his role on the ABC miniseries "The Kennedys of Massachusetts," Durning claimed kisses and/or hugs from three of the four "Golden Girls" leads, who'd served as presenters. Betty White, initially snubbed, tapped him on the shoulder to achieve the grand slam, but Durning wasn't done: He capped off the love-fest with a kiss from a nearby model before launching into his speech.
RELATED: Quiz: Which 'Golden Girls'-inspired cheesecake should you eat?
8. Ricky Gervais (2004)
For some American viewers who hadn't seen the British version of "The Office," this was the moment they were introduced to Ricky Gervais, who'd later host the ceremony from 2010 to 2012 (and will do so again this Sunday). Perhaps the most shocking thing about this clip is that the comedian, who'd become notorious for his bravado and barbs as a Golden Globes host, came across as sweet — and downright shy.
RELATED: Look who's back! Ricky Gervais to 'raise anxiety,' host 2016 Golden Globe Awards
7. Hugh Grant (1995)
Winning for his performance in "Four Weddings and a Funeral," Grant eschewed humility and embraced the intoxication of the moment. "You're supposed to think that awards are invidious and things like that, but I think they're heaven, and this is right up my alley," he said, to the delight of the audience. He went on to "grudgingly acknowledge the contribution of a few other people."
RELATED: Hugh Grant talks transition from rom-coms to 'hardcore political warfare'
6. Jim Carrey (1999)
Winning for his dramatic contributions to "The Truman Show," the comic delivered a predictably amusing speech. "It's going to be so hard to talk out of my [butt] after this," noted Carrey, referencing a memorable "Ace Ventura: Pet Detective" scene. "But I'll manage." Carrey also poked fun at the lack of gravitas in some of his previous works, figured his Globe win meant he's a "shoo-in for the Blockbuster Award," and thanked "the Academy" before correcting himself. "I'm sorry," he said. "I was thinking of something else."
RELATED: All righty, then! 6 ways Jim Carrey got carried away during his TODAY visit
5. Emma Thompson (1996)
Already an Oscar winner for acting in "Howards End," Thompson combined those skills with her screenwriting prowess when she accepted the screenplay award for her cinematic adaptation of Jane Austen's "Sense and Sensibility." Envisioning how the 19th-century English novelist might view that year's ceremony, Thompson channeled Austen while thanking her colleagues and teasing herself. "[Thompson] has purloined my creation and added things of her own," Thompson, as Austen, said. "Nefarious creature."
RELATED: Emma Thompson on 'A Walk in the Woods,' Trump's presidential run
4. Bill Murray (2004)
While accepting a Globe for his performance in "Lost in Translation," the comedy legend crushed as he lampooned himself ("My physical trainer killed himself"); industry executives ("I would thank the people at Universal [Pictures] and Focus [Features], except there are so many people trying to take credit for this, I wouldn't know where to begin"); and supposedly forgotten dramatic actors ("Without them, where would our war, our misery and our psychological dramas come from?").
RELATED: Bill Murray: How 'Kasbah' ranks with 'Groundhog Day,' 'Ghostbusters'
3. Tina Fey (2009)
Opening with a joke she attributed to Will Arnett — "As a kid, I had all of the Hollywood Foreign Press action figures." — the "30 Rock" star and eventual Golden Globe host celebrated her win with a little payback. "If you ever start to feel too good about yourself, they have this thing called the Internet, and you can find a lot of people there who don't like you, and I'd like to address some of them now," said Fey, who called out a bunch of supposed usernames and told them exactly what to do.
RELATED: Tina Fey talks swearing in 'Sisters,' her nerdy past and why Amy Poehler calls her 'Betty'
2. Steve Carell (2006)
Claiming he didn't write an acceptance speech for his work on the NBC version of "The Office," Carell said his wife, fellow comedian Nancy Carell, handed one to him. Full of incredibly specific praise for Nancy throughout, the speech also thanked the cast, crew and writers. "If it were not for you, I would not be here right now," said Carell, who reconsidered what he'd just read. "I don't know about that." Then it was back to hailing Nancy, "who put her career on hold in support of mine, and who sometimes wishes that I would let her know when I am going to be home late, so she can schedule her life, which is no less important than mine."
RELATED: Slideshow: Steve Carell
1. Robin Williams, temporarily accepting for Christine Lahti (1998)
Honored for her work on "Chicago Hope," Lahti was in the ladies' room when Michael J. Fox announced her win. (As it turns out, Renee Zellweger would suffer a similarly awkward fate 13 years later.) The vamping to buy Lahti time yielded an awkward kind of funny, but the real laughs erupted when Williams crashed the stage. The late comedian's hilarity at the Golden Globes was reinforced by his own acceptance speeches in 1993, 1994 and 2005, but the spontaneity of this moment solidifies it as his silliest Golden Globes contribution — and the funniest Golden Globes acceptance speech of the past 25 years.
RELATED: 'Mrs. Doubtfire' actress: Robin Williams was 'spectacular' when I needed help
Follow TODAY.com writer Chris Serico on Twitter.