Walter White has officially been laid to rest — at least, as part of a fake funeral for the "Breaking Bad" character who died in last month's series finale.
The funeral took place Oct. 19 in Albuquerque, N.M., where the show was set and filmed. It included a procession led by a hearse and White's RV. "Mourners" paid money to attend and throw dirt across an empty coffin, which was placed in a real gravesite with a headstone.
THR COVER STORY: "Breaking Bad's" Vince Gilligan reveals details of "Saul" spinoff and terror over what's next
The Albuquerque Journal reported that about 200 people attended the event, with "Breaking Bad" set decorator Michael Flowers delivering the eulogy to cheers from the crowd.
The "funeral" was actually a fund-raising event to benefit Albuquerque's Healthcare for the Homeless organization. Nearly $17,000 was raised, according to local TV station KOB, but the event wasn't without controversy.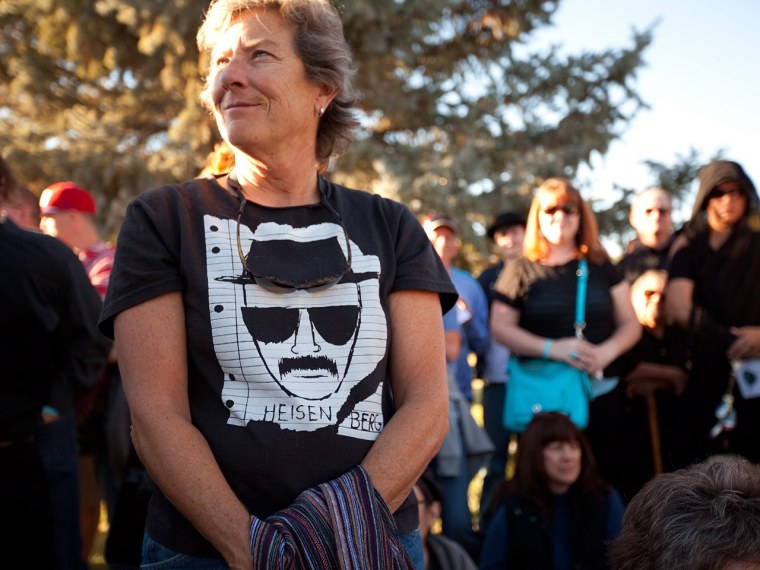 According to KOB, the event was protested by some people upset over the possibility that Walter White's tombstone will draw tourists to the cemetery.
"My son is buried about 15 yards from where the makeshift gravesite is," Manuel Montano told the station, adding: "This is a place of mourning. It's not a spectacle."
PHOTOS: Beyond "Breaking Bad": What's next for the show's stars
A petition also has been created to remove the grave, with the author noting that Walter White's home draws up to "10,000 cars full of fans a month, according to the homeowner."
"Adding a physical grave site will encourage tourists to visit a sacred burial site of hundreds and hundreds of loved ones," the petition reads. "Cemetery officials say if crowds start gathering at the grave site of Walter White, they'll consider getting rid of his headstone. But the 'officials' should not put the family members through such disrespect during the process of them deciding if too many people are visiting the make shift grave."
Meanwhile, a planned YouTube livestream of the event was blocked for copyright reasons, leaving many fans disappointed after seeing this message: "This video contains content from WMG, BMG_Rights_Management, Sony Pictures Movies & Shows and EMI, one or more of whom have blocked it on copyright grounds."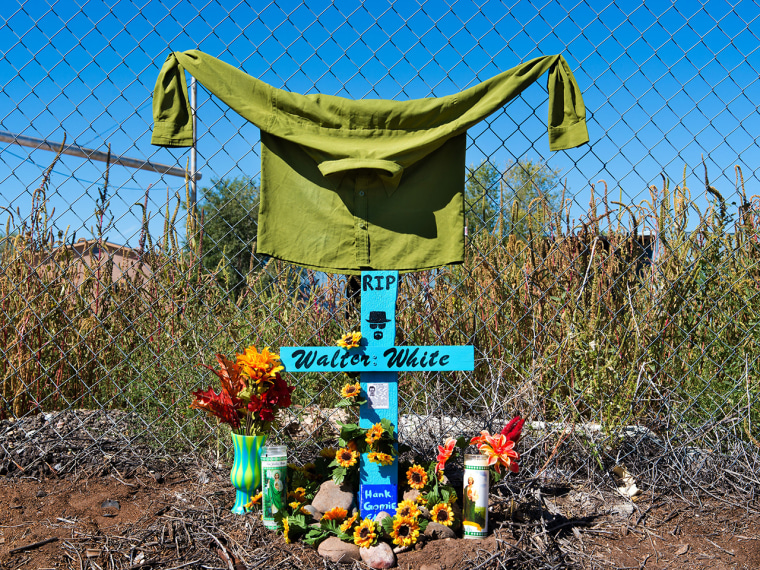 Organizers had hoped that streaming the event online would help bring in more donations. According to local station KING, thousands of people had logged in to watch the funeral.
PHOTOS: What's next for "Breaking Bad's" Vince Gilligan
The event came two weeks after fans ran a fake obituary in the Albuquerque Journal that included a mug of actor Bryan Cranston.
"A private memorial was held by his family," read the obit. "In lieu of flowers, donations can be made to a drug abuse prevention charity of your choice. He will be greatly missed."
The "Breaking Bad" series finale aired Sept. 29 on AMC, drawing a record 10.3 million viewers.