A new season of "Fuller House" is headed to Netflix next month, but fans of the streaming comedy don't have to wait to see what's to come.
The season four trailer is here now!
But be warned: It teases enough exciting plot points to leave viewers counting the days until they can see the rest.
After a yearlong hiatus, the Tanners are back — and as the promo reveals, so is D.J.'s on- and off-again love.
"Deej, we've been waiting 25 years and we owe it to ourselves, once and for all, to see how we are as a couple," Steve tells her.
But can their renewed romance stand up to a quarter-century's worth of expectations?
There's barely a chance to contemplate that in the action-packed clip, which also features teen drama, a song-and-dance routine, some holiday fun, a little lovin' between Uncle Jesse and Aunt Becky, and one baby bump.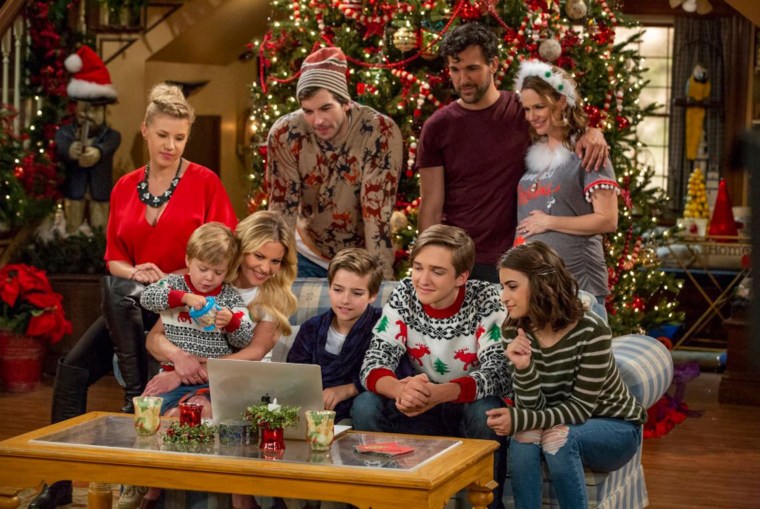 Last season, viewers learned that Kimmy Gibbler would carry a child for her brother, Jimmy, and his partner, Stephanie, and it's obvious that her due date is rapidly approaching.
But she's not just giving birth to a baby — a new friendship is born in season four. After what Andrea Barber, who plays Kimmy, calls "a 30-year frenemyship," Kimmy and Stephanie are now genuine pals.
Barber visited TODAY on Wednesday and shared her take on that sweet storyline.
"It's very special to me that Kimmy gets to give this gift to Stephanie and her brother — the gift of life, the gift of their child," she said. "It just makes me feel great inside."
As for the fresh friendship, don't worry. Things haven't changed that much between Kimmy and Steph.
"We love to banter, and we love to throw digs at each other," she assured.
See it for yourself when the season debuts Dec. 14 on Netflix.