In "Fuller House," the kids are now the adults — and for stars Candace Cameron Bure and Jodie Sweetin, that adjustment was a little daunting.
"That's the biggest change in this new show... We are carrying this show now," Cameron Bure told TODAY during a recent visit to the set of Netflix's much-anticipated "Full House" reboot, which premiered Friday morning. "And it's about our lives. And that feels like the biggest transition — like, a little bit of pressure for us."
In the upcoming series, her character D.J. takes on the Danny Tanner (Bob Saget) role, as a widowed mom struggling to raise her three young sons. Sister Stephanie (Sweetin) and best friend Kimmy Gibbler (Andrea Barber) move in to help, just as Uncle Jesse (John Stamos) and Joey did in the original show's pilot.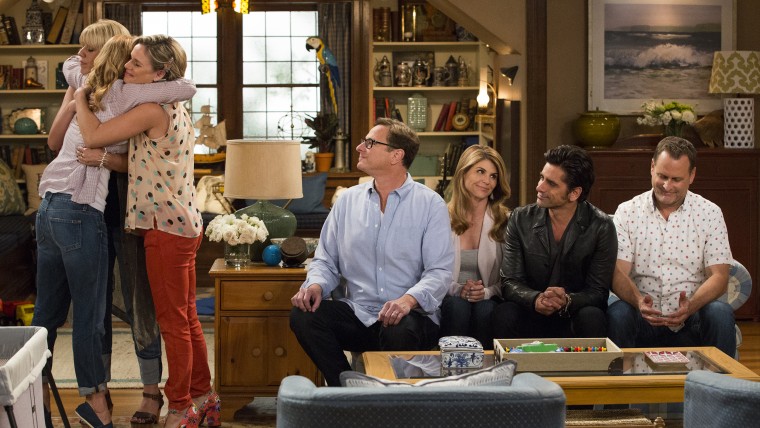 Sweetin echoed Cameron Bure's sentiments.
"Now, being the adults on the show with the kids and working with kids, it's really strange for me to kind of be on the flip side. I remember what it was like growing up and looking up to the adults on set, wanting their approval," she said.
RELATED: 11 'Fuller House' moments that will give you nostalgia
Stamos said he, Saget and Coulier "pop in and out" during the 13 episodes set for release Feb. 26. "But we're really handing the show over to these very able young actresses," he added. "They move into the house and they have three kids that they're raising. And so it's kinda switched."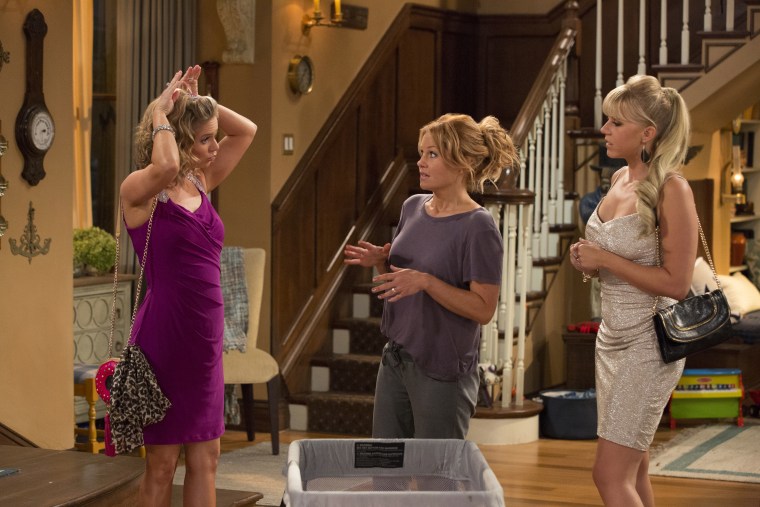 Fortunately, the cast's longtime camaraderie off set made filming easier.
"For us, it never stopped. We just kept doing 'Full House,'" Stamos said. "Seriously, we never left each other, any of us."
RELATED: Bob Saget on losing his sister to scleroderma and using comedy to find a cure
His onscreen wife, Lori Loughlin, emphasized just how much fun the group had together.
"I was only supposed to come on originally and do six episodes. And then, it ended up being, you know seven years for me," she said. "And from the first day I got here, I had the best time. I laughed so hard the first week, I used stomach muscles I'd never used before."
For more with the "Fuller House" cast, watch the full video above!