Kimmy Gibbler's unapologetically offbeat personality wasn't always appreciated by the Tanners — but the "Full House" character was a hit with young viewers, encouraged to embrace their own quirks.
"I actually hear this a lot from people, that Kimmy, as a teenager, taught other teenagers, or kids, that it's OK to be weird," Andrea Barber, who reprises the role on Netflix's "Fuller House," told TODAY. "Several fans have DMed me or written to me and just said, 'Thank you for this character.' 'Cause she was so confident. She was so different. And so bizarre, but confident about it."
"She never thought twice about it," Barber added. "She really embraced her differences. And I think there is a great message in there for kids about loving yourself."
In fact, Kimmy has such a strong social media following today that Barber hosts an annual costume contest, in which fans attempt to re-create the character's eccentric outfits.
But the actress says during the original series, which ran from 1987 to 1995, it was "much harder to gauge what the fans were really thinking."
"All I could base it on was fans I would meet out in public," she said. "And usually, people would come up to me, and their first question would be, 'Do your feet really stink?' So I don't know if I felt the love that fans had for Kimmy Gibbler. I still get that question, too. I'm like, 'Come on, people!' We've only made one reference to it in 'Fuller House.' And I'm hoping that's it, 'cause I'm ready for that joke to die. But I would even be grand marshals of, like, Christmas parades back in the day. And people would yell from the street, from the sidewalks, 'Don't take off your shoes!' But I guess thinking back on it now, that is showing a form of love."
Barber's favorite "Full House" episode was the one in which best friend D.J. forgets Kimmy's 16th birthday and attempts to throw together a makeshift party, leaving Kimmy humiliated.
"I actually got to cry on that episode, which is a different side of Kimmy Gibbler that people usually don't see," she recalled.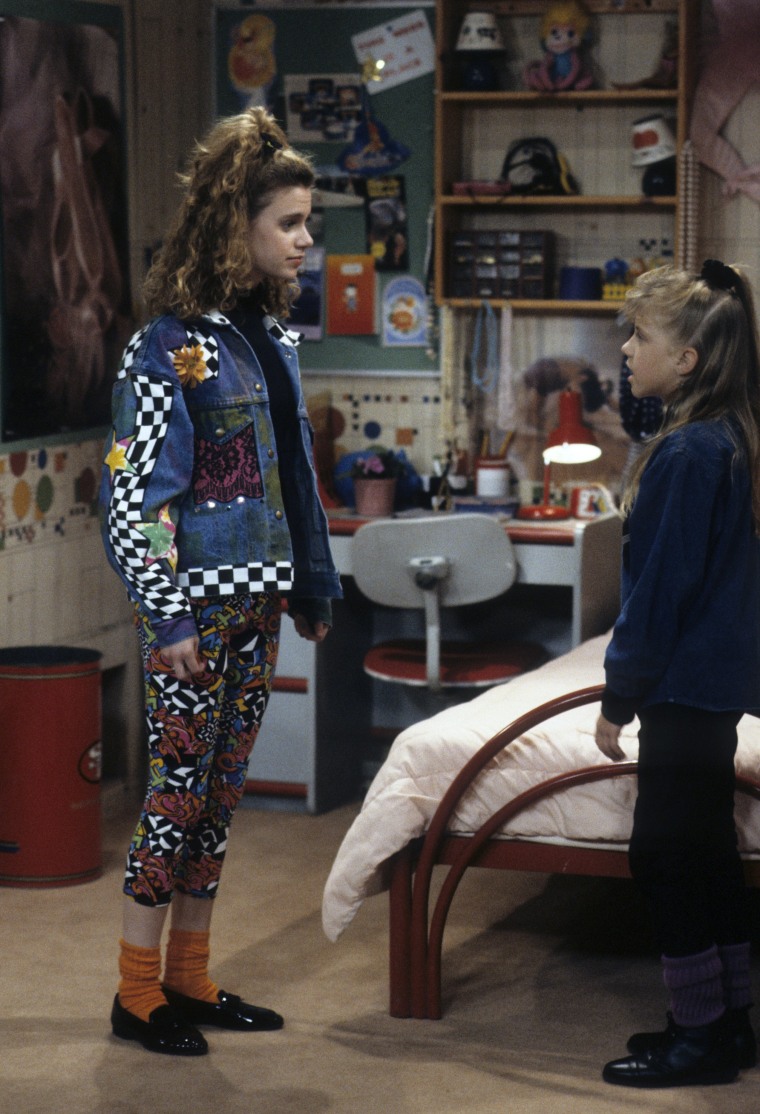 Barber says her favorite part about Kimmy and D.J.'s friendship is that "D.J. has always loved Kimmy for who she was."
"Even when the adults or Stephanie were making fun of Kimmy, or indicating that she wasn't wanted in the house, D.J. was always there for her friend," she said.
While Barber didn't think the Tanners were too mean to Kimmy as a kid, adulthood has given her a new perspective.
"Kimmy Gibbler was definitely fodder for jokes," she said. "She was great material. But when I think about it now, as an adult, and I think of my own kids and their friends, I would never make fun of my kids' friends. Especially when they were in my home. You know, you grin and bear it. And you smile, and you treat them with respect and authority."
However, there aren't any hard feelings.
"We've all made up now in 'Fuller House,'" she said. "You know, Kimmy's moved into the house now. And it's all in good fun."
"Fuller House" season four premieres on Netflix Dec. 14.