Campaigning for a shot at the highest office in the land can be pretty stressful. But as Donald Trump (played to perfection by Jimmy Fallon) learned on "The Tonight Show" Tuesday, that stress is nothing one of Danny Tanner's patented bedtime pep talks can't turn around.
Almost all of the classic "Full House" characters gathered 'round Michelle Tanner's old bed to cheer up the Republican hopeful.
"Donald, what's wrong, honey?" Bob Saget, playing Danny, asked.
"I'm just sad," Trump replied. "I'm afraid if I don't win the nomination, everyone will say I'm a loser."
The Tanners, of course, would never think that.
MORE: Lori Loughlin celebrates Jesse and Becky's 25th anniversary — see the cute photo
"Donald, I know winning is very important to you," the patriarch said with sympathy. "But sometimes, it's OK to lose."
In fact, despite Trump's bold idea to build a wall to keep Kimmy Gibbler out, he sort of liked the idea of a Trump loss.
"Donald, if you win and become president, that's great," he said. "But if you lose and don't become president, we'll be even prouder.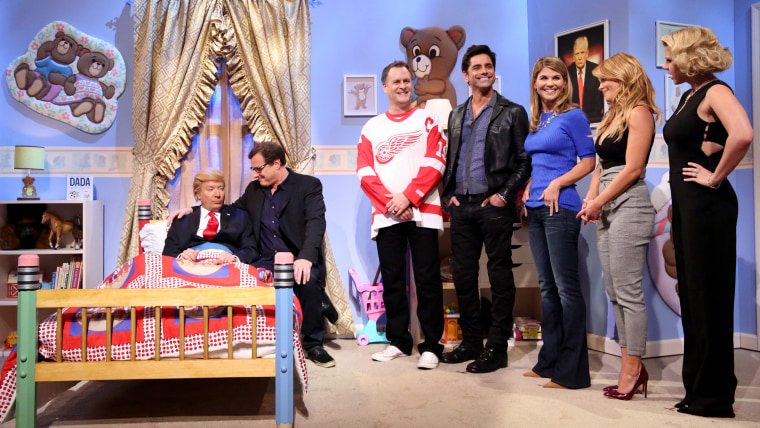 MORE: First 'Fuller House' photos show Tanners reunited in Netflix reboot
Eventually, Trump perked up.
"I have to stay in the race, otherwise a Clinton will be in the White House again," he explained. "I mean, who wants to see something from the '90s come back in 2016?"
The "Full House" gang is hoping a lot of us do. The series sequel, "Fuller House," makes its Netflix debut Feb. 26.
Follow Ree Hines on Twitter.