The "Friends" reunion has finally premiered — with some brand-new information.
The long-awaited special landed on HBO Max Thursday morning, and was packed with personal revelations from cast members, visits from celebrity guests and playful references to the beloved sitcom.
The show's six stars — Jennifer Aniston, Courteney Cox, Lisa Kudrow, David Schwimmer, Matthew Perry and Matt LeBlanc — were joined by both famous fans (Lady Gaga, Justin Bieber, Mindy Kaling) and the actors behind some of the most memorable recurring characters, like Richard (Tom Selleck) and Janice (Maggie Wheeler). The show's three executive producers, David Crane, Marta Kauffman and Kevin S. Bright, also provided behind-the-scenes stories.
Could we BE more excited? Here were some of the biggest highlights. (Warning: Spoilers ahead!)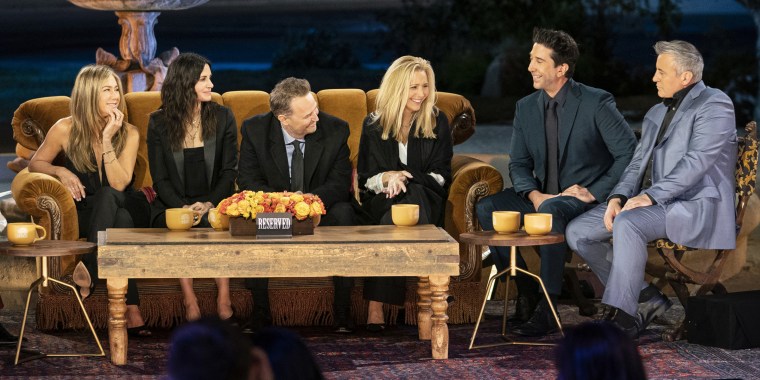 Aniston and Schwimmer were almost more than 'Friends'
Host James Corden asked the cast if there were any offscreen romances, prompting Aniston to turn to Schwimmer. "David?" she asked. "The first season, I had a major crush on Jen," Schwimmer replied. "It was reciprocated," said Aniston.
"At some point, we were both crushing hard on each other," Schwimmer explained. "But it was like two ships passing, because one of us was always in a relationship and we never crossed that boundary. We respected that."
"Bulls---," LeBlanc joked.
"Honestly, I remember saying at one time to David, 'It's going to be such a bummer if the first time you and I actually kiss is going to be on national television," said Aniston. "Sure enough, first time we kissed was in that coffee shop," she added. "So we just channeled all of our adoration and love for each other into Ross and Rachel."
The pair were then shown performing a heartfelt reading of the unforgettable first-kiss scene, from the season two episode "The One Where Ross Finds Out," intercut with footage from the original.
"I thought back on the very first year or two, you know, when we had breaks from rehearsal, there were moments when we would, like, cuddle on the couch," Schwimmer revealed.
"We would spoon and fall asleep on the couch," Aniston added.
"How did everyone not know we were crushing on each other?" Schwimmer asked, to which Perry and Cox each responded, "We knew."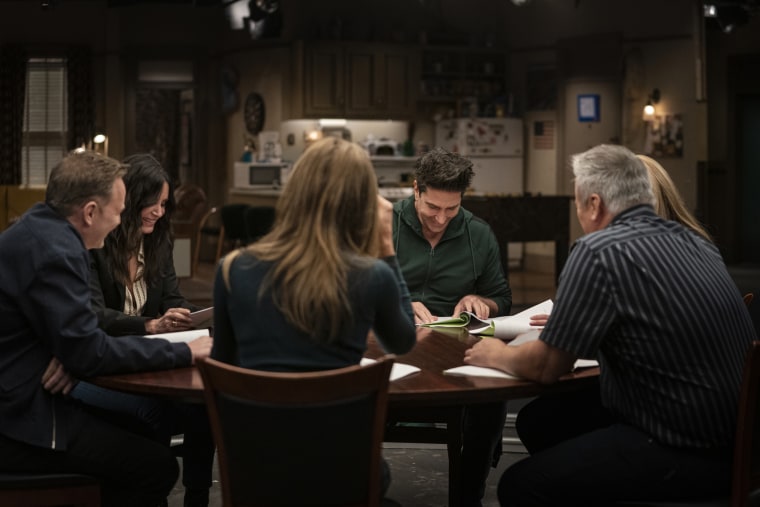 Mother Monster meets 'Smelly Cat'
Lisa Kudrow got into character as Phoebe on the Central Perk couch and began strumming her guitar for a rousing rendition of "Smelly Cat." In walked Lady Gaga, who proclaimed her love for the ode to a malodorous feline, and lent her own powerful pipes to the song. A group of backup singers also joined in, as a nod to Phoebe's music video in season two.
"I still think it's better when it's just me," quipped Kudrow, channeling Phoebe.
Gaga also thanked Kudrow for being "the different one" on Friends," and Kudrow replied, "Thanks for carrying it along."
The one with the fashion show
A star-studded sartorial extravaganza showcased some of the show's most memorable costumes. Cindy Crawford walked the runway in Ross' leather pants, Cara Delevingne modeled both Rachel's bridesmaid dress (from Barry and Mindy's wedding) and Ross' "holiday armadillo" costume, and Justin Bieber sported Ross' "spudnik" costume. For the finale, LeBlanc re-created Joey's look, wearing "all of Chandler's clothes."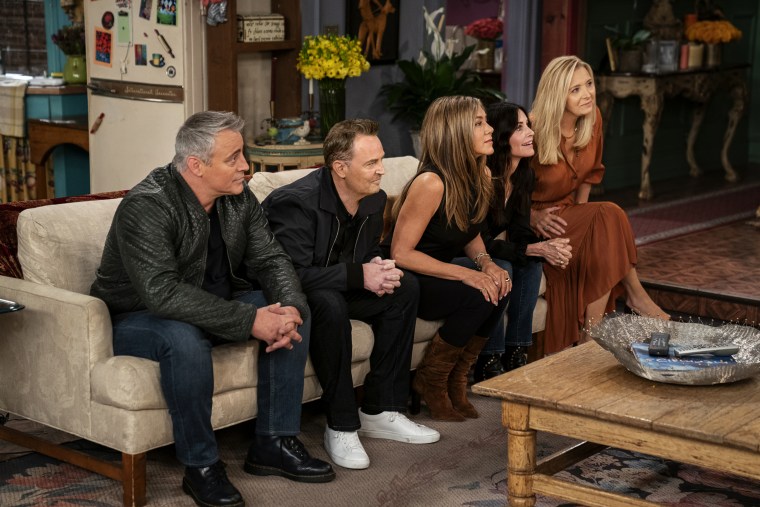 The trivia game from 'The One With the Embryos'
The cast re-created their guys-versus-girls trivia game from season four — along with some special guests. After being asked to identify the voice of Mr. Heckles, they were visited by actor Larry Hankin, who played the curmudgeonly downstairs neighbor. Next was a round of "complete the lyrics," featuring the barbershop quartet who serenaded Rachel with a message from Ross. LeBlanc correctly identified his "identical hand twin" from season five (actor Thomas Lennon). And Selleck made an appearance after the group was asked to identify a voicemail from his character, ophthalmologist Richard Burke. He also delivered the bonus question: What did Chandler do for a living? (Answer: Nobody knows, really.)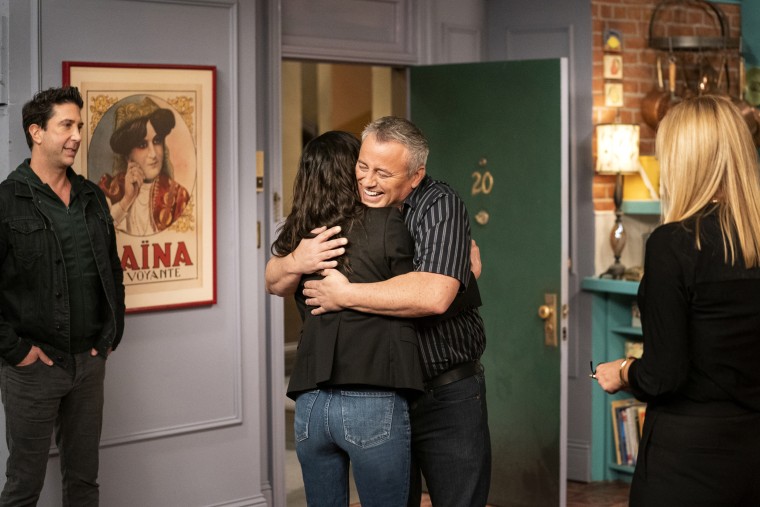 LeBlanc dislocated his shoulder while filming a scene
In the season three episode "The One Where No One's Ready," Joey runs and jumps into the chair he and Chandler are fighting over. But after three takes that "went perfectly," according to Kauffman, a mishap occurred on the fourth.
"I went just to jump over the coffee table, and somehow tripped and my legs went up in the air and my shoulder came out of its socket," LeBlanc recalled.
The group then watched footage of the painful accident.
"So, in come all the paramedics and whatever and they've got to take him to hospital and so that was the end of filming," said Crane. "It wasn't even an episode where, well, we can shoot out the other scenes. No, it happened to be on the one episode where it's just the six of them and they're all in it and we're done for the night."
LeBlanc's arm sling was written into the show, but production waited until LeBlanc was well enough to film the episode's ending, recalled Bright, adding, "What started out to be the simplest 'Friends' episode ended up taking the longest amount of time to shoot."
LeBlanc also remembered the incident occurred during the one night the group had skipped their pre-show huddle.
"After that, we always did it," said Kudrow.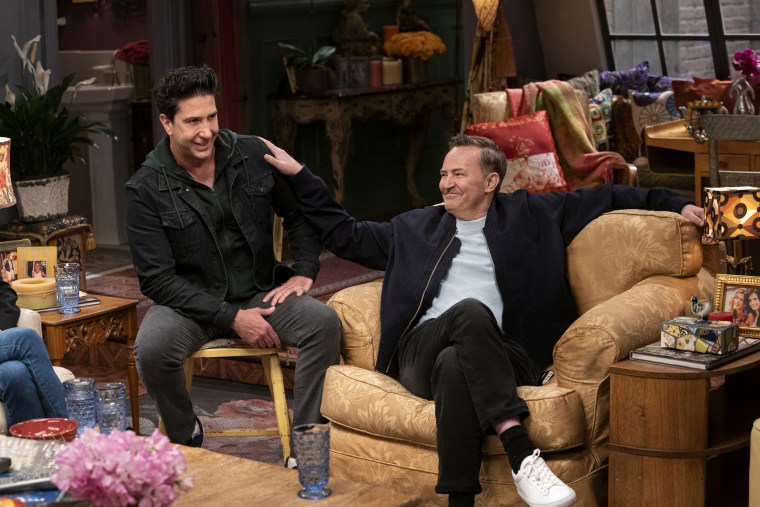 Chandler and Monica's relationship was influenced by the audience
"One of the times we listened to the audience the most was when we were shooting in London and Monica and Chandler are in bed together," said Kauffman, referring to Chandler and Monica's initial one-night stand while in London for Ross' wedding to Emily in the fourth season finale.
"The audience went insane," recalled Bright.
"I think that moment was the beginning of how we rethought Monica and Chandler," said Crane. "The original plan was, they would sleep together in London; it was a brief thing and we'd have some fun with it after, as they're both like 'Oh my God, what did we do?'"
However, as Kauffman explained, "The way the audience reacted, we realized there's more to this, and we need to pay attention. That was the end of the season, so we had time to really ruminate and think about it, but it was such a powerful moment that we knew we had to explore it more."
The story behind Janice's laugh
"Matthew Perry is so funny and the minute I set eyes on him and he opened his mouth, I thought, 'Oh God, I'm going to lose it; I'm going to crack up," recalled Maggie Wheeler, who played Chandler's distinctively voiced on-and-off girlfriend Janice. "This character needs a laugh, because I'm not going to get through a single scene with this guy."
Related:
Ross and Rachel were on a break
Aniston, Cox, Perry, Kudrow, Schwimmer and LeBlanc unanimously supported Ross' claim that he and Rachel were on a break when Ross cheated on Rachel with Chloe the copy girl in season three.
Will there ever be a 'Friends' movie?
"That's all up to Marta and David," said Kudrow. "And I once heard them say — and I completely agree — that they ended the show very nicely. Everyone's lives are very nice. And they would have to unravel all those good things in order for there to be stories, and I don't want anyone's happy ending unraveled. Also, at my age, to be saying 'floopy'? Stop. You have to grow up."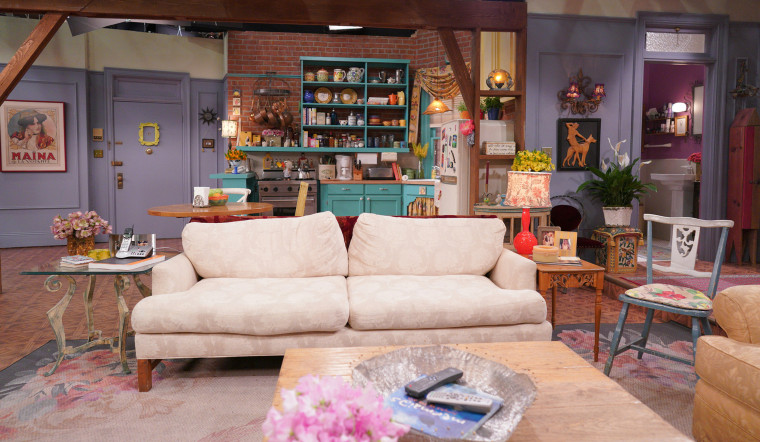 Where the gang would be today
Aniston and Schwimmer agreed that Ross and Rachel would be married with kids, and Ross would still be a paleontologist.
Monica is still ultra competitive, said Cox. "Her kids are probably graduated, but she's still in charge of the bake sale at the elementary school." "And you are making me laugh every day," she told Perry of Chandler.
Kudrow said Phoebe is still married to Mike, and living in Connecticut. "They have kids and I think she was, like, the advocate for her kids, who are a little different, and all the other kids who were just a little different.
As for Joey? "I think he probably opened a sandwich shop in Venice Beach," said LeBlanc.