Some of the most unforgettable "Friends" moments took place during the sitcom's many Thanksgiving-themed episodes.
So, we asked "Friends" co-creator David Crane and his partner, Jeffrey Klarik, to share some of their favorites.
While Crane loved the gang's not-so-friendly football match in Season 3, Klarik cited Monica's dance with a turkey on her head in Season 5 as a standout scene comparable to the "I Love Lucy" Vitameatavegamin episode.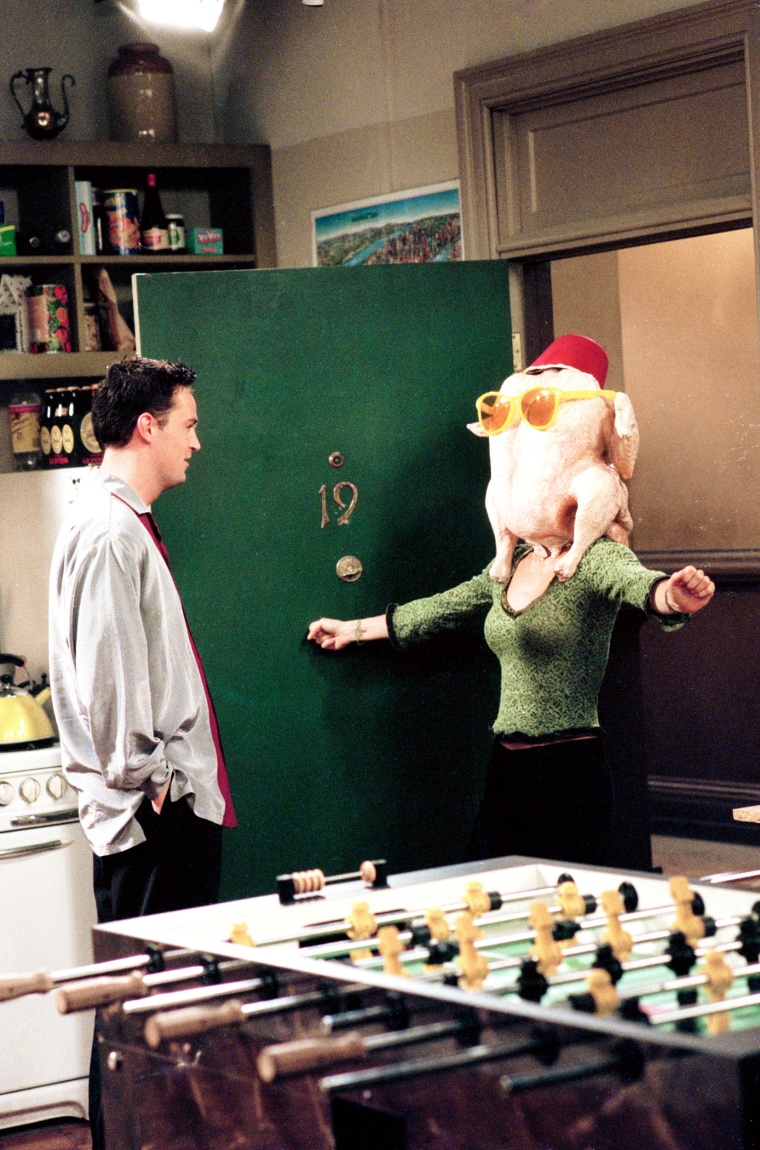 "It's a classic that people will talk about for 50 years to come," he said.
Crane revealed that the group's first turkey day together actually inspired Monica's quick temper.
"The first Thanksgiving episode was the first time we saw Monica get really mad, and high strung," he said. "And it's when she's yelling at all of them and she goes 'Potatoes are ruined, potatoes are ruined, potatoes are ruined.' For us, it was seeing a fresh way that Courteney (Cox) was really funny. And we went, 'All right, she's going to start getting mad a lot.'"
Brad Pitt made a memorable appearance in season eight as a former high school classmate who once co-founded an "I hate Rachel" club with Ross. The episode aired in 2001, just one year after Pitt wed Jennifer Aniston.
"Brad was terrific," Klarik recalled. "He was really insecure and really nervous about doing comedy in front of an audience. And then that night, he was magic. He was just so funny and dry, and the chemistry between him and Jennifer — on camera — was great."
"That was one of those things where, you can do that story if it's not Brad, but it was so much better," added Crane.
And who could forget when Chandler spent dinner trapped in a box to make amends for kissing Joey's girlfriend in season four?
"'We were looking for some big visual comedic way for Chandler to apologize; it was his penance," Crane explained. "And we wanted something that was big and comedic and visual, 'cause so much of the show was talking. So, he could apologize and apologize, but we wanted a bigger statement."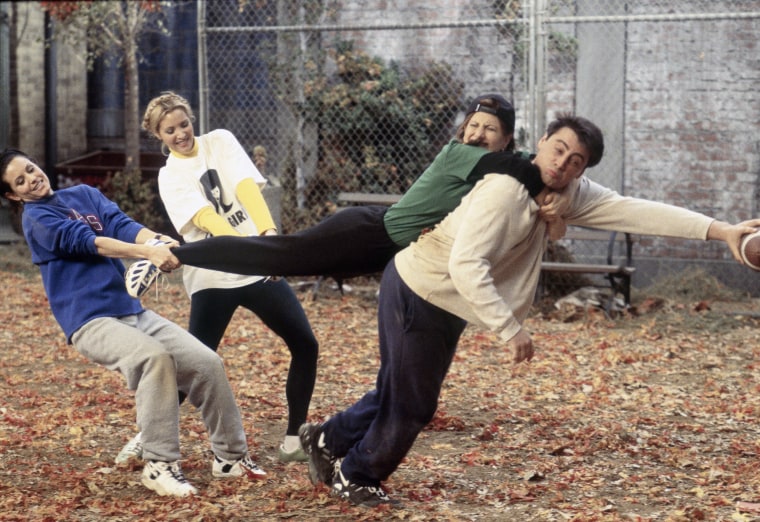 The final "Thanksgiving" episode saw Monica and Chandler bickering with the other four pals until they get a call with happy news from the adoption agency they've been working with.
"It's a lot of comedy and then it ends really emotionally," said Crane. "And that's one of my favorite things about the show."
Crane said the holiday was so special for the show because it "leads to good stories."
"It's Thanksgiving, which means it's family, or what passes for family among the friends. And it's also stressful, because it's Thanksgiving," he said. "So it's going to give you good storylines. And I think once we did a couple of really good Thanksgiving episodes, we went, 'Well, the bar is raised.'"