It was "The One Where They Reunited."
Five of the six stars of "Friends" appeared in a two-hour tribute to director James Burrows that aired on NBC Sunday night, which featured plenty of funny and touching moments. The celebration was honoring Burrows' legendary career in television, and other participating sitcoms included "Cheers," "Frasier," "Will & Grace," "Taxi" and "Mike & Molly."
David Schwimmer, Matt LeBlanc, Jennifer Aniston, Courteney Cox and Lisa Kudrow were all part of the show, though Matthew Perry was rehearsing for a play in London and wasn't able to join them (except via a brief taped message). When the cast sat down for an interview with Andy Cohen, LeBlanc was quick to note Perry's absence. "We're not all together; there's one missing," he pointed out, adding, "We miss you, Matty."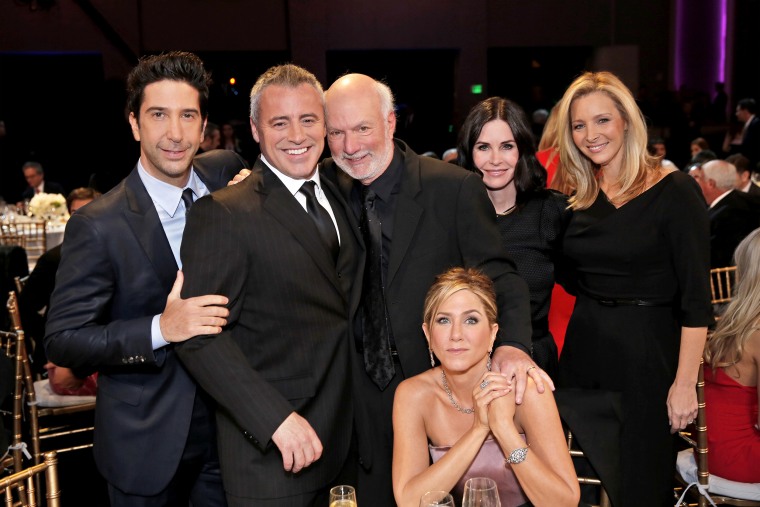 The eagerly anticipated special didn't disappoint. Here are six of our favorite moments with the "Friends" gang.
1. Aniston emphasized the show's impact on their lives.
"We would do anything for Jim Burrows because he really gave us the opportunity of a lifetime, and probably the best 10 years of our acting careers that we will forever remember," Aniston said. "We experienced friendship, family, heartbreak, babies, everything together. And we also had a wonderful experience with the world loving us as well."
2. They reflected on their real-life friendship.
"In the beginning, it was not a hard thing. We really just wanted to hang out with each other," Aniston said. "It was not 'We have to do this.' We really just fell in love and adored each other instantly, and would hang out at each other's houses and watched the show together." LeBlanc added, "Scenes you weren't in, you would watch and kind of try to think of ideas for one another. Everybody was really supportive of one another."
3. One question nearly left the group speechless.
Cohen asked the cast to address a rumor that they'd been asked to sign contracts saying they wouldn't sleep with each other, eliciting loud laughs from the audience. After a pause, Schwimmer joked, "Well, that was broken." Kudrow replied, "I was not asked to sign anything like that."
RELATED: 'Friends' flashback! Watch cast open up about working together in 1994
4. They shared a lunchtime ritual.
"The three girls, we had lunch together every single day for 10 years, and we ate the same food," Cox said, adding that their meal of choice was "a Jennifer salad." She didn't elaborate on what the ingredients were, but claimed that Aniston "had a way" when it came to making it.
5. They talked favorite episodes.
LeBlanc recalled the episode where "the boys went to a Ranger game and Ross was hit in the face with a puck" ["The One With George Stephanopoulos"], while Cox mentioned "The One with the Blackout." Aniston said she loved those with flashbacks to "fat Monica and Rachel pre-nose job and Ross with his Afro."
RELATED: 18 celebrities you may have forgotten guest-starred on 'Friends'
6. Kudrow revealed Burrows liked to draw from his previous shows.
"I felt like we were the brand-new show," she explained. "There had been 'Taxi' and 'Cheers'; he went around and told us, 'You're Mary from "Mary Tyler Moore."' You're Rev. Jim.'" LeBlanc drew laughs, adding, "I remember him saying 'You're Danza.'"
Aniston ended the segment by summing up Burrows' legacy: "I think he taught us everything we know about comedy timing, support, collaboration," she said. "He's our papa."