In the midst of war and in the wake of what seems like an unprecedented amount of natural disasters, shopping may not be the top priority for many families. So when consumers do shop this season, many of them will want to see their dollars put to good use — all the reason to consider shopping at stores that donate a percentage of their profit to charity. What follows is a mere sampling of places to shop for gifts that do good, from specially made items that support hurricane victims to gifts designed by children, which help other children worldwide.
Karma Dice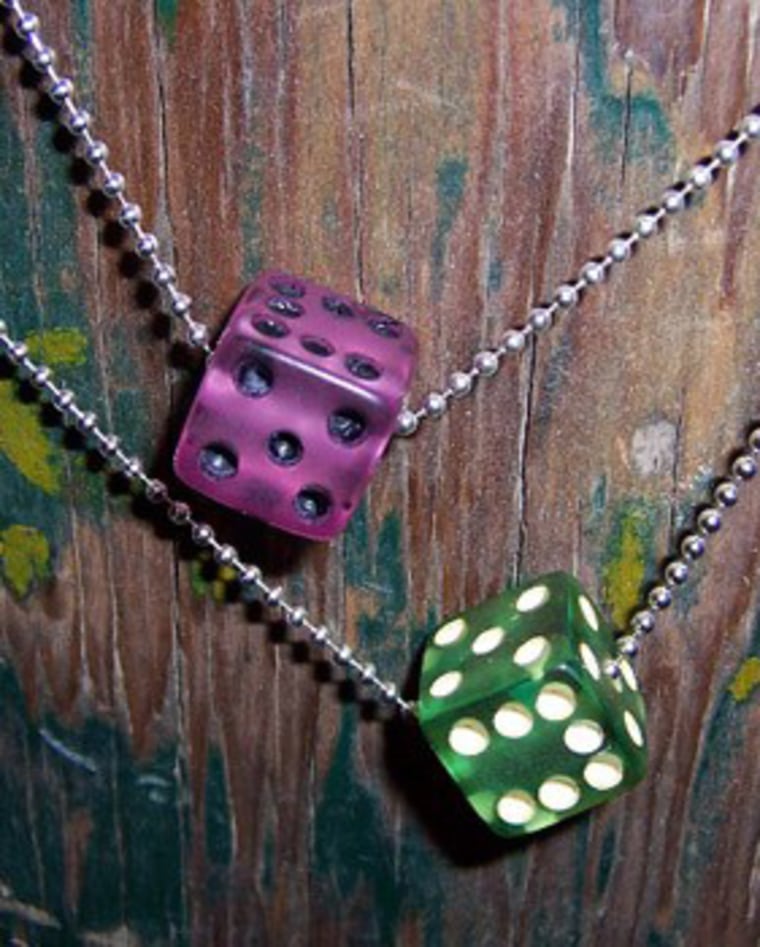 Although sold separately at Lady Lucky Jewelry, a die (singular for dice) for $6 plus a silver chain, which retails for $10, does not make a Karma Dice necklace, says Colo.-based artist Dia Kline, whose collection of jewelry made out of dice, dominoes, Mah Jong tiles and Milagros (small charm offerings placed on sacred altars) is now available online. The Karma Dice necklace-a bright purple or green die on a silver chain-was specifically designed using the traditional colors of Mardi Gras. Eight dollars from the sale of each $16 necklace will be donated to the American Red Cross.
Kline is not stopping with Katrina. She plans to make 12 more Karma Dice necklaces to support other causes. "Lady Luck has 14 different colors of dice, so I thought the best good I could do would be to have the colors represent a different cause," says Kline, many of which will support local causes such as humane societies, food banks, schools, shelters and perhaps even a scholarship fund.
Fresh 'N FunkyKnown for its fresh and funky sleepwear, cyber shop Sleepyheads.com also has joined the campaign to help hurricane victims. The cyber shop plans to donate all the profits — 50 percent of the cost of each $125 set of PJs — from its new Fresh 'N Funky line to the American Red Cross.
Vibrant colors and fun patterns set the 100 percent poplin PJs apart from run-of-the-mill seasonal sleepwear. Styled like men's PJs with drawstring pants and a button-up top, the PJs come in three prints. Bright orange-and-red lollipops are set against a turquoise background; pink cupcakes with chocolate frosting dot a light pink landscape; and orange-and-black olives are sprinkled amongst turquoise-and-purple horizontal stripes.
As with many of the PJs at sleepyheads.com, the Fresh 'N Funky line has some star status. The list is long of celebrities who received a pair of the jammies in the Emmy Award gift baskets this past September, including Teri Hatcher, William Shatner, Patricia Arquette, Cybill Shepherd, Kelly Carlson and the cast of "Desperate Housewives."
A fruitcake that does goodAnd what's the holiday season without a fruitcake? Well even if this fruitcake travels around the world, rest assured it did some good. Priced at $20 each, cyber shoppers can pick up a traditional or brandied 2-pound fruitcake from Gingersnaps Etc., where sales from all its products help support The Center Serving Persons with Mental Retardation in Houston, Texas, a not-for-profit United Way agency that serves children and adults through educational, residential and work training programs.
Traditional fruitcakes come with cherries; brandied fruitcakes contain "no cherries, but are laden with dried fruit and nuts, and laced with brandy," according to the product description online.
Now some of us just don't like fruitcake, including former first lady Barbara Bush. So at the request of Bush, who visited The Center back in 1998, the volunteer-driven group added gingersnaps to its offerings, says Alicia Lee, chief volunteer of 700 volunteers.
It took Lee — a volunteer in Mrs. Bush's press office — two months to perfect the gingersnap recipe. Once she did, she sent a tin to Bush in Kennebunkport, Maine, who ordered a lot that summer, says Lee. Since then customers have an alternative to fruitcake. The gingersnaps are indeed snappy. The ginger flavor lingers for quite a long time.
Save the children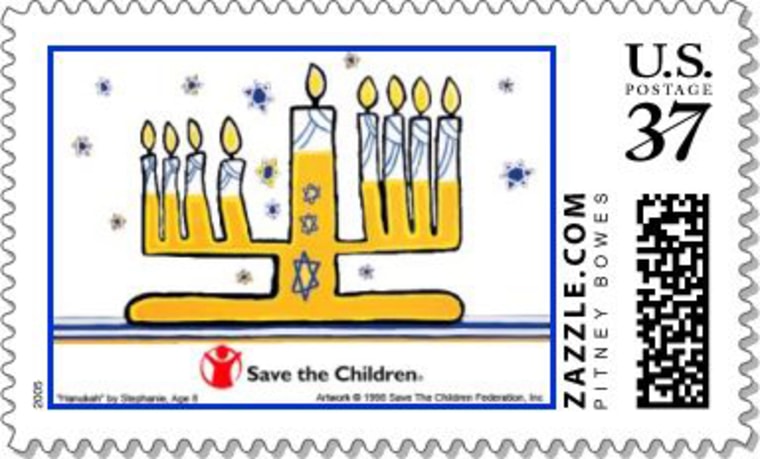 And then there are the old stand-bys. This year, the online shop at Save the Children has a limited selection of its classic ties; and the scarves unexpectedly sold out, says a company spokesperson. (A new shipment is due this January.) But the non-profit organization, which supports programs for children worldwide, has launched several new campaigns to raise funds.
When mailing cards this season, zazzle friends and family members with a special collection of stamps featuring children's artwork. Available only at Zazzle, the images are classic-a menorah for Hannukah, snowpeople at Christmas time. Yet the concept is cool and different. Zazzle.com plans to donate 20 percent of the sale of the stamps to Save the Children.
Holiday shoppers also have a choice of three borders featuring children's artwork at online photo service Shutterfly. Ten percent of the card's purchase price will be donated to Save the Children. The promotion will run until Jan. 16.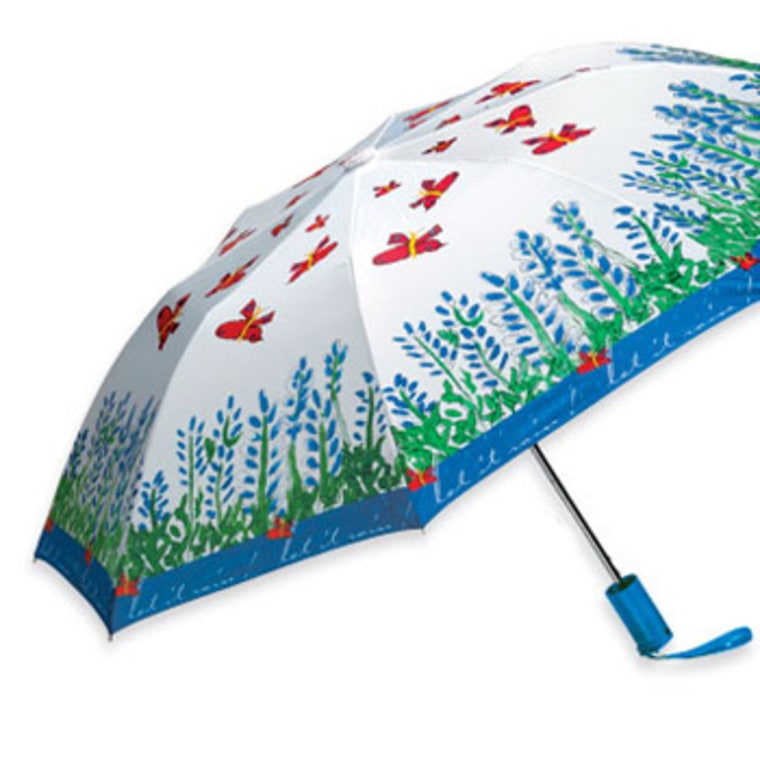 The most unusual gifts featuring children's work I discovered this season are from the Children's Art Project at The University of Texas M. D. Anderson Cancer Center. The online shop and print catalog has a great selection of gifts that feature the original artwork of pediatric cancer patients. Gifts range from a cheerful Dancing Angel ornament, by Alex, 9, of Houston, Texas for $5 to an Earthenware ceramic plate with symbols of Hannukah created by Anna, 12, of Conroe, Texas for $75.
The umbrellas are a steal at $20 a pop. And who can't use an extra umbrella? Covered with bluebonnets, red tulips, floral hearts or a Safari print, these umbrellas are sure to brighten up any rainy day. Proceeds from the sale support 15 patient-focused programs at the Cancer Center.
Global good
Of course, there are many more shops and certainly not enough time or money to shop at them all, although it's tempting. Other shops that stock gifts that do good include:
, formerly SERVV International, sells all sorts of crafts that promote Fair Trade (defined on the Web site as "the social and economic progress of people in developing regions of the world by marketing their products in a just and direct manner").
, a Manhattan-based non-profit group that prepares and delivers meals to people living with HIV/AIDS and other serious illnesses, continues to offer a range of gifts, from a package of brownies ($25) to luxury items, such as a Michael Kors Astor satchel for $348.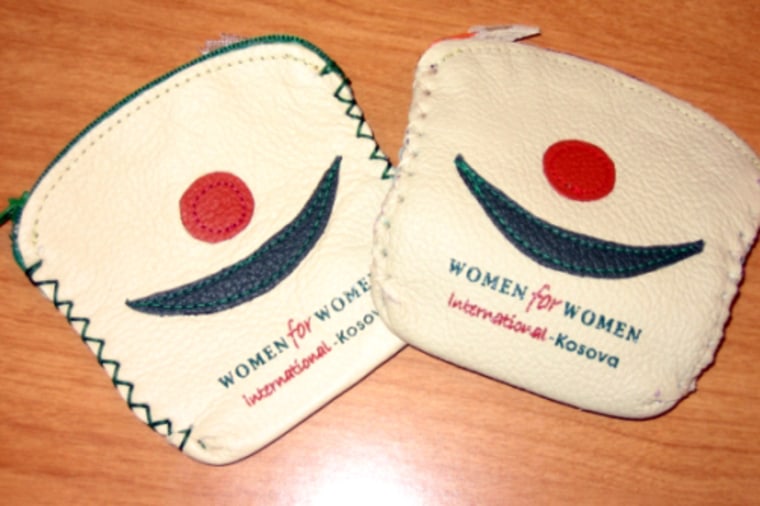 Crafts from around the world at help a variety of causes including hunger, breast cancer, literacy and animal rescue.
A certain percent of the proceeds from the sale of the Smokey-the-Bear Pendelton blanket, priced at $170, at is donated to the national parks.
Bean soup mixes to Fair Trade coffee are just a few products where the proceeds support , a Denver-based program for homeless and low-income women.
Made in Kosovo, a small leather purse from helps women survivors of war. At $7, I bet you can't buy just one: these charming chain purses make a perfect stuffer, a great receptacle for  Hannukah gelt or a nice offering to celebrate the holiday of Kwanza.