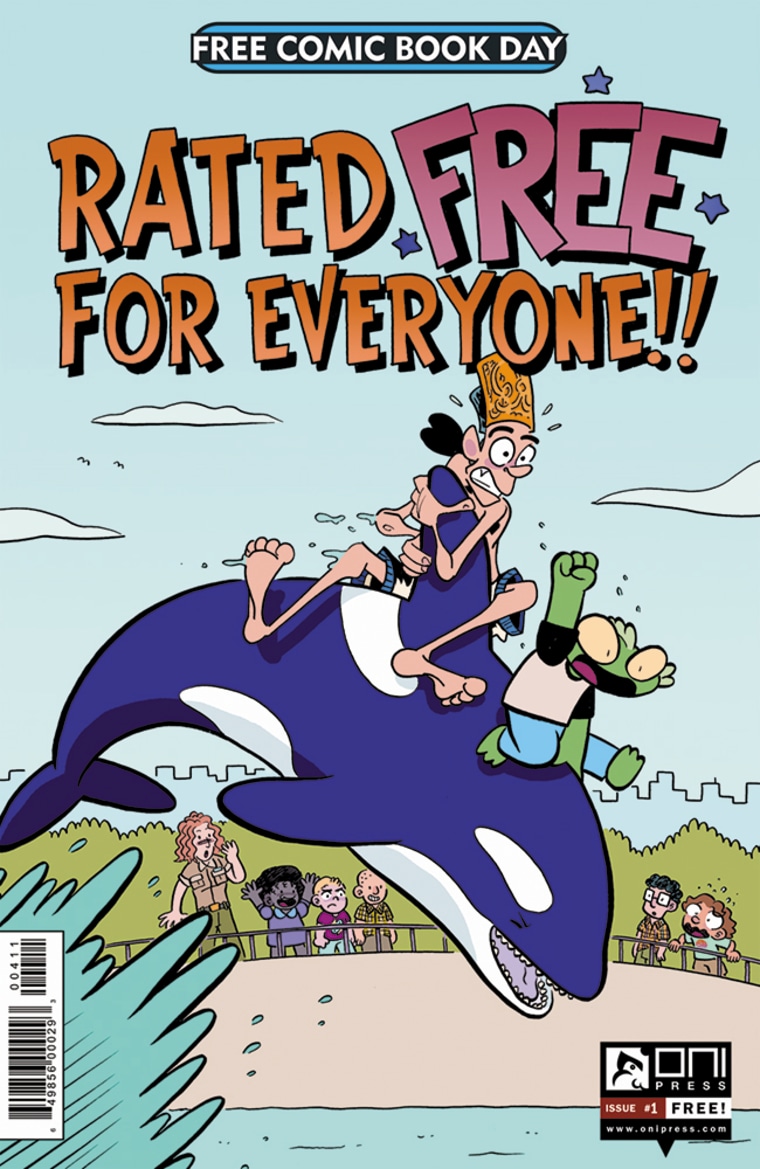 For comic book fans, the most wonderful time of the year isn't Christmas — it's the first Saturday in May. And it isn't Santa who visits; it's Superman, and zombies, and a vast array of other colorful characters.
This year, May 4 is Free Comic Book Day, and comic book shops around the country will give away more than 4.6 million comic books. One of them is Midtown Comics in Manhattan, where co-owner Gerry Gladston is bracing for an even bigger onslaught than he faced last year.
"On Free Comic Book Day 2012, a line started forming at 6 a.m. at Midtown Comics Times Square, and by 11 a.m. opening time, at least 600 people were waiting," Gladston told TODAY.com. "It was a madhouse, and we gave away literally thousands of comics." He said the scene was the same at all three of his locations.
People lining up at the doors is precisely the point, according to California comics retailer Joe Field, who organized the first Free Comic Book Day back in 2002: "These shops ... are really social hubs for people who like anything that's going on in popular culture."
Only four comic book publishers participated in 2002; now all of the industry's major players (Marvel, DC, Archie et al.) and a host of scrappy independents are on board. The growth of the event reflects that of the industry. John Jackson Miller, who tracks industry sales figures and estimates, said that sales of single-issue comic books were up nearly $60 million to $474.6 million in 2012, compared with $414 million in 2011 and $310.6 million in 2003.
And Miller says that sales of digital comics, read on mobile devices instead of in print, were an estimated $75 million in 2012 compared with about $25 million the year before. "It's definitely tripled," he said. "and the heartening thing to everyone in the business is that it happened alongside gains in print sales."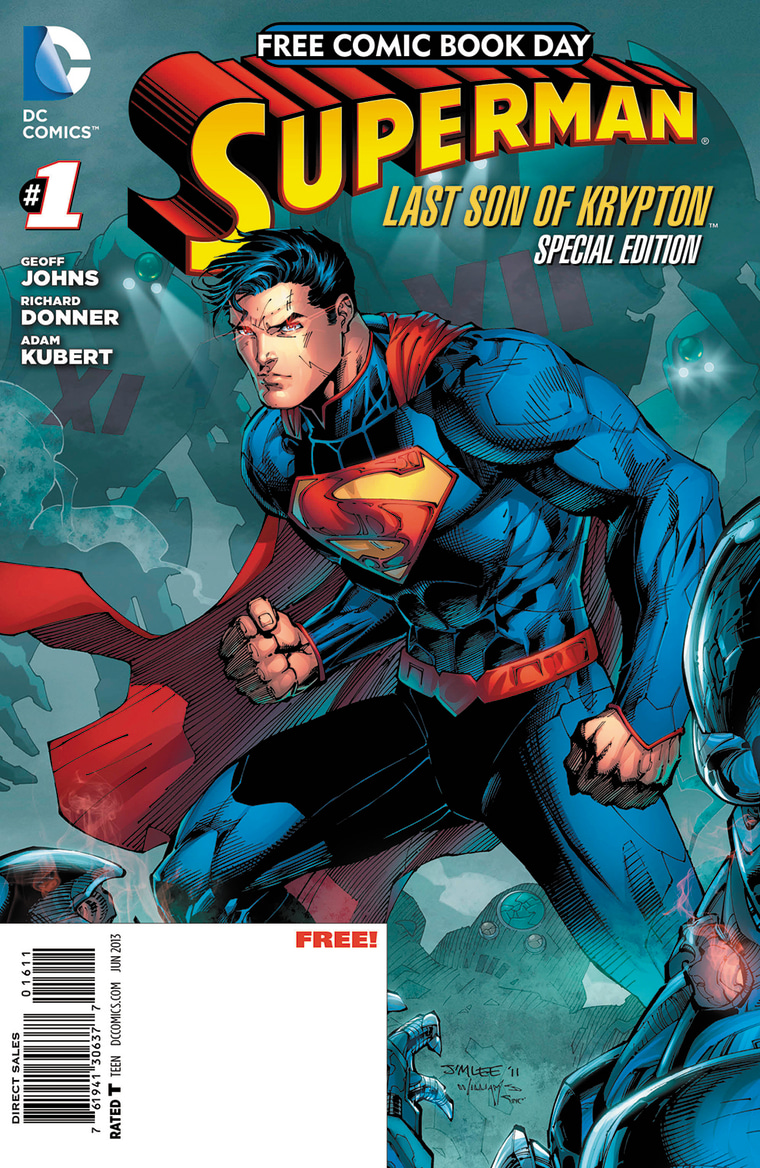 This year's Free Comic Book Day offerings range from iconic heroes such as Superman to offbeat sci-fi like Endangered Weapon B, a dotty steampunk satire from Britain. There's plenty of grown-up fare like The Walking Dead, but more selections than ever for small fry, who have been "underserved for years," Gladston acknowledged. "But many publishers are now stepping up to the plate to provide more comics for all ages and tweens, many of them of very high quality."
Here's a little of what you can expect to find free at your local comics shop (click here to find one) tomorrow. (Note that not all comics will be available at all locations.)
For superhero fans:
Superman: The Last Son of Krypton, co-written by "Superman: The Movie" director Richard Donner.

Infinity: A preview of Marvel Comics' upcoming crossover pitting the Avengers, the X-Men and just about everybody against mega-bad guy Thanos.
The Strangers: A freaky team of super-agents set in a Mad Men-esque era.
The Red Ten: Imagine Agatha Christie's "And Then There Were None" retold with superheroes.
The Tick: The blockhead in blue returns in an absurd new adventure.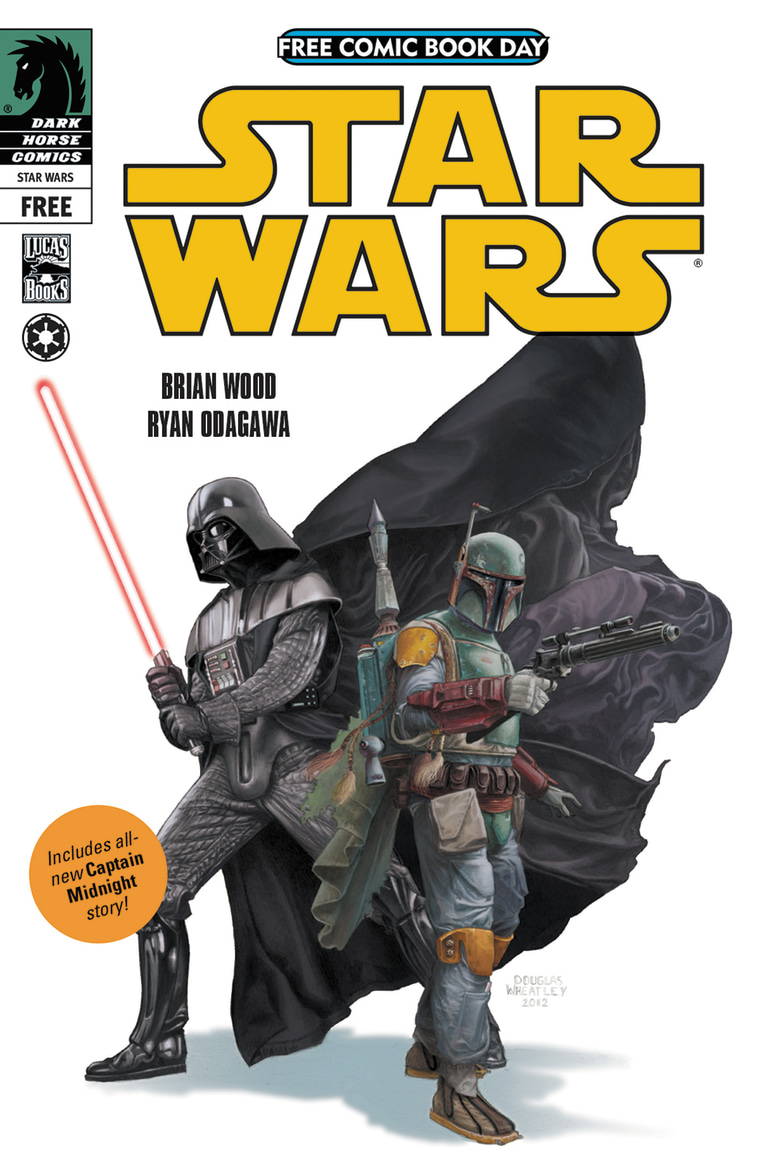 For sci-fi fans:
Star Wars: This year Free Comic Book Day coincides with Star Wars Day (as in "May the fourth be with you"). To mark the double occasion, Darth Vader and Boba Fett team up in a giveaway from Dark Horse Comics.

Absolution: A super-cop goes bad in this violent sci-fi saga.
Aphrodite IX: A beautiful assassin awakens in a postapocalyptic future where cyborgs and superhumans are at war.
For horror fans:
The Walking Dead: The comic that spawned the hit TV zombiefest.
FUBAR: War comics with an extra added ingredient: zombies!
For all ages:
Mouse Guard: Imagine "Game of Thrones" with talking mice and beautiful artwork.

Molly Danger/Princeless: Molly Danger is the world's most powerful 10-year-old girl; "Princeless" is about a princess who tires of waiting to be rescued and sets out on her own adventures.
Mr. Puzzle: A puzzle fan turned superhero who can stretch and change size.
Rated Free for Everyone!!: Mermin, a fish-boy on dry land, and Crogan Adventures, a historical action saga for kids, share this giveaway.
Scratch9: A runaway house cat gets superpowers from each of his nine lives.
Other good stuff:
Marble Season: Childhood memoir by the much-awarded writer-artist Gilbert Hernandez.
Kellerman L'Amour Sampler: Black-and-white adaptation of a Louis L'Amour western.
The Associated Press contributed reporting to this story.