What's the most "Mister Rogers" way you could imagine the host of "Mister Rogers' Neighborhood" could possibly propose to his wife-to-be?
We bet you guessed right. As Joanne Rogers, who was married to one of our most beloved children's television hosts of all time for 50 years, explained on TODAY Tuesday, Fred went the old-fashioned route: He asked her in writing.
"Fred worked here at 30 Rock at the same time that I was at Florida State doing graduate work and piano playing," Rogers told Megyn Kelly.
She was visiting the show with producer Nicholas Ma to speak about a new documentary on her husband's life and career, "Won't You Be My Neighbor?"
So, about that marriage proposal? Well, Rogers met then-Sara Joanne Byrd when he studied at Rollins College in Florida, earning his degree in music composition in 1951. After graduation, he moved to New York for that 30 Rock producer's assistant job, but clearly he couldn't get her off his mind.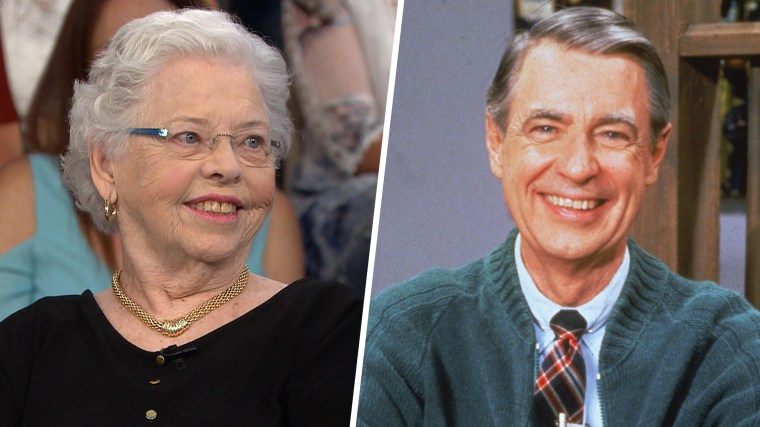 "He wrote me a letter," she recalled. "My last year at Florida State, he wrote me a letter proposing marriage."
This was before "Mister Rogers' Neighborhood" got off the ground, but we like to imagine it included the phrase "won't you be ... my bride" in it!
Fred and Joanne Rogers married on June 9, 1952 and had two sons, James and John. They remained together until his death in 2003 of stomach cancer.
Later that year, the Pittsburgh Post-Gazette revealed that she had to let her husband know it was time to leave; he was, as she recalled, in pain.
"There was a feeling of real relief when I could say to him, 'You know, we're going to be OK. We're going to be all right," she said then. "The boys will be fine, and I'm going to try to be fine.' So when he went, I could feel he went at peace and even with joy. I really feel he went with joy."
"Won't You Be My Neighbor?" is now in select theaters.
Follow Randee Dawn on Twitter.