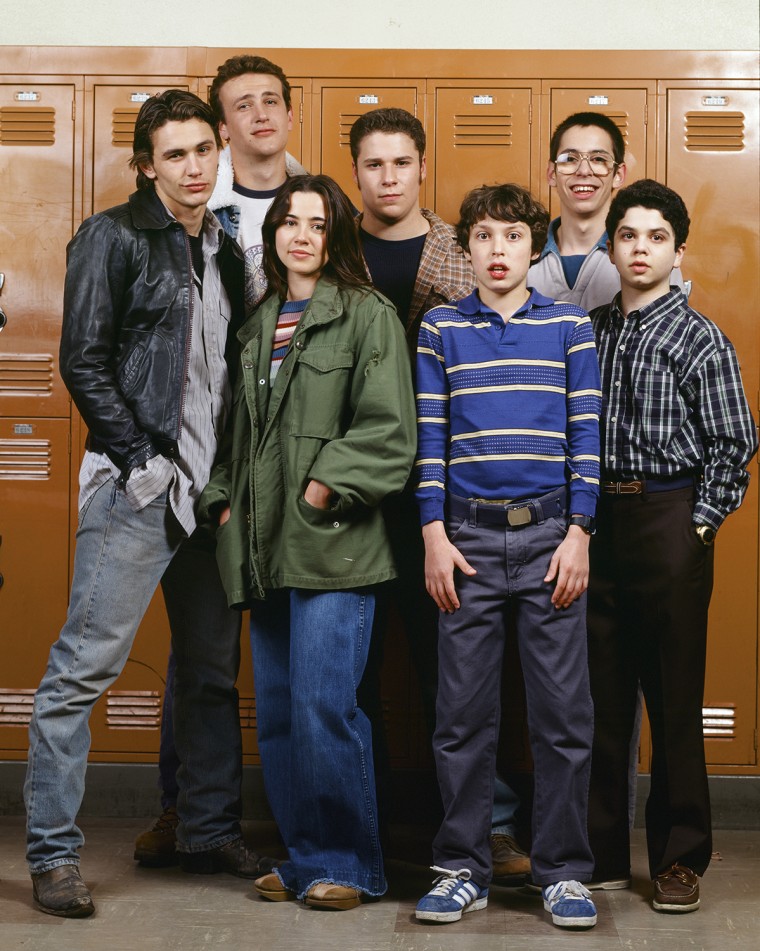 Gone too soon! "Freaks and Geeks" may have been cancelled after just 18 episodes, but the sitcom remains a fan-favorite for audiences. The show — which launched careers for stars like James Franco, Seth Rogen, Jason Segel, and Busy Philipps — celebrated its 15th anniversary on Sept. 25.
"15 years ago today 'Freaks & Geeks' premiered on TV," Samm Levine, who played Neal Schweiber, tweeted Thursday. "Thanks to the dozens of you who watched it then, and the millions who've found it since!"
"Freaks and Geeks" aired from 1999 to 2000, and depicted two groups of high school teenagers trying to overcome the awkward hurdles in their adolescent years. Despite the early goodbye (fans are still upset) executive producer Judd Apatow continued to crank out films like "Knocked Up," "The Five-Year Engagement," "Pineapple Express," "Superbad," "Forgetting Sarah Marshall" and "The 40-Year-Old Virgin" with its leading actors.
Rogen, Franco, and Segel in particular have continued to share screen time together. Last year, the "How I Met Your Mother" alum joined the BFFs for their comedy "This Is the End." Rogen and Franco are next starring in the upcoming flick "The Interview." The trio, it seems, have Apatow to thank for their lasting friendships.
Segel spoke about working with the actors when the cast of "Freaks and Geeks" reunited for the first time in 12 years for Apatow's Vanity Fair Comedy Issue in December 2012.
"We would get the script on a Friday, and Seth and James and I would get together at my house every Sunday, without fail, and do the scenes over and over and improve them and really think about them," Segel told the mag at the time. "We loved the show. And we took the opportunity really, really seriously."
Philipps also took her role seriously when she played Franco's love interest. "Judd and [co-creator] Paul [Feig] early on said they liked the weird physicality between James and me. Presumably both of our characters come from abusive households, and you parrot what your family does," she recalled to Vanity Fair. "In the pilot, James did all of that stuff. Kicking me and all sorts of rough behavior. But I would always go back at him. We had a real intense thing when we worked together."
Linda Cardellini, John Francis Daley, Martin Starr, Becky Ann Baker, and Joe Flaherty also starred in the classic, which later launched the spin-off "Undeclared" from 2001 to 2003. Although it wasn't given a fighting chance, Apatow was grateful for the opportunity.
"There's that moment early in your career when you will work harder than any other point afterward. And you can see that in 'Freaks and Geeks,'" he told the mag. "Just total commitment in every frame of the entire series."
Other fun facts: Segel later dated Philipps' best friend, actress Michelle Williams, for a year until their split in 2013. Plus, Daley is currently co-directing the "National Lampoon's Vacation" reboot, "Vacation," with Apatow's wife Leslie Mann, who will be playing Audrey Griswold.