"Frankly, my dear, I don't give a damn."
That's a damn good line. And a damn enduring one, which was delivered by Clark Gable's Rhett Butler to his never-satisfied wife Scarlett O'Hara (played by Vivien Leigh) in 1939's "Gone With the Wind."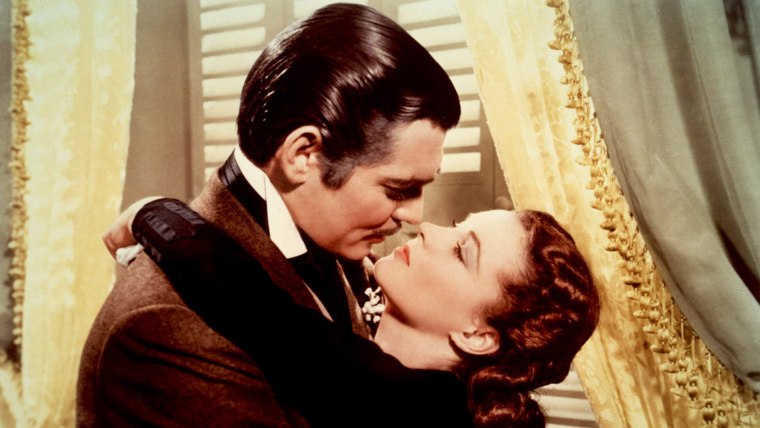 But the most famous line from the classic movie, which premiered in Atlanta 75 years ago on Dec. 15, almost didn't make it into the movie.

In the early days of cinema, there was no ratings system. But moviemakers didn't want the government telling them what they could film, so starting in 1930 they agreed to self-regulate through rules that became known as the Hays Code. 
Still, a movie like "Gone With the Wind" sent up a lot of red flags: the portrayal of a prostitute! Amputation! Battlefield violence! Painful childbirth! And, of course, a certain important line taken (almost directly) from Margaret Mitchell's 1936 bestselling book. (In the book, it's "My dear, I don't give a damn.")
Movie producer David O. Selznick and his story editor Val Lewton worked hard to keep the movie close to the book. Selznick knew when to make concessions (the use of the n-word was a serious concern, even in 1939) and when it was important to stick to the original. As he told regulators of the now iconic-line, "It is my contention that this word as used in the picture is not an oath or a curse. The worst that could be said of it is that it's a vulgarism."

In the end, the film got special dispensation to use "damn" and "hell" in specific situations.

But before they got the OK, Selznick and Lewton went around their offices soliciting alternate suggestions. What did they come up with? Just check out the sheet: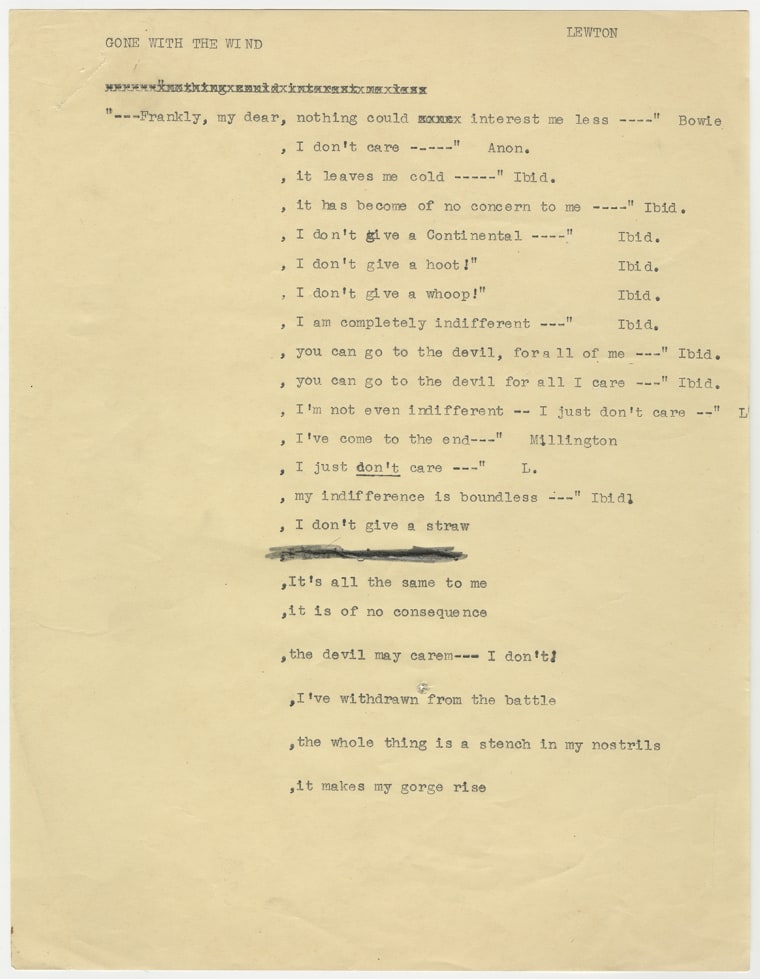 Our favorites? "Frankly my dear, I don't give a straw" and "Frankly my dear, my indifference is boundless." "Frankly, my dear, I don't give a Continental" is just plain confusing (unless you just happen to be hep to the currency that was passed around during the American Revolution)! And according to Steve Wilson, curator of film at the University of Texas' Harry Ransom Center (which is hosting an exhibit of rare "GWTW" items), no one really knows what the scratched-out one says. 
"As Selznick put it, it's the punchline to the whole story," Wilson told TODAY.com. "The movie is about Scarlett and her insecurities, a woman who makes all of these questionable decisions and here's the guy who really loves her and she blows it."
And it made it into film history because Selznick and Lewton did give a damn.
The rare archive collection can be viewed online or at the Harry Ransom Center in Austin through January 4, 2015.