The first "Hairspray Live!" cast photo is here and it is fabulous.
The star-studded shot finds cast members sporting magnificent bouffant hairdos and retro duds for the musical, which is set in 1962 Baltimore and follows teenager Tracy Turnblad in her quest to land a spot dancing on "The Corny Collins Show."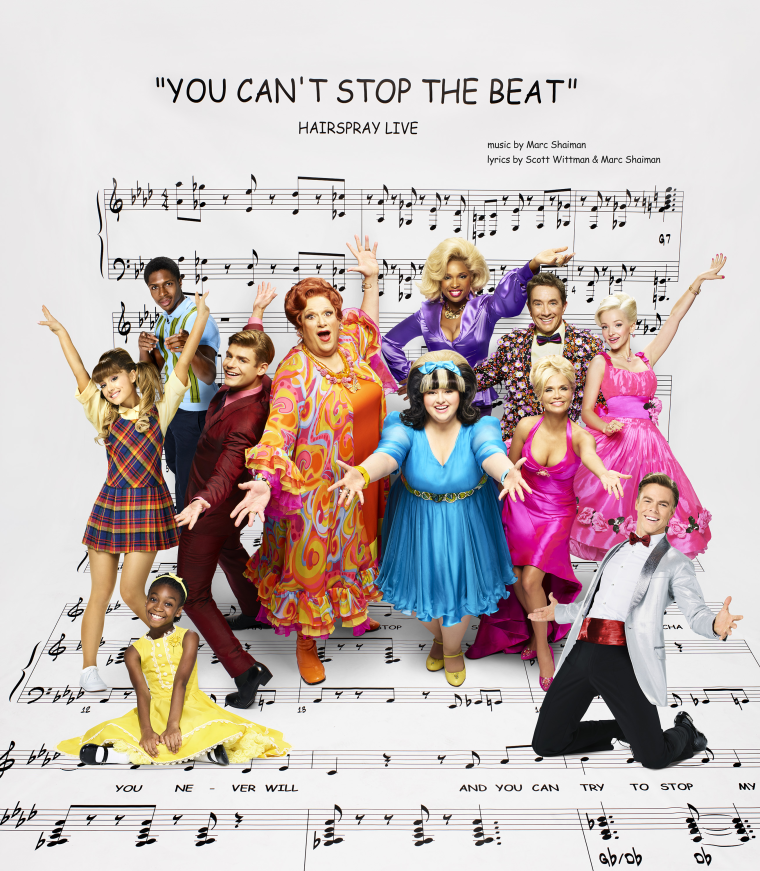 The musical is based on the campy 1988 cult movie "Hairspray," directed by John Waters. The movie was already turned into a Tony award-winning Broadway musical in 2002, and then remade for the silver screen in 2007, when John Travolta famously donned drag to play Tracy's mom, Edna Turnblad.
Now, NBC will bring the "Hairspray" story to television for the first time in a thrilling live performance. Newcomer Maddie Baillio (center, in blue) stars as Tracy, while Grammy winner Ariana Grande (far left) plays her pal Penny Pingleton.
RELATED: NBC releases 'Hairspray Live!' teaser: See Harvey Fierstein, Ariana Grande and more
To Grande's right are "Hamilton" vet Ephraim Sykes, who stars as Seaweed Stubbs, the kindhearted friend Tracy meets in detention, and "Teen Beach Movie" star Garrett Clayton, who plays teen heartthrob Link Larkin.
Stage and screen vet Harvey Fierstein (in orange) will be the man in drag playing Edna Turnblad this go 'round, while Oscar winner Jennifer Hudson (back row, in purple) stars as R&B record producer Motormouth Maybelle.
Rounding out the cast are Broadway superstar Kristen Chenoweth and former "Liv and Maddie" star Dove Cameron (in matching pink), who play mother-daughter duo Velma and Amber von Tussle, funny man Martin Short (in bowtie) as Tracy's dad Wilbur Turnblad, Derek Hough (bottom right) as TV host Corny Collins, and tiny stage wonder Shahadi Wright Joseph (bottom left) — who made history at age 9 as the youngest actor to play Young Nala in Disney's Broadway production of "The Lion King" — as Little Inez.
Billy Eichner, Sean Hayes, Andrea Martin and Rosie O'Donnell are also set to appear.
"Hairspray Live!" airs Dec. 7 on NBC.