Sure, we're all getting excited to see "Fifty Shades of Grey" — but Christian Grey and Anastasia Steele aren't the first pair of envelope- (and bedsheet-) pushing lovers to ever heat up the big screen. Hollywood's been making racy movies almost since the industry got started.
Remember "Midnight Cowboy"? "Last Tango in Paris"? The stand-out steamy scenes from those films are certainly hard to forget.
Which of these 10 taboo classics have you seen?
Note: Some of the clips below may be racy or contain a little not-safe-for-work language!
1. 'Ecstasy' (1933)Nude bathing! Nude running! People having sex! Yep, this really happened in the Hedy Lamarr romance (she's the one who was seen in her altogether, causing scandal). The Czech film didn't screen in the U.S. until 1940, and even then was declared morally objectionable by the Catholic Legion of Decency.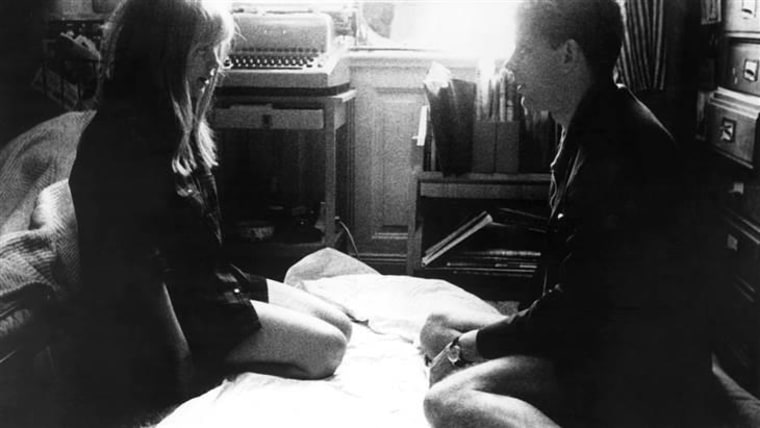 2. 'I Am Curious (Yellow)' (1969)A curious Swedish film (released independently of its companion film "I Am Curious (Blue)") that was as arty and strange as it was erotic, it included a lot of nudity and even showed some male body parts that rarely get an airing even today. Banned in Massachusetts, a court case declared it was not objectionable.
3. 'Midnight Cowboy' (1969)A hustler (Jon Voight) and a con man (Dustin Hoffman) do whatever it takes (in the case of Voight's Joe Buck, that means getting paid for sex) to make it in New York City. It's the only best picture Oscar winner to ever earn the award while also having an "X" rating. Stream on Amazon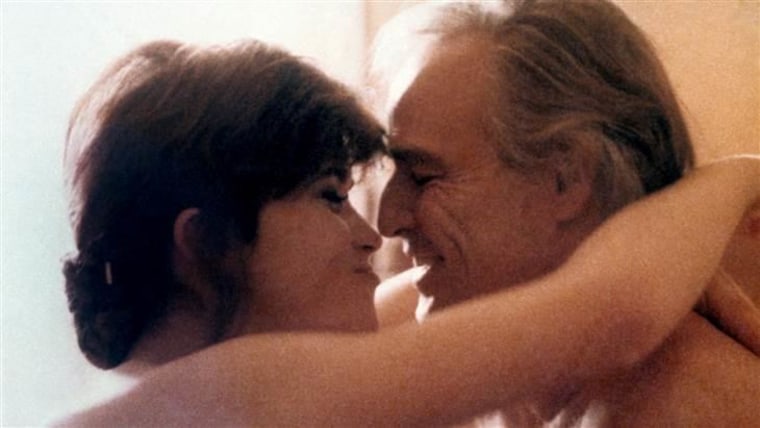 4. 'Last Tango in Paris' (1972)An anonymous widower (Marlon Brando) gets into an anonymous sexual relationship with an engaged woman (Maria Schneider) in Paris that turns deadly. It also turned extremely controversial, particularly over what became known as "the butter scene." Beautifully filmed yet full of questionably-erotic scenes, the movie earned Oscar nominations for Brando and director Bernardo Bertolucci.Stream on Amazon
5. '9 1/2 Weeks' (1986)Beautiful woman (Kim Basinger)? Check. High-powered Wall Street mogul (Mickey Rourke)? Double check. Ice cubes and refrigerator filled with milk and strawberries? Hello! While the erotic romance bombed in the U.S., it set a high bar for bedroom antics for the rated-R crowd. And yes, there's an uncut version.Stream on Amazon
6. 'Henry & June' (1990)If you're going to make a movie about the relationship between writers Henry Miller, his wife June and Anaïs Nin, you can't be all that surprised when the MPAA stamps the film with the first-ever NC-17 rating (a replacement for the "X" rating, which had become tainted by being associated with pornographic films).
7. 'Basic Instinct' (1992)While investigating the death of a rock star, a police detective (Michael Douglas) gets a little too involved with the main suspect (Sharon Stone), whose interrogation scene (complete with strategically crossed/uncrossed legs) gets everyone hot under the collar. Director Paul Verhoeven had to cut about 30 seconds out to keep it in solid R-rating territory.Stream on Amazon | Stream on Netflix
8. 'Wild Things' (1998)Two high school girls (Neve Campbell and Denise Richards) accuse a high school guidance counselor (Matt Dillon) of rape, but things are definitely not as they seem in this tale of threesomes and con games. Stream on Amazon
9. 'Secretary' (2002)James Spader has made his name playing bad boys (like on NBC's "The Blacklist") but arguably here he's the baddest of them all as a boss who likes to play domination games with his (willing) assistant (Maggie Gyllenhaal). Maybe they should double date with Anastasia and Christian. Best part: Spader's character's last name is Grey.Stream on Amazon
10. 'Nymphomaniac' (2013)This look at a young woman's (Charlotte Gainsbourg) recounting of her highly-libidinous lifestyle was released over two "volumes" and features unsimulated depictions of sexual acts.Stream on Amazon