OK, so maybe not many people are going to see "Fifty Shades of Grey" with mom and dad. But there are plenty of awkward scenarios that could unfold if you're going to take in the racy film this weekend.
Here's how to handle potential landmines when you hit the theater: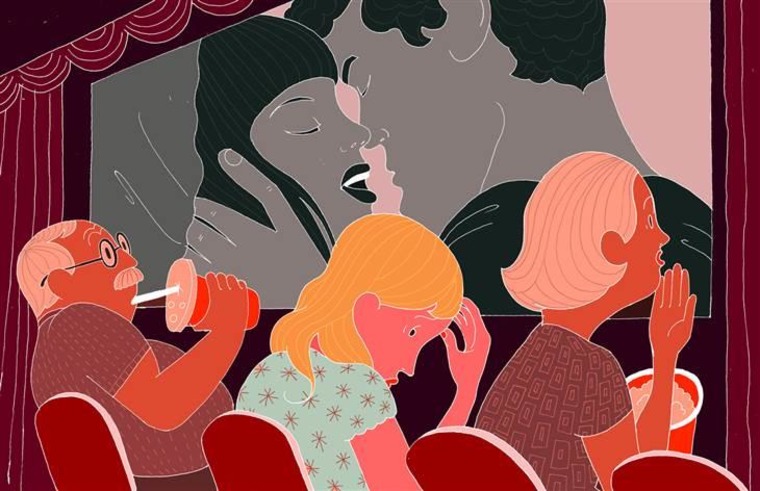 1. Don't pretend you don't see someone you know.
If you run into your boss or your babysitter, just play it cool!
"You never want to ignore people. You should always be able to look them in the eye," etiquette expert Daniel Post Senning of the Emily Post Institute told TODAY.com.
And remember, a laugh can go a long way.
"Never underestimate the power of humor," he added. "A knowing smile or look — 'Funny seeing you here.' They're probably feeling the same awkwardness. Sometimes your ability to be at ease and put others at ease is really appreciated."
TODAY exclusive: Watch 5 clips from 'Fifty Shades of Grey'
2. Watch the preview first.
This probably isn't a movie you want to go see on a whim. If you haven't read the books, at least watch the preview. And then, like you would with any movie, really decide if it's something you want to see.
"If you're going to see a movie with content that's potentially controversial or explicit, be prepared to own that," Senning said. "You should always be comfortable with the choices you make."
3. Plan your escape route.
On the off chance that you've been living under a rock and wind up at the theater before you realize exactly what "Fifty Shades of Grey" is all about, it's perfectly acceptable to run to the restroom or hit the popcorn line if a scene gets too, well, uncomfortable.
So make sure you know where the emergency exits (and maybe the snack bar) are before you settle in. But you always do that, right?
4. Choose the right viewing companion.
Not every movie should be a family affair — a lesson many told TODAY.com they learned that the hard way. Amanda Mushro, a 34-year-old writer in Gaithersburg, Maryland, said she'll never forget the time she saw "Wedding Crashers" with her family 10 years ago.
"The worst part was when Vince Vaughn said, 'tattoo on her lower back … might as well be a bull's eye,'" she recalled. "I just froze. That was a hot-button issue back then because I had this back tattoo that my parents hated. You know, I was 25. And my dad just turns and looks at me."
Madeline Carlson, a publicist in Chicago, said it was "Wolf of Wall Street" that left her crippled by embarrassment in front of her father.
"I saw in between my dad and brother-in-law as we watched Leonardo DiCaprio snort cocaine out of a woman's behind," she said. "I was born in a very strict Roman Catholic family, so it was probably the most awkward situation I've been in my entire life."
But if you're wondering whether to take in "Fifty Shades of Grey" with a significant other, relationship expert Rachel DeAlto says it's a great idea.
"Those books led millions of women to explore sides of them they didn't realize existed," she told TODAY.com. "Seeing a movie that might start a serious spark? That's a total 'do.'"
5. Above all, have fun.
"Make it an experience," Senning said. "Get a seat you like, be comfortable. Don't rush. There's something nice about seeing a movie."
And if something awkward happens, maybe even "take some pleasure in it," he added.
One brave mom is taking that advice to heart. Adrienne Mazzone of Boca Raton, Florida said she plans to see the movie with her daughter and her friend, and her fiancé.
"I've heard about it, but I haven't read the book," she said. "We'll just keep an open mind."
This article was originally published Feb. 13, 2015 at 1:08 p.m. ET.