/ Source: The Associated Press
Hip-hop's latest battle between two of its biggest egos — Kanye West and 50 Cent — has been building like a title fight in Vegas. Before the Tuesday release of their respective CDs, "Graduation" and "Curtis," 50 challenged West to a televised debate, called him a "worker bee" while describing himself as a "boss," and vowed to retire if West outsold him during their debut week. In response, West has mostly downplayed Fiddy's bluster, re-channeling it as added publicity for his own release. The two share a Rolling Stone magazine cover posed nose-to-nose, evoking the great showdowns of our time.
If the contest was being judged solely on artistic vision rather than Soundscan tallies, however, West could claim a landslide victory. "Graduation" blends a different set of musical influences than West's past two efforts, 2004's "The College Dropout" and 2005's "Late Registration." Drawing from Daft Punk and Coldplay to loping, back-porch soul and '80s-era electro-disco rhythms, "Graduation" still sounds like a logical step forward. Yet "Curtis" sounds like Fiddy is standing in place, with the familiar bruising basslines and slick, synth-heavy productions that have transformed the former drug dealer into one of the top-selling recording artists of any genre.
As on his previous releases, West measures his overflowing arrogance with self-conscious dollops of doubt, humor and vulnerability. Meanwhile, Fiddy's outsized cockiness sounds like a comfortable artist repeating himself, afraid to tinker with his winning formulas.
To wit, on the radio-ready track "Good Life," featuring the digitally enhanced singing of T-Pain, West takes some of his adversary's own advice and paraphrases a line from Fiddy's 2003 smash "In Da Club": "50 told me go head switch your style up/ And if they hate, then let 'em hate and watch the money pile up."
The so-called "hate" West has received for his award-show outbursts, preppy fashion choices and unfiltered honesty results in a lot of explaining on his new album. On the haunting "Can't Tell Me Nothing," West alludes to his infamous "Bush hates black people" post-Hurricane Katrina comment: "I'm just saying how I feel man/ I ain't one of the Cosbys, I ain't go to Hillman," before speaking about himself facetiously, "I guess the money should've changed him/ I guess I should've forgot where I came from."
To avoid seeming soft and indecisive, elsewhere he undercuts apologies with knowing brashness. On the addictive "Barry Bonds" featuring Lil Wayne, West boasts: "Top five MCs you gotta rewind me/ I'm high up on the line, you gotta get behind me/ but my head so big you can't sit behind me."
By disc's end, on the captivating "Big Brother," West even dares bite the hand the feeds him, detailing the mild beef but ultimate reverence he has for his label boss Jay-Z.
50 Cent: A rapper in a rutNeither self-deprecation nor humility is part of Fiddy's equation. He's more concerned about squashing rivals, real and imagined ("My Gun Go Off," "I Still Kill"), highlighting his street pedigree and reminding us of his bottomless wealth.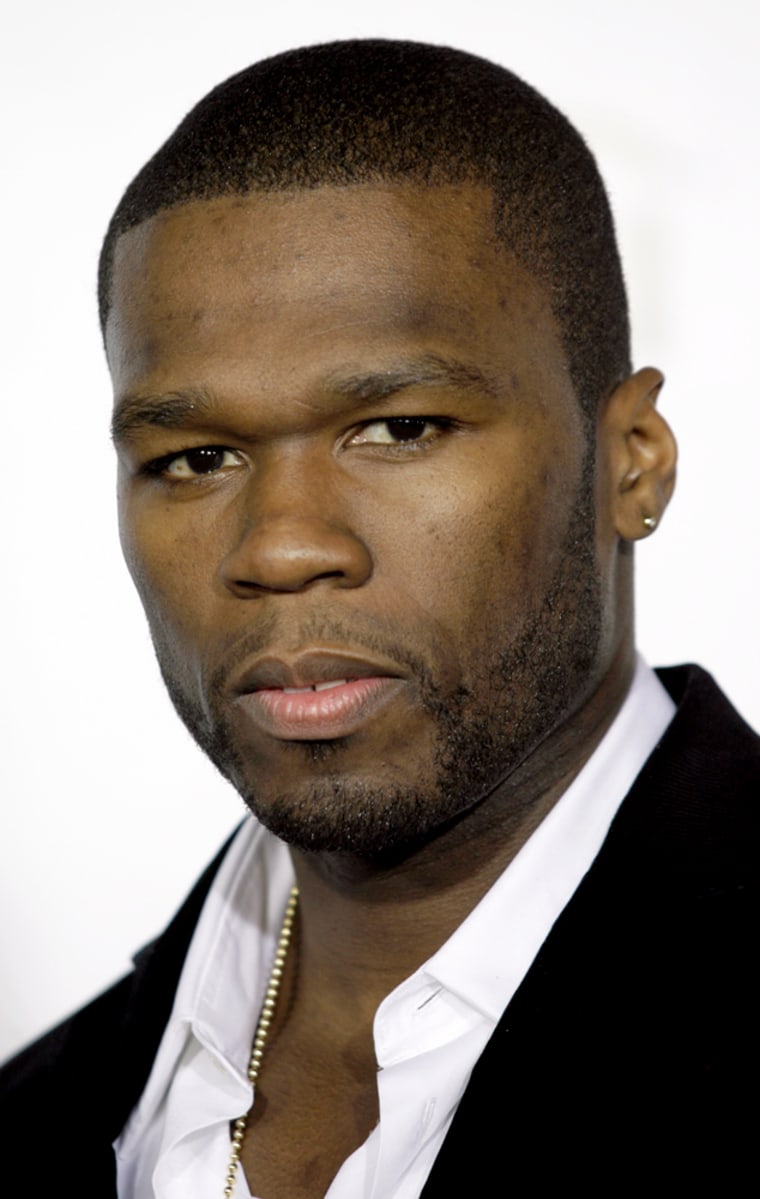 The disc is mostly standard-issue gangsta talk that only in moments recalls vintage Fiddy such as "Wanksta" or "P.I.M.P." For example, on the menacing funk of "Fully Loaded Clip," Fiddy takes aim at rap/R&B elite who've gone soft, snickering: "When Jay and Beyonce was um-um kissing/ I was cooking 1,000 grams in my kitchen/ When Nas was telling Kelis, "I love you, boo"/ I was shining my nine, you know how I do." And over the deep bass thuds of "I Get Money," which features a classic Audio Two sample, Fiddy gloats: "They callin' me cocky/ I come up out the jeweler, they callin' me Rocky/ It's the ice on my neck man, the wrist and my left hand/ bling like BA-LOW, you like my style."
As much as Fiddy banks on ruthless rhymes and nouveau riche bragging, he also fancies himself a rugged sex symbol. Hence the obligatory cuts that reveal his sensitive thug side, notably, "Amusement Park" and "Peep Show," the latter featuring a lewd verse from Eminem. However, the tracks capture little of the magic of past winners such as the touching "21 Questions" or the seductive "Candy Shop."
And when Fiddy enlists Justin Timberlake and Timbaland for "Ayo Technology," Robin Thicke on "Follow My Lead" and Pussycat Doll Nicole Scherzinger on "Fire," it feels like a rapper in a rut desperate to maintain his pop stranglehold. The songs aren't tough listens by any means, but Fiddy is going the easy route to appeal to the masses.
Ill-advised collaborations detract from West's "Graduation" as well. "Drunk and Hot Girls," an exasperated dis of club floozies featuring Mos Def, has a grating and humorless hook. And "Homecoming" includes an unremarkable chorus sung by Coldplay's Chris Martin. Still, West's miscues result from a risk-taking spirit that Fiddy lacks. For that reason alone, West should claim the title of hip-hop's most successful egomaniac.
CHECK OUT THESE TRACKS: The drum kicks of Fiddy's "I Get Money" are meant to rattle trunk speakers, while West shows that it's OK for a rapper to express paralyzing insecurity and dogged ambition in the same breath on "Big Brother."