There are rumblings out there among guys that dads don't get the attention they deserve. She has Valentine's Day, birthdays, an assortment of other holidays and then on top of it, Mother's Day, said one burly guy to his friend on the subway. Celebrating dad on Father's Day was just an afterthought — a tie, some cologne, a card — he concluded. (And yes men do complain and need attention.)
So this Father's Day, show dad he really does count. Think beyond the tie, the watch, luxury leather goods. Get him something he really wants.
A space of his own
Forget the tools. Buy him a shed. Not the usual Sears-variety shed. More like a little house, a retreat, an escape for the backyard — a place where Dad can not only store stuff but also use as a meditation space, serve tea, entertain friends.
And this Father's Day, you can have dad's dream shed delivered direct to his door thanks to Seattle-based Modern Shed. The pre-fab sheds are made of materials that are the same quality as a house, says Ryan Grey Smith, architect/company founder who built the first shed as a solution to his own family's storage needs.
The cost: the basic shed comes in three sizes, priced from $5,700 for a 6-feet-by-8-feet shack to $7,980 for a 10-feet-by-12-feet space. Custom sizes also are available. Studio sheds with finished interior surfaces and building insulation run $11,490 for a 120-square-foot space.
Shipping is not included. The heaviest shed weighs about 4,000 pounds, says Smith. It cost 50 cents a pound to ship to the West coast; 65 cents a pound to ship to the central United States and 75 cents a pound to ship to the East coast, which translates into an additional $2,000 to $3,000, depending on where the shed is shipped.
The catch: Dad has to assemble it. The kit is packed flat with all the panels pre-built and finished. "It does require some skill and experience to put the sheds together and at least two people," says Smith. "With the right experience, the basic sheds can be put together in a weekend and the studio in three to five days," he says.
The reward: Dad has a space of his own.
The ultimate grill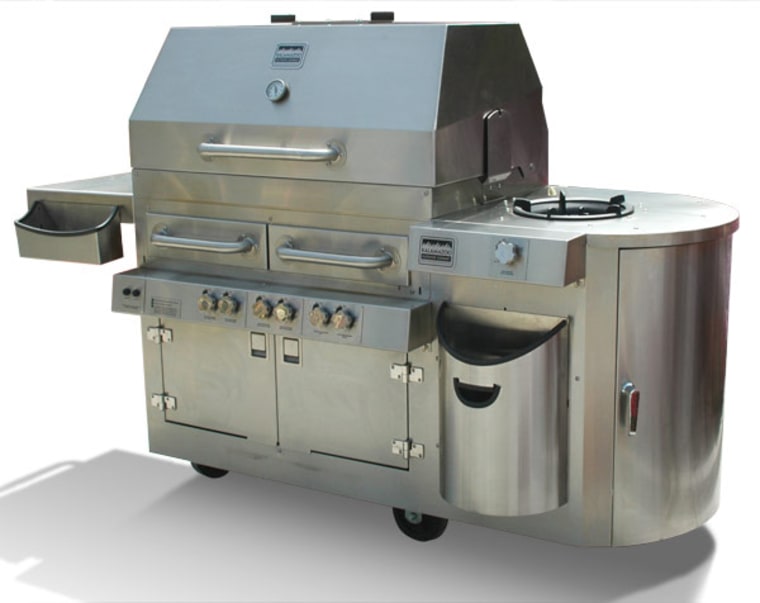 By now, dad has enough grilling tools, aprons and steak sauce to rival his tie collection. But he still is the master of the grill. So this year, get him what's truly hot — a gourmet-style grill for the backyard.
The choice of several celebrity chefs is a grill from Kalamazoo Outdoor Gourmet. Grills at the Kalamazoo, Mich.-based shop start at $3,790 for a modern-looking contraption called the Sculpture Charcoal Gourmet Stainless Steel grill to $20,590 for the most expensive model of the Bread Breaker series.
Steve Raichlen, author of The Barbecue Bible and host of PBS's Barbecue University, recommends Kalamazoo's Bread Breaker Two Dual-Fuel Hybrid grill. This model retails for $11,290. "If grills were cars, this 500-pound machine would be a Hummer. What makes it so ingenious is that it can burn gas, charcoal or wood," says Raichlen in the June 6 issue of Food & Wine magazine.
Michael Chiarello, Food Network television host and cookbook author, selects a lower end model: Kalamazoo's Steadfast Two Plus Smoker Box Gourmet Stainless Steel grill, which comes with a price tag of $6,690, midrange for gourmet grills. "I think it is more than enough for most home grillers," says Chiarello, who founded NapaStyle where the grill is sold.
Just some of the grill's features include a motorized rotisserie unit with a 11,000 BTU infrared heat unit, a 32,000 BTU side burner, a side-mounted smoker box, 864-square-inch grilling space, a stainless steel grilling grate, integrated precision thermometer and more. It also comes fully assembled!
Of course, other companies have jumped on the gourmet grill bandwagon. Viking, best known for its high-end stoves catering to the home gourmet, offers a series of premium and ultra-premium grills, which sell for $1,600-$3,800 at Big George's "The Biggest Little Superstore," a family-owned business in Michigan.
Weber, best known for its sturdy and reliable bowl-shaped grills with lids sold at stores such as Home Depot and Target, now makes higher end grills called the Summit series.
"I have tried all the big name brands," says Chiarello. "I would rather pay a little more … get 33 percent more BTU's (combined 50,000!) and have a much better grilling surface. Everyone is competing in the $2,500 to $3,000 range, and they all end up having to give up some performance and construction quality to get there," he says.
Keeping up with mom
And now that mom has a trusty robotic vacuum cleaner, isn't it about time that dad gets his very own robotic lawn mower? (Read more about iRobot's latest model here: "Scrub the floors. That's what the robot is for" says Ron Harris of the Associated Press.)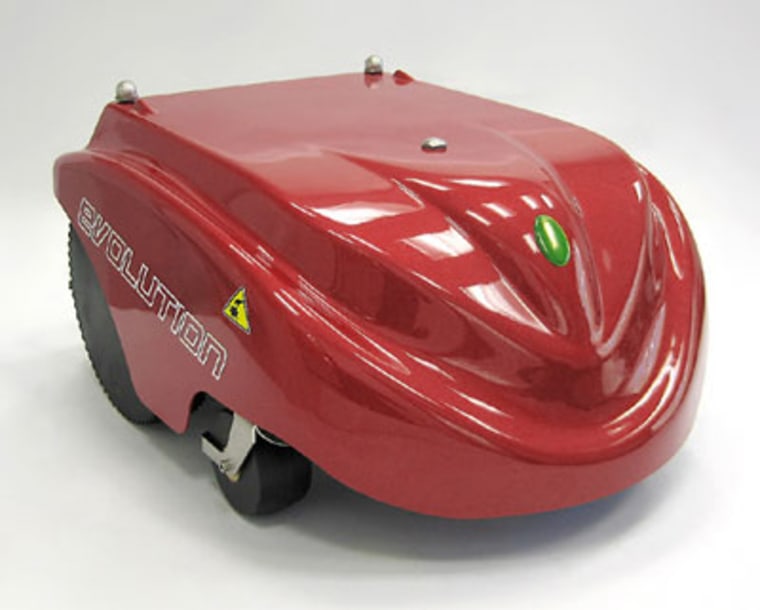 Compared to the shed or the grill, a robotic lawn mower is dirt cheap. Made by an Italian company Zucchetti, the Ambrogio Evolution robot lawn mower costs a mere $2,500 at RobotsandRelax.com.
The little red wonder "recognizes obstacles, both, mobile and fixed, and by working freely inside a given area it can mow up to 3000 square meters," according to the product description on On The Fly, a one-stop shop that offers the best of the best for the modern gentlemen. The robotic lawn mower also "can mow surfaces with a gradient of up to 27 degrees without losing speed and power and without any risk of overturning." It also mulches the grass, recharges its own battery and looks rather cool in the backyard. Probably best to store it in the shed though.