Family reunion!
It was a grand ole night out at Nashville's Grand Ole Opry on Monday as Steve Martin, Martin Short and Kimberly Williams-Paisley staged an unofficial "Father of the Bride" get-together backstage!
RELATED: 'Father of the Bride' house sells for nearly $2 million
The trio starred in 1991's "Father of the Bride" and 1995's "Father of the Bride II," both remakes of the 1950s classics that originally starred Elizabeth Taylor and Spencer Tracy.
Williams-Paisley (who has been married to musician Brad Paisley since 2003) posted a photo of the threesome on Instagram. Martin tweeted back one word of joy:
But this was no random meetup: Williams-Paisley specifically went to the storied Opry to see the pair, who are currently sharing the stage on a musical-comedy tour that Billboard called "Borscht Belt and bluegrass music."
Here's Williams-Paisley as an actual bride, which we were happy to see her post on Instagram as well:
Martin, 71 and Short, 66, played father George Banks and wedding planner Franck Eggelhoffer, and Williams-Paisley played the titular bride Annie in the films (in the second one, both Annie and her mom, played by Diane Keaton, both got pregnant).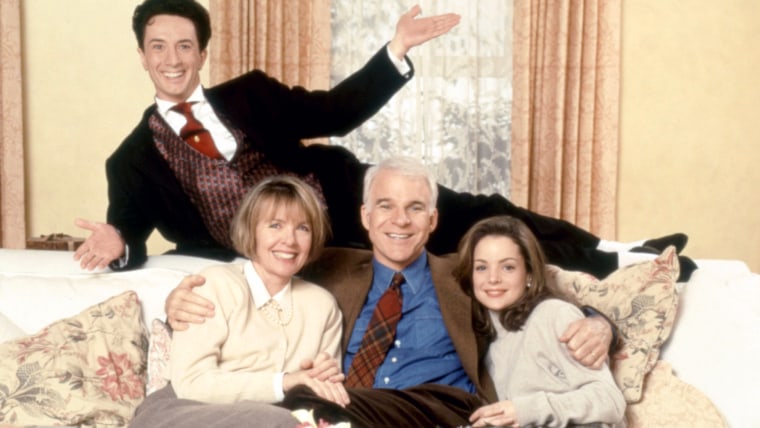 Alas, Martin won't say "I do" to a third "Bride" film. In February 2016 he told Entertainment Tonight, "I don't think that's gonna happen. I'd have to play a grandfather — do I want to do that? Yeah, of course I do, but I think we've seen enough." (Martin himself became a dad for the first time in 2012.)
RELATED: 'Opening my heart': Actress Kimberly Williams-Paisley reveals mother's dementia
He added, "But, you know, I think another generation will make that movie again."
We're ready for that wedding announcement!
Follow Randee Dawn on Twitter.