While pulling a copy of Aziz Ansari's book "Modern Romance" from the shelf of an Illinois bookstore, Meghan Whalen discovered not only that her copy was signed by the comedian, but also that his hand-written note expressed hope that the book would wind up in the hands of retired Chicago Bulls star Scottie Pippen.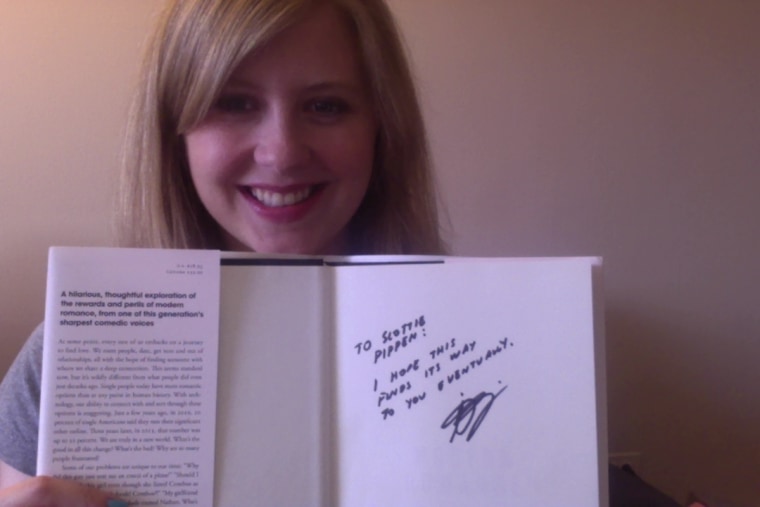 Whalen, a 30-year-old marketing coordinator, told TODAY.com she had been taking her lunch break Tuesday when she walked into the nearby and "really tiny" Barbara's Bookstore within Northwestern Memorial Hospital.
"'Modern Romance' is a book I've wanted to read for a while," she added. "There was a stack in the middle of the table, and I just cracked open the first one and was like, 'This is a signed copy! Oh, that's pretty cool!' There were about four copies of the book, and it looked like he'd signed all of them, but the one I had was the only one with that [Scottie Pippen] inscription in it."
Just hours earlier on Instagram, Ansari posted a photo of the signed book and revealed, "CHICAGO: I walked in and signed a special 'Scottie Pippen' edition of Modern Romance at Barbara's Bookstore. If you grab it try to lend it to #33 [Pippen's jersey number] when you're done."
Even as a fan of Ansari's stand-up and his role on NBC's "Parks and Recreation," the Lake View, Illinois, resident said she hadn't realized he'd been signing copies of his book at random bookstores and putting them back on the shelves for readers to discover on their own. Finding the signed copy, she insisted, was pure luck.
"I took it up to the guy at the [register], and said, 'How'd you get these signed copies?'" Whalen said. "And he said, 'Oh, [Ansari] was in here this morning, just signing copies.' He said, 'It was kind of hard not to freak out, because he just kind of showed up.'"
At least one of the other books Ansari signed and put back on a shelf was claimed at New York City's John F. Kennedy Airport, much to the delight of the comedian who raved about that result on Twitter and Instagram.
Whalen celebrated her find, and tried to alert Ansari and Pippen to it, on Twitter on Tuesday afternoon.
Amazingly, it's not the first time Whalen's discovered a famous signature at Barbara's Bookstore. "At that same bookstore, I found a signed copy of a Judy Blume book, 'In the Unlikely Event,'" said Whalen, who also purchased that copy. "I don't know if she was in there or if that bookstore just got a shipment of signed copies, but that bookstore is kind of a little, hidden gem."
But the story doesn't end there. Things got even more interesting Tuesday afternoon, when Pippen tweeted, "I'll get my hands on that book eventually."
Noted Whalen with a laugh, "I was not really expecting Scottie Pippen to weigh in, but I guess that's the way of the world now."
She added that someone from Chicago Magazine, which reported on this story Tuesday, told her Wednesday morning that Pippen read that article and may be open to meeting her to claim the signed copy in person.
Whalen concluded she'd be content to part with the book so that it can fulfill its destiny, "as long as I get to read the book eventually."
Follow TODAY.com writer Chris Serico on Twitter.