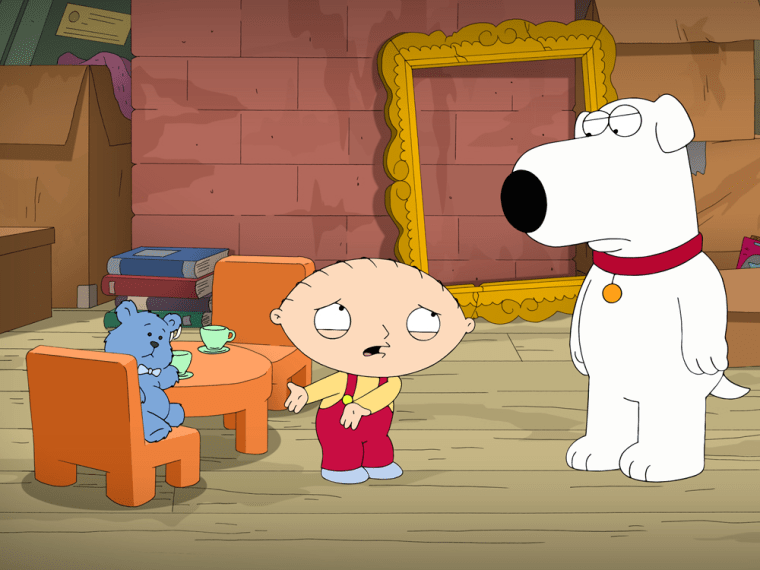 It's a Christmas miracle! "Family Guy" ripped fans' hearts out on Nov. 24 when beloved character Brian, the Griffin family's dog, was run over by a car and killed. But now, the wise-talking, hard-drinking pooch is back. 
The animated show resurrected baby Stewie's partner in crime on Sunday's holiday episode by using — you guessed it — the time machine. Yes, the aforementioned gadget that Stewie had destroyed and was unable to rebuild on that fateful November episode made another appearance. And it's how Brian, a core character of the comedy series since its 1999 premiere, was able to return. 
After Stewie told Santa that all he wanted for Christmas was his beloved dog and best friend back, loyal new dog Vinnie took the tyke to the mall to pick out a present to cheer him up. While there, the little boy saw himself buying a new toy because his past self had used the time machine to send himself into the future to guarantee he'd get the coveted item. Present Stewie and Vinnie then plotted to get the time machine from past Stewie so the little boy could go back in time to rescue Brian.
In a bittersweet moment, Stewie pointed out to Vinnie that if the plan is successful, the Griffins would never adopt a new dog to replace Brian, and the two would never meet and become pals. Vinnie's sweet response? "I'm man's best friend, not some stupid baby's best friend." 
And with that, Stewie went back to the past and prevented the tragic accident.
After the show, creator Seth MacFarlane finally spoke out about the death and resurrection of the pooch. (He had previously been silent when Brian was killed.)
Fans, who were so upset by the dog's death that a petition to bring him back garnered more than 128,000 signatures, were quick to celebrate the character's return.
"Family Guy" airs at 9 p.m. Sundays on Fox.