Though movie fans have had a fun summer, a steady diet of "Godzilla," "Guardians of the Galaxy" and "Teenage Mutant Ninja Turtles" may have left you craving something a bit more substantial. Here are seven heavy hitters heading to theaters this fall — and the best folks with whom to share your popcorn.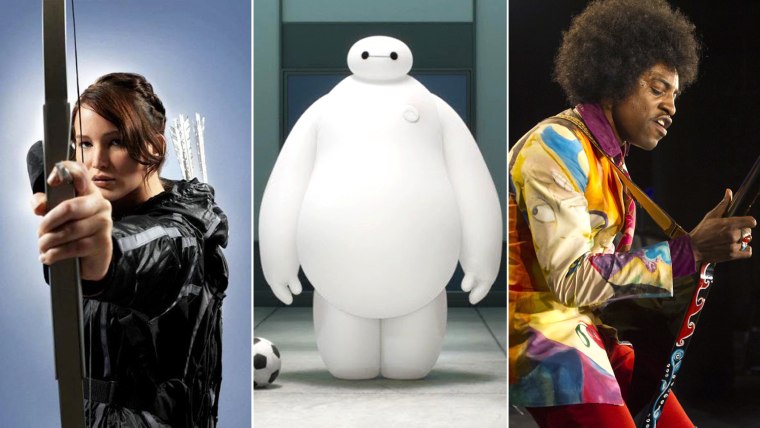 'Last Days in Vietnam,' Sept. 5
See it with: a history-buff buddy
This doc from filmmaker Rory Kennedy (the youngest child of Bobby and Ethel) aims to shed new light on the chaotic conclusion of the Vietnam War, which will forever be remembered by the haunting photograph of evacuees swarming a rooftop rescue helicopter. The film takes viewers straight to April 1975, when Saigon is about to fall. Americans have been ordered to leave the country — and abandon many of their South Vietnamese allies to be imprisoned or killed. Through archival footage and interviews with those who were there, Kennedy tells of the heroic measures some Americans took to save thousands of lives.

'This Is Where I Leave You,' Sept. 19
See it with: your dysfunctional siblings
This comedy features one of the season's strongest casts, including Tina Fey, Jason Bateman, Jane Fonda, Adam Driver and Connie Britton. When the family patriarch dies, mom Fonda pulls her kids back together under one roof for a week of mourning. Things get weird — and darkly funny. Fey and Bateman seem to get the most screen time as a bickering brother and sister, and that's a laugh-hungry moviegoer's dream.
'Jimi: All Is By My Side,' Sept. 26
See it with: your old jam band
Many musical biopics attempt to cram an artist's entire life story into a couple of hours, leaving fans scrambling to learn what the film left out. This one takes a different tack. "Jimi: All Is By My Side," starring Outkast's André Benjamin as the guitar genius, focuses on Hendrix's 1966 rise to fame in London — and the women who were, well, by his side. Critic Moira Macdonald of the Seattle Times (Hendrix's hometown paper) calls it "a mood piece, not a biopic." Sounds groovy. 
'Gone Girl,' Oct. 3
See it with: your book club
If your Thursday reading group devoured the Laci Peterson-esque missing-wife novel (perhaps between "Wild" and "Where'd You Go, Bernadette?"), you might not be keen on seeing the big-screen version. After all, the ending is reportedly different, and some don't love the idea of Ben Affleck and Rosamund Pike as Nick and Amy, the golden couple with plenty of secrets. Gather your fellow bookworms and go anyway, if only to erase your memories of that group excursion to "Twilight."

'Interstellar,' Nov. 7
See it with: your spacey associates
Matthew McConaughey, director Christopher Nolan and a big-budget sci-fi drama? "Interstellar" can't open quickly enough for those of us who loved "Gravity." With the earth dying, McConaughey must leave his children behind to travel through a wormhole in the hopes of saving humanity. Plot details are still scarce, but for fans of Nolan's "Inception" and "Dark Knight Trilogy" — or McConaughey in anything — this film looks alright alright alright.
'Big Hero 6,' Nov. 7
See it with: your kids (or kids at heart)
There's the usual share of children's fare coming this fall, including "Penguins of Madagascar," "The Boxtrolls," and the live-action adaptation of "Alexander and the Terrible, Horrible, No Good, Very Bad Day." But Disney's "Big Hero 6" has us most intrigued. Set in "San Fransokyo" — an apparent urban mashup of Japan and America — the animated feature focuses on a child genius and his marshmallowy robot who enlist a pack of misfit friends to save the world. Yep, this film had us at "marshmallowy robot."

'The Hunger Games: Mockingjay Part 1,' Nov. 21
See it with: pretty much everyone
Jennifer Lawrence's Katniss is back, and what's this about a District 13? In the first of two films based on Suzanne Collins' third book in the "Hunger Games" trilogy, the district thought to have been wiped out by the evil Capitol re-emerges as a seat of rebellion. Philip Seymour Hoffman also returns as Plutarch Heavensbee in one of the last roles the actor filmed before his death in February. "Mockingjay" opens the weekend before Thanksgiving, so it's sure to give turkey a run for its money.

Follow Gael Fashingbauer Cooper on Google+.