Foreword
Sometimes the fate of a nation rests upon the shoulders of a single courageous soul.
One day in July 1863, a young college professor named Joshua Chamberlain and a handful of gallant boys from Maine risked — and in some cases, gave — their lives to hold a few acres of rough, rocky soil on a Pennsylvania hilltop. Their heroic deeds saved our country from destruction. Their legacy is the United States of America, and the courage, character and goodness that make our country a great nation.
Had Chamberlain or his men faltered, even momentarily, during the fight for the Round Tops, our nation would have died at Gettysburg. After that battle, Chamberlain and the men of the 20th Maine buried their dead, side by side, in a single long grave. They memorialized each of their fallen comrades with a plank torn from an ammunition box and inscribed with the soldier's name. As he completed this grim task, Chamberlain wistfully hoped that generations of Americans who "know us not" would come from afar, "to see where and by whom great things were suffered and done for them."
I wrote this book in the hope that our children will put a higher value on America and its freedoms if they understand the high price at which these things were purchased by an earlier generation of our countrymen. The recitation of a glorious history and heroic deeds has the power to imbue us with noble thoughts and summons us to the ideals and courage that make America great.
In their efforts to improve our minds and elevate our souls, my parents encouraged their 11 children to read history and learn about the great heroes of the past. My father, an avid military historian, told us, over dinner, the stories of important battles like Bunker Hill, the Cowpens, and Bull Run. Our family visited the decisive battlefields of the Revolution and the Civil War. On one of these trips, to Gettysburg, we heard the story of the citizen soldier Joshua Chamberlain.
Chamberlain epitomized the best qualities of the American character. He was a hardworking farmer; a poet and a musician; a linguist, writer and theologian. He was educated and idealistic. He was self-reliant, kind, fair and decent. He had character, integrity and manners. He loved America and was willing to sacrifice his life and fortune for our country. His astounding feats of daring in the nation's time of greatest peril compare with epic deeds of the warriors of ancient times and legend.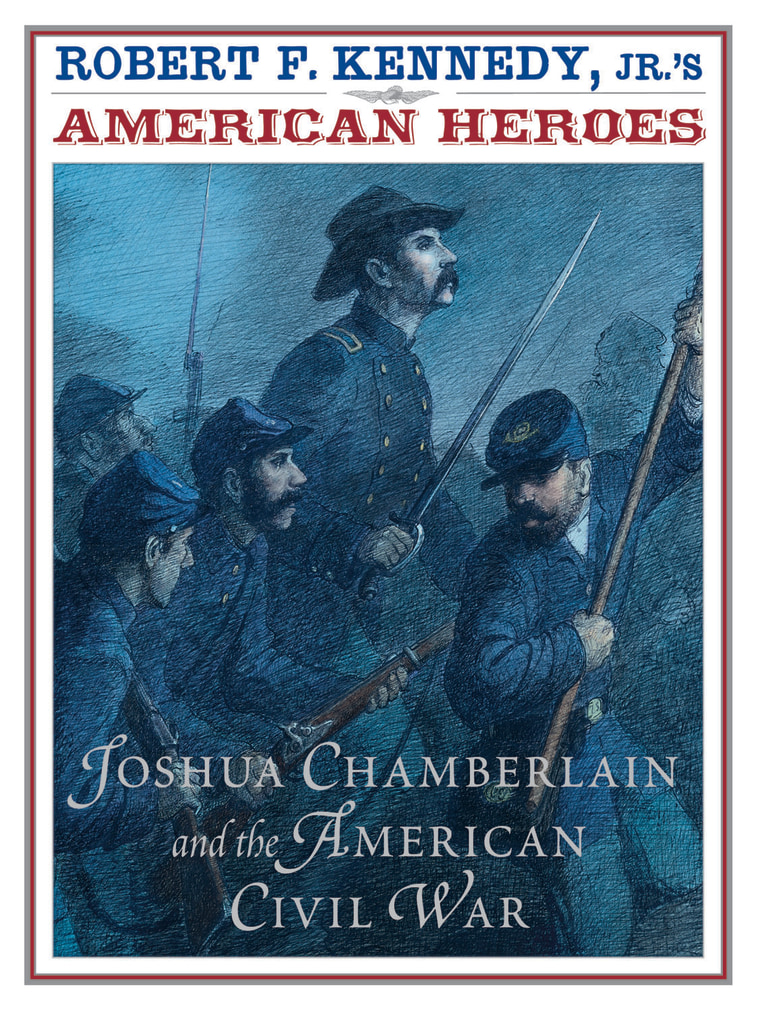 The extraordinary thing is how common these virtues were in so many of those who fought in the Civil War, on both sides. Indeed, the Civil War is the story of millions of acts of heartbreaking gallantry. Chamberlain and his contemporaries faced crises far more dire than any known to this generation. More than 620,000 American soldiers died in that conflict, a catastrophe equivalent to the loss of 5.7 million Americans relative to the country's population today. Our nation faced imminent destruction. Whole cities were besieged and ruined; our countryside was immolated; railroads and roads destroyed. Yet, the Americans fighting for the Union cause did not compromise their principles or their commitment to justice. They never dismissed their vision of a noble and just America as if it were a luxury that we could no longer afford. Their dauntlessness transformed the Civil War from America's gravest and most tragic episode into our country's finest hour. Its successful prosecution required great national sacrifice, the guidance of Providence, and extraordinary heroics by thousands of citizens, from President Lincoln to the lowest infantryman. Their efforts saved the Union and abolished slavery, which had torn the moral fiber of our young republic. They helped confirm America as the generous, principled nation we became in our own eyes — and in the eyes of the world. When he spoke of the war, Chamberlain referred to it, in the common parlance of the day, as "the noble cause." Chamberlain and his soldiers fought the war to preserve not just the solidarity but the virtues of our nation — our idealism, faith, optimism, decency and commitment to justice. The most conspicuous quality of these men was courage.
In the view of earlier American generations, courage was practically synonymous with freedom; fear, after all, was the instrument of tyrants. As Franklin Roosevelt later put it, the greatest enemy of our treasured freedom is "fear itself." Every once in a while, we Americans need to remind ourselves that we are the land of the free precisely because we are the home of the brave! A nation of great ideals can  be preserved only by sacrifice and courage. I grew up thinking of Americans as the bravest people on earth. Americans, our civics instructors taught us, were guided by principle and willing to sacrifice all to preserve our rights and liberty.
It is the fantastic bravery of a long line of stalwarts like Joshua Chamberlain, and their love of principle, their commitment to ideals, and their willingness to sacrifice, which has defined our people and guided our nation's destiny. It's worth considering today how grievously we would dishonor the memory of these gallant heroes if we should ever let America become a nation governed by fear, or if we willingly compromised the rights they gave so much to guarantee.
—Robert F. Kennedy Jr.
Chapter 1: "JUST DO IT!"
Joshua Chamberlain was born September 8, 1828, in Brewer, Maine, the oldest of five children. His parents required their children to be honest, honorable and cheerful. Joshua had to practice good manners and the knightly traits of humor, courtesy and generosity. Joshua worked hard on his family farm and grew up to be slim and muscular, handsome and tall, with piercing blue eyes. He learned to ride, to sail and to fence with swords. He was a crack shot, but he hated killing animals. He loved poetry and played the piano and violin. Joshua eventually learned 10 languages, including the language of the Aroostook Indians, who lived in birch-bark wigwams on his family's hundred-acre farm.
When he was 13, Joshua got the axle of a hay wagon stuck between two large rocks on his father's farm. With 400 pounds of hay on the wagon, the oxen could go neither forward nor back. Joshua's father ordered him to free the wagon and get it moving. When Joshua asked, "How should I do it, Father?" his dad replied angrily, "Just do it!" With an act of superhuman strength that he didn't know he had, the young boy lifted the wagon, and the oxen started off with a jerk. No one was more surprised than Joshua, and the lesson stayed with him for life. From that day on, he had a sense that even the worst obstacles could be overcome with effort. A big problem he faced as a boy was an embarrassing stutter. But he worked hard to overcome it and eventually became a superb public speaker and even a professor of rhetoric!
Joshua's mother wanted him to be a minister, and his father hoped he would make a career in the army as had his grandfathers, both of whom had fought in the American Revolution. But Joshua felt trapped by all the rules and "petty despotisms" of both the ministry and the military. He loved ideas and the freedom to think and read, so he won a position as a professor at Bowdoin College, where he taught French, German, Greek, Latin and Rhetoric. He married Fannie Adams, and the couple settled into a quiet college routine and eventually produced five children.
Joshua loved this life. But then Abraham Lincoln was elected president of the United States and threatened to abolish slavery. The slave states declared war and tried to split our country in two. Joshua hated slavery, which he would later call "a pox on the nation." And he loved America. When the Civil War began, Joshua knew he could not stay out of the fray. He wrote, "But, I fear, this war, so costly of blood and treasure, will not cease until the men of the North are willing to leave good positions, and sacrifice the dearest personal interests, to rescue our Country from desolation ... every man ought to come forward and ask to be placed at his proper post." He left his family and Bowdoin College to volunteer for the Union army in 1862. He was 34 years old.
Chapter 2: LIEUTENANT COLONEL CHAMBERLAIN
Although he lacked any military background, Joshua's strong education landed him the rank of lieutenant colonel in the newly formed 20th Maine Infantry Regiment. He worked hard to make himself a good leader. He read every manual and military history he could find and studied books about maneuvers and tactics by lantern in his tent, late into the night. Each day he drilled his men tirelessly, a routine that would save their lives and our nation at Gettysburg. "It is the discipline which is the soul of armies," he later said. "Other things — moral considerations, impulses of sentiment and even natural excitement — may lead men to great deeds; but taken in the long run, and in all vicissitudes, an army is effective in proportion to its discipline."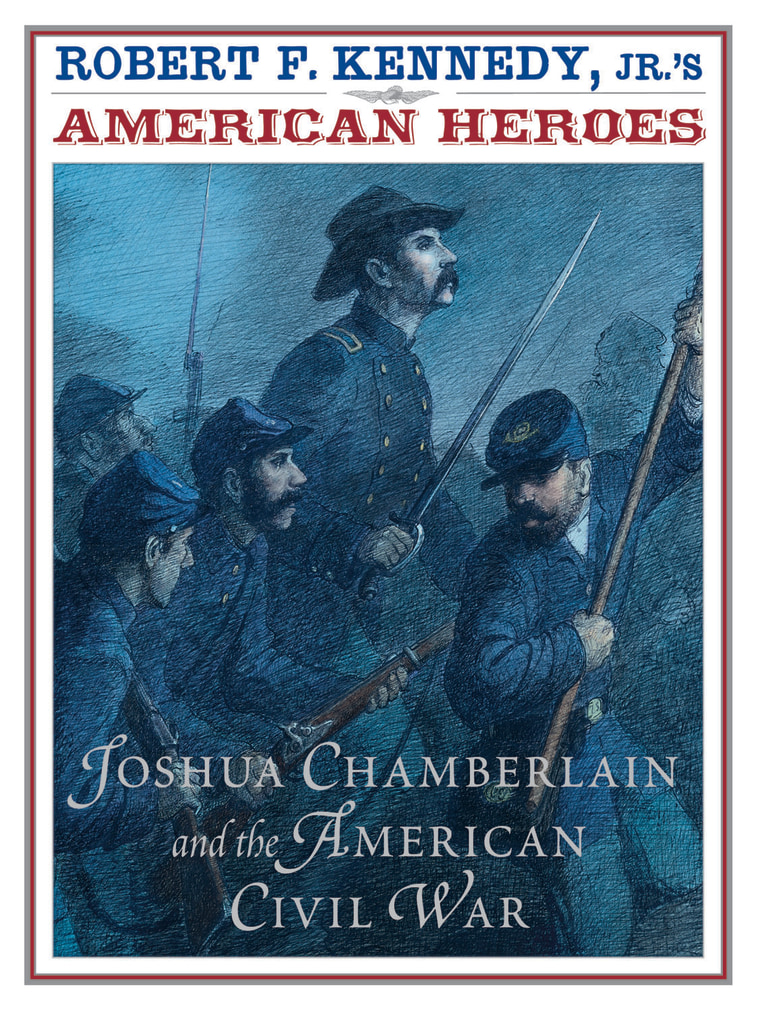 Joshua's men despised the constant drilling but idolized their lieutenant. Although officers were entitled to better food and conditions, Joshua cheerfully underwent the same hardships as his men. He slept outdoors, using his saddle as a pillow and wrapping himself in a rubber blanket when it rained. When he ordered his men to do chores, such as building fortifications, he would strip off his shirt, pick up a shovel or ax and work side by side with them.
Text copyright © 2007 by Robert F. Kennedy Jr. from Robert F. Kennedy Jr.'s "American Heroes: Joshua Chamberlain and the American Civil War," published by Hyperion Books for Children, an imprint of Disney Book Group.