Besides being born and dying, the most common human experience is being rejected — dissed, dumped on or downsized — by lovers, parents and employers. From Jon Friedman, the creator of New York City's long-running "The Rejection Show," comes a collection of rejection stories by some of today's up-and-coming comedic writers and performers. In this excerpt from "Rejected," comedian Wendy Spero writes about the humiliation of being rejected by two top TV men.
"Letterman or Conan" by Wendy Spero
It was senior year of college and I was frantically trying to figure out what I should to do with the rest of my life. One night, while smoking pot with friends and telling what I thought was a hilarious anecdote about being rushed to the ER after lodging a cherry-scented Magic Marker up my nose, I realized I'd always enjoyed sharing potentially amusing stories. So the next morning I decided to officially pursue a career working behind the scenes on a comedy television show. Trying to become an actual writer or performer who might one day share stories on one of those shows never occurred to me because I needed a job that was relatively stable — in the event that I'd have to support a family as a single parent one day.
My mother, who raised me on her own in Manhattan after my father died when I was ten months old, always told me, "Wendaaay, after you have kids someday, you can never be financially dependent on your husband. Okay? You guys could get divorced or he could die. And Manhattan private school tuitions are skyrocketing. So for the sake of your future children's education, you have no choice but to become a businesswoman, litigator, or dermatologist. And for God's sake, if you want to do something creative, it should be kept on the side. Like a spicy salad dressing or a fattening mayonnaise." While it wasn't as foolproof as a career in business, litigation, or dermatology, I figured an internship at a comedy show like Letterman or Conan might lead to some form of financial security. The internship would probably turn into an entry-level job, and since I would work super-hard, I'd surely climb the ladder and eventually become a successful comedy executive who earned enough money to support children and send them to good private schools.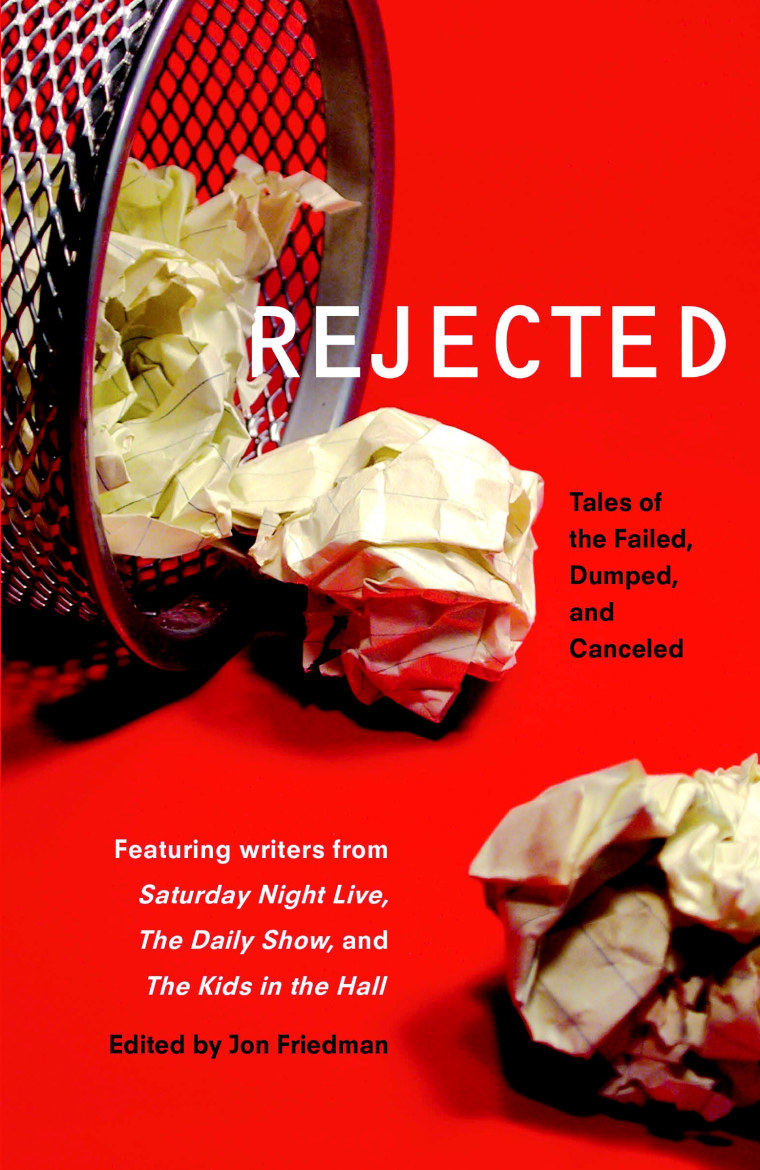 So I sent a cover letter and résumé to both Letterman and Conan. A few months later I got a call from both of their internship coordinators. I had been accepted for interviews. After going to New York, and meeting with both coordinators, I was offered both internships. I was beside myself. I felt so lucky and honored. But mainly relieved: My future kids would get the private education they needed. All I had to do was choose which internship to take. But I am not a decision-making type person. I once remained in the coat section of Bloomingdale's for a solid six hours, debating between five equally unattractive bulbous down jackets. I ended up buying all five, with the intention of taking them home, trying them on for each and every one of my friends, and then returning four. But even after a month, after every pro and con had been weighed, I was still undecided. In my paralysis I was forced to return the entire bunch and I got sick all winter because of my lack of protection against biting winds.
Anyway, I simply didn't have what I considered to be enough information about Letterman or Conan to make a totally informed decision. Letterman's internship program started a day before Conan's, so I figured I'd start at Letterman, see how it was, and then decide. So Monday morning at 10:00 A.M. I showed up at Letterman's offices, put on a cool Letterman ID pin, and introduced myself to the other interns. All day I eagerly faxed and copied and collated. As I left I was told that the executive producer had once been an intern — just what I needed to hear. Yet I still needed one day at Conan — one day. So I could properly compare. The education of my future children depended on it.
So Tuesday morning I woke up at 9:00 A.M. and called Letterman's middle-aged internship coordinator. I'm not a liar, really, I've always hated lying, but in this case it was a necessary evil. I went ahead and told her I needed the day off — I was feeling a bit sick. She understood and told me to rest up and feel better. I thanked her and headed straight to Conan's offices to start their internship program.
I showed up at Conan's offices at 10:30 A.M., put on a cool Conan ID pin, and introduced myself to the other interns. All day I eagerly faxed and copied and collated. As I left I heard that many of the producers there had once been interns. This was going to be tough. Conan was definitely a more enjoyable show, but Letterman had been around forever, so perhaps had a better chance of lasting for another decade. But then again there was a very appealing casual nature to Conan's offices, and the staff did seem friendlier. If I ever needed to bring my future children to work, I would totally trust the PAs to look after them for a few hours while I was off doing something important behind the scenes. But then again Letterman's office was nicely carpeted, so maybe it would be more baby-proof. But then again Conan's color copier was rather hi-tech, so maybe they had a superior employee family health plan. Clearly, I just needed one more day at Letterman. So I could truly properly compare. And since I had already lied once, really, what would be the harm in lying one more time?
So Wednesday morning I woke up at 9:00 A.M., called Conan's hipster internship coordinator, and told him I needed to take the day off — I was feeling a bit sick. He understood and told me to rest up and feel better. I thanked him, put on my cool Letterman ID, and headed back to Letterman's offices to return to their internship program.
Surprisingly, at the end of my second day at Letterman, which was exactly like my first day, I didn't have my answer. Obviously, then, I needed one more day at Conan — to really settle it all out. But after nearly a full week of going back and forth, I could barely function. The deception was contaminating my soul. I wasn't eating. I wasn't sleeping. I was out of Klonopin. My boyfriend Amos tried to get me to calm the hell down and just make a g--damn choice already, but I was spiraling into that dark vortex of uncertainty like I'd never spiraled before.
Still, on Thursday morning I somehow managed to make my way back to Conan's offices. I'd forgotten to wake up early to call in sick at Letterman, so I wearily wandered away from the intern station to look for an abandoned cube with a working phone. Instead I snuck into an empty conference room with even more privacy and called Letterman's coordinator.
"Hi Janice. It's Wendy ... again ... I know this sounds insane, but, um, I have another conflict."
"Uh- huh."
"I need to see the doctor today. It's the same stomach thing. I don't think I should come in." I lied for, like, the twentieth time.
"Wendy, if you're sick, why are you calling from 30 Rockefeller Plaza, the NBC building?"
This was before the widespread use of caller ID.
"I ... I am seeing a doctor in midtown, and ran into the building to make a call from their phones?"
"Wendy, you're calling from Conan's offices. I see their extension on my screen here."
I blocked out the rest of the dialogue, but she eventually got me to admit that I was attending Conan's internship at the same time, and fired me. And moments later, Conan's coordinator called me into his office.
"Hey, um, I got a call from the internship coordinator at Letterman. It appears you have been attending both our internship programs. Simultaneously."
"Yeah."
"Well, that is really, really weird. You should probably leave. Like now, I guess?"
The next thing I remember is upchucking in front of the front doors of the building, where the Christmas tree stands in the winter. Not only was I deeply ashamed, and deeply humiliated, but I was sure I'd never be able to have a family because I'd never be able to support them as a single parent.
I started seeing a very schlumpy therapist who wore beaded ankle socks and moccasins. Instead of trying to calm me down, she insisted she could get my internships back! All she would have to do, she said, is call the coordinators and explain that I was suffering from an extreme amount of indecision, which was a symptom of OCD, which was a legitimate disorder under the DSM. They'd have to take me back, otherwise it would be discrimination. While I appreciated the fact that she wanted to remedy the situation, her apparent lack of understanding of the entertainment industry annoyed me more than her beaded ankle socks and moccasins. And she seemed genuinely uninterested in addressing the issues that had caused the severe spiral in the first place. So I stopped seeing her.
Instead, I went on various anxiety medications, officially gave up trying to be behind the scenes, and attempted to just write and perform my potentially amusing stories. Even if it meant sending my future kids to public schools in Brooklyn, where I'd probably want them to go anyway.
Excerpted from "Rejected" by Jon Friedman, introduction and compilation editor. Copyright © 2009 by Jon Friedman. Excerpted by permission of Villard Books, a division of Random House, Inc. All rights reserved. No part of this excerpt may be reproduced or reprinted without permission in writing from the publisher.