Heading for the music store?It'd be hard to say that there aren't a lot of new CDs to choose from this week.
In this roundup, 11 are reviewed, everything from soulful Al Green to danceable Daft Punk to the bohemian funk of the John Butler Trio.
Al Green, "Everything's OK"The Rev. Al Green can make even secular subjects sound like songs of praise. As the titles suggest ("You Are So Beautiful," "Perfect to Me," "I Can Make Music") Green is in an upbeat mood on his latest release, "Everything's OK."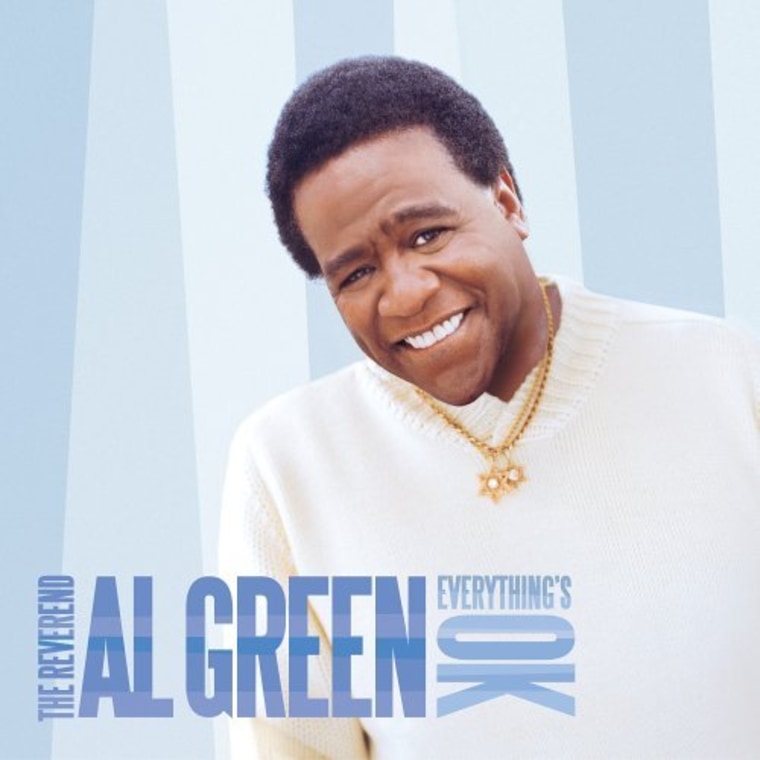 And why not? He rejuvenated his career by reuniting with producer Willie Mitchell for the 2003 album "I Can't Stop," and the partnership clicks again on the followup, partly because Green has never sung better. He climbs to a falsetto, squeals, laughs and shouts "Oh! Oh!" — and that's just on the first cut. Yet he never oversings, avoiding the trap that has repeatedly befallen more recent generations of R&B singers.
A stellar supporting cast includes horns, strings and several musicians who had a hand in Green's 1970s hits. This time he co-wrote all but one of the 12 tunes and kept them simple — "I Wanna Hold You" follows the same four-bar chord progression throughout its 3½-minute duration. But whether the beat is funky or bouncy, fast or slow, Rev. Green always finds a joyful groove. Amen.    —Steven Wine
Daft Punk, "Human After All"They may bring a digital breed of techno that has a cold feel and pose as cultural emissaries from a world ruled by alien robots, but the truth is that Daft Punk, just as their new album is titled, remains "Human After All."
The irony is that eight years after Thomas Bangalter and Guy Manuel de Homem disguised themselves as otherworldly musicians capable of universally danceable grooves, Daft Punk's latest work contains their most machine-lik e grooves to date.
Take the album's first single "Robot Rock." An instrumental filled with wildly synthetic guitars and keyboards, the track trudges through five minutes of unvarying riff. It repeats in quick succession like a skipping CD.
"Brainwasher" relies on the same organization. It's a digitized version of Black Sabbath's "Iron Man" that layers chest thumping-bass over rapid-fire cymbals and climbing melodies. There's little variation, and it goes on and on.
So it goes with Daft Punk's music. While their songs could be heard as repetitive and numbing — at first blush they are — there is something oddly compelling and unique to the music often played in heavy club rotation.
"Steam Machine" finds music in the movement of machines, an artistic choice that's been done ad nauseum. But rather than rely on clicks and booms to get feet tapping, Daft Punk uses sensual hisses and bass booms to make the entire sonic contraption seem almost alive.
And that's the beauty of Daft Punk, really. After all the kitsch — they hide their faces and disguise their voices behind digital software effects — Daft Punk is comprised of two men who know the sounds that can make people move.    —Ryan Lenz
Miranda Lambert, "Kerosene"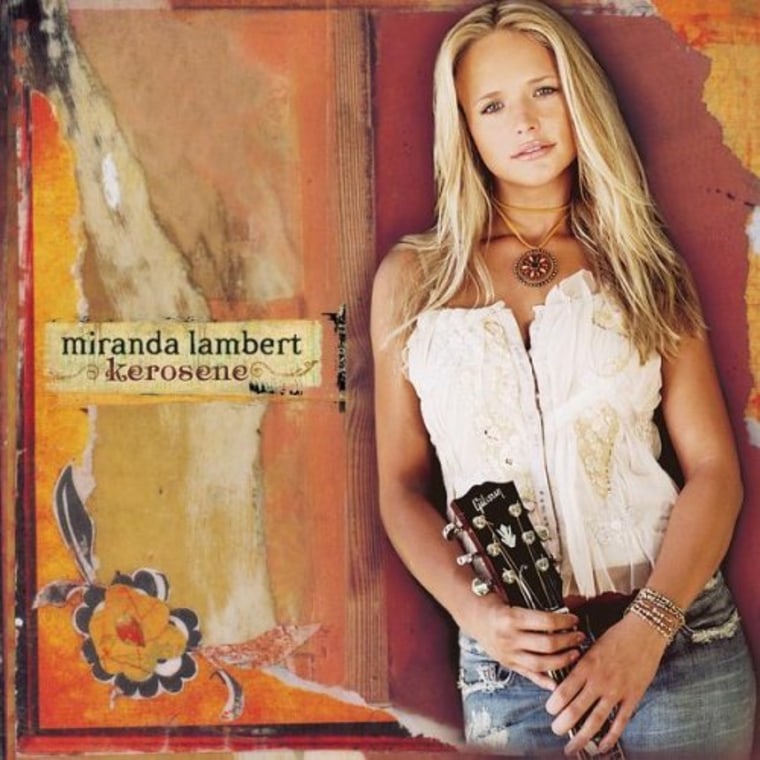 Think Natalie Maines just having a good time with music — Texas twang and all — and you're kind of hearing Miranda Lambert's major-label debut. And like the Dixie Chicks' Maines, Lambert offers a wonderful variety of tunes on "Kerosene," from the somber "Greyhound Bound for Nowhere," on which she talks of escaping a split-up, to the bouncy "I Can't be Bothered" and the delightful, if ungrammatically-correct single, "Me and Charlie Talking."
Like all but one of the dozen tracks on the album, Lambert was in on the writing of "Me and Charlie Talking" — in this case sharing the chores with her father, Rick, and fellow country singer hopeful Heather Little. They offer some colorful imagery of the first hint of attraction between a couple of 10-year-olds:
"So we treat our love like a firefly, like it only gets to shine for a little while; Catch it in a Mason jar with holes in the top and run like hell to show it off."
She rocks out on the title tune, soaking a bad relationship in kerosene and lighting it up, then does a bluesy lick on "Bring Me Down," followed by "Me and Charlie Talking," with its unconventional crickets and a harp accompanying Lambert's flirty vocal.
Lambert, who finished third in the inaugural season of "Nashville Star" (Buddy Jewell was first), has come up with a solid album full of thoughtful words and tuneful melodies, delivered with fresh country conviction.    —Tom Gardner
The John Butler Trio, "Sunrise Over Sea"
The John Butler Trio's "Sunrise Over Sea" is a long overdue reminder of the versatility of guitar and the depth of American folk music.
With a surprisingly effective Down Under-mix of American folk, blues and country riffs, Butler's first U.S. release is a bohemian picture painted with clunky banjo grooves, steel guitars slides, and fingerpicked acoustic melodies from a guitar whiz clearly fascinated with sounds from across the ocean.
Opening with "Treat Yo Mama," the 30-year-old Aussie rips into a manic slide blues with absolutely perfect distortion. It's guttural and exciting to hear Butler tap into grooves in ways reminiscent of American guitar greats.
A prodigy? Perhaps. But sometimes it takes fresh eyes to see overlooked virtue in an instrument that has been done every which way but Butler's. And one song after another leaves listeners more intent on hearing the album through.
"Damned To Hell" is a folksy banjo ditty about righteousness and damnation recorded with effects that make it sound like old Appalachian mainstays, and "Bound to Ramble" turns dark and somber in a sound so full it's easy to forget the band has only three members.
The album culminates with a 17-minute freestyle called "Sometimes" that opens with a single acoustic guitar melody and moves through raucous solos and sweeping tones. It's as musically diverse as the album itself.    —Ryan Lenz
Various, "Mayfield: Remixed"Five years after Curtis Mayfield's death, his music has been given new life with this collection, his great, soulful vocals remixed to modern rhythms by some of the club scene's top DJs. The combination of old school and new world (and not-so-new in the case of Grandmaster Flash) hits brilliantly at times.
The falsetto vocals of Mayfield, who led The Impressions as a singer/songwriter and broke ground with his socially conscious solo recordings of the 1970s, prove easily transportable to modern times. Paired with synthesized drum beats, melodies and club sounds, the booginess inherent in many of Mayfield's lyrics carries through. The remixes work most smoothly on some of Mayfield's signature songs: "Superfly," "Freddie's Dead," and "Do Do Wap Is Strong in Here."
Others are less so. As much as the cameo of Grandmaster Flash is enjoyable at the start of his interpretation of "We're a Winner," this 6:37 version is dragged down by Flash's own flashbacks.
Yet even when torn apart and completely rebuilt, such as in the hands of by Mixmastermike and Daddy Kev on "Pusherman," Mayfield's music and style remain oh so cool. The modern slickness from the DJs, however, does alter Mayfield's creations in a way that leaves one somewhat unsettled: The fiery soul of these vintage vocals at times is chilled by the synthetic wrapping.
As DJ Eddie Baez says on the liner notes for her redo of "We Got to Have Peace": "Back in those days they didn't have all the gadgetry we have today; he had to conduct a whole orchestra in order to get strings on a verse or a chorus. Today all I have to do is pull up a patch."    —Michelle Morgante
Los Hombres Calientes, "Volume 5: Carnival"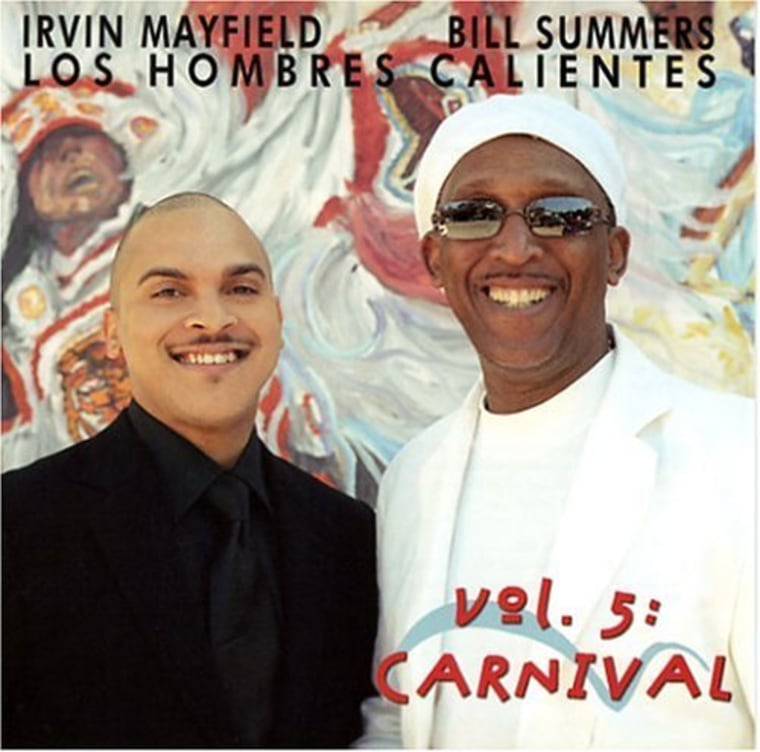 Like the cultures that have arrived in New Orleans from distant shores, this talented duo of trumpeter and percussionist absorb rhythms from the vibrant collection of influences that historically have congregated in the storied port city. African instruments and chanting, funky blues swagger, sizzling Latin heat: It's all blended into a delicious mixture.
Irvin Mayfield and Bill Summers pull off the spell of conjuring up the diverse flavors of a Mardi Gras fiesta on this 77-minute album. There are bumping tubas, head-shaking piano solos, and lots of foot-moving beats.
Extended sessions of joyous rollicking are set off occasionally by surprisingly brief interludes, which give the impression you've mistakenly opened the door on someone's sumptuous late-night party.
Musically, the duo and their troops are deftly tight and merrily loose — whatever the moment commands. For the listener, it leaves one thankful they've been invited into this carnival.    —Michelle Morgante
50 Foot Wave, "Golden Ocean"First, a word to anyone intending to listen to 50 Foot Wave while driving: This album can make even a thirtysomething mother toting a toddler in a Volvo station wagon want to drive at extreme rates of speed — while smoking a cigarette.
Maybe that's because this band's singer/guitarist, Kristin Hersh, is a thirtysomething mother of four boys who seriously, seriously rocks.
Leader of the acclaimed rock band Throwing Muses in the '80s and '90s, Hersh now is partnered with Throwing Muses' bassist Bernard Georges, and drummer Rob Ahlers for a furious blast of power that indeed hits like a wall of rushing water.
Hersh's splintering guitar and Ahlers dead-on percussion combine raucously for her sharp lyrics that have wry echos of motherhood: "Don't touch me, I don't know where you've been."
Hersh's sound is fast and furious. Did I say it's fast?
Don't say you weren't warned.    —Michelle Morgante
Solomon Burke, "Make Do With What You Got"David Berman of the Silver Jews once sang, "Won't soul music change, now that our souls have turned strange?" If Solomon's Burke is a fair example, then no, no it won't — but that might not be a bad thing.
"Make Do With What You Got" may sound like a Dr. John title because, well, it is. The title track was written for Burke by Dr. John. Also included is a song written by Van Morrison for Burke, and covers of tunes by Hank William, Bob Dylan, the Rolling Stones and The Band.
Solomon's take on "It Makes No Difference" is especially memorable. His rich, deep voice substitutes well for Rick Danko's falsetto and you realize The Band's song was always soul masquerading behind Southern rock.
At 64-years-old, Burke is in the midst of something of a renaissance. His 2002 album, "Don't Give Up on Me," won him a Grammy for best blues album, reintroducing the man who proclaims himself "the king of rock 'n' soul."
It is easy to wax nostalgic for the old days of soul and to calcify Burke in his own legend. Though this album does ride on his own coattails, Burke's voice is simply too powerful to pass off this record as an afterthought to a great career.
Hearing him bellow a line like "love is bed full of blues" is a pure fun. "After All These Years," (the only song on the disc that he even co-wrote), Burke comes close to Otis Redding's "I've Got Dreams to Remember" — which is a good place to be.
On "Fading Footsteps" he sings, "Walt Whitman was a hippie, who said nothin' could be lost. If I only was half that wise, I wouldn't be gettin' sauced." But Burke and other soul greats really are the closest thing we have to romantics, singing the body electric.
If this is "making do" for Burke, we should all be so lucky.    —Jake Coyle
Rhonda Vincent & The Rage, "Ragin' LIVE""Ragin' Live" perfectly captures the atmosphere of bluegrass giant Rhonda Vincent's live shows — for good and for bad.
It showcases her strong, supple voice on both driving bluegrass tunes and touching ballads. It gives her band, The Rage, chances to show off their acclaimed harmonies and instrumental abilities, the skills that make or break bluegrass.
But Vincent's first live album also includes far too much momentum-killing chatter. It opens not with music but an unctuous MC reminding us of Vincent's awards and her status as "an over-all sweet person." Most songs are separated by Vincent making short introductions. That's fine in a concert hall but jarring over headphones.
Those are forgivable flaws in an album that offers so many joys in its 20 songs. "Drivin' Nails in My Coffin" serves up heartbreak wrapped in a bouncy tune. "Missouri Moon" perfectly pairs Vincent's voice and mandolin. And "Jolene" and "Muleskinner Blues" prove Vincent can breathe new life into standards.      —Christopher Wills
LCD Soundsystem "LCD Soundsystem"
LCD Soundsystem is the one man-studio band of James Murphy, one-half of the production duo The DFA. After dropping three scene-stealing indie-electro singles ("Losing My Edge," "Give it Up" and "Yeah") over the past few years, he's finally released his much-anticipated, self-titled debut.
A true master of the 12-inch format, on "LCD Soundsystem," Murphy turns out to be as skilled when producing an album. Borrowing freely from various forms of seemingly disparate music (krautrock, post-punk, disco, The Beatles, acid house, soul, ambient), the perfectly sequenced record almost lives up to its buildup.
With "Daft Punk is Playing at my House" Murphy kicks off the party with a tune about throwing a blowout at his crib. Murphy brags, "I got 15 cases for my house, my house/ all the furniture is in the garage" above a bouncy Devo-esque guitar line. "Too Much Love" follows as an ideal track two: downtempo synth-pop with Murphy murmuring most of the lyrics. "Tribulations" is almost as contagious as the opener and either would have worked better than the fiery racket of "Movement" as the first single. And what's a true album without a ballad, the Lennon-meets-late era Pavement chug of "Never as Tired as When I'm Waking Up" acts as the perfect midpoint smoke break.
Appended to the album is a second disc compiling all the vinyl classics for the first time on disc and the newer, NYC-repping "Yr City's a Sucker (Full Version)." Included is the B-side to "Losing My Edge," "Beat Connection," still the best thing Murphy's ever done and as a call to action for the indie elite ("nobody's coming undone"), it still rings true.
LCD releases have always flip-flopped between paying tribute to Murphy's obsession with music ("Your favorite band/ Helps you sleep") and critiquing all-talk collector-types. On "Yeah (Crass Version)" he blurts "Everybody keeps on talking about it/ Nobody's getting it done," knowing all the while that he's one of the ones getting it done.    —Jake O'Connell
The Eagles, "Eagles Box"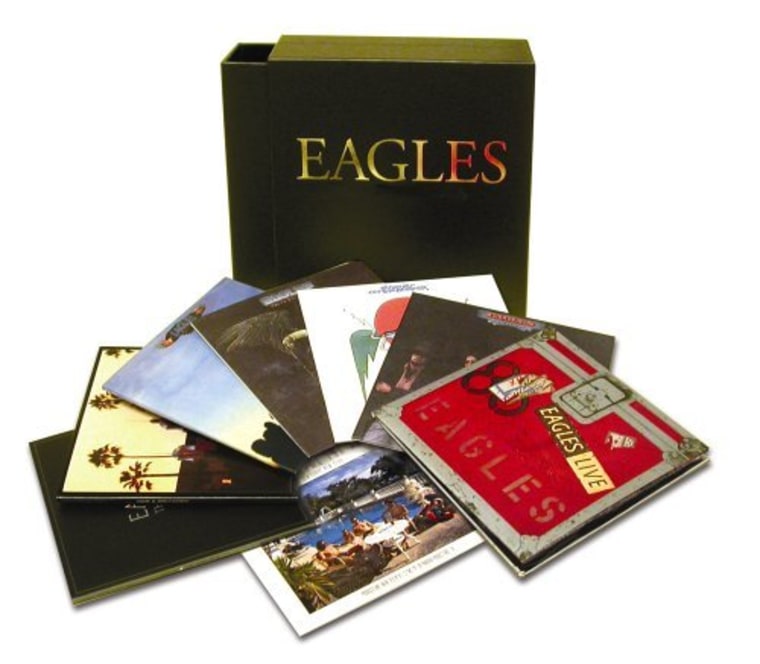 A wave of nostalgia accompanied the arrival of this box set, and I tried to listen in one sitting to all nine CDs from the Eagles' 1972-80 heyday. My head grew heavy and my sight grew dim. I had to stop for the night.
It didn't help that from beginning to end, there's a dramatic decline in quality. Contrary to what record sales suggest, any of the Eagles' first three studio albums is better than any of the last three.
Co-founders Don Henley and Glenn Frey were too serious, snide and smug. Their power grab for control led to the band's artistic downward spiral, and their records inspired much mediocre music out of Nashville over the past 15 years.
Still, the Eagles produced a lot of great songs. The numerous hits overshadowed such gems as "Saturday Night," "Is It True?," "Hollywood Waltz," "Train Leaves Here This Morning" and "Chug All Night," but they're all here, with one disc for each studio album.
The set also includes the 1980 double disc "Eagles Live" and a bonus single with two holiday tunes. The remastered sound is goose-bump good, the packaging handsome but spartan.
Just 20,000 units are planned, and the limited-edition set includes no outtakes, bonus cuts or new liner notes. Original LP art — even the texture of the jackets — and poster inserts are faithfully reproduced. But the tiny print will be tough for Boomers who wear bifocals, and the center gatefold photo accompanying the first album is upside down. That makes the set like the music: flawed but appealing.    —Steven Wine