It was the talk of summer 1980. We were soft-rockin' out to Christopher Cross' "Sailing," lining up to see "Airplane!" and "The Blues Brothers" (tickets cost a whopping $2.50) and watching Howard Cosell hosting "Battle of the Network Stars."
But the big question in entertainment was three simple words. Well, really, two words and two letters: Who shot J.R.?
J.R. Ewing, played dastardly by Texas-born actor Larry Hagman on the primetime soap "Dallas," was the oil baron we all loved to hate. And so did his own family. His competitors. Employees. Wife. "Half the people in Dallas," cracked his enemy Cliff Barnes.
And on a March episode, in a brilliant bit of spooky screenwriting, J.R. , drinking coffee in a darkened office, heard a noise.
 "Who's there?" he called. Two bullets were his only answer. He collapsed, the credits rolled, and from March to November, families and office pools put bets on who the shooter was. T-shirts boasted "I shot J.R.," a novelty song was written about the plot, and reportedly even England's Queen Mum was fascinated.
And, as Ultimate Dallas reports, fans had to wait an additional two months -- until November -- to learn the killer's identity. An Ctor's strike pushed the new TV season back, giving fans eight full months to gnaw on theories.
J.R.'s poor wife Sue Ellen, unsurprisingly drunk at the time, got the blame first, and was jailed, with father-in-law Jock (the sorely missed Jim Davis) turning on her with a vengeance.
But in the end, it was Kristin Shepard, Sue Ellen's sister and J.R.'s mistress, who did the deed, stealing J.R.'s gun from Sue Ellen by tempting the onetime beauty queen with liquor and later sneaking the weapon back into Sue Ellen's closet.
When she finally confessed to J.R. and Sue Ellen, the "Dallas" writers had another twist up their sleeves. You can't jail me, Kristin taunted, "Not unless you want YOUR CHILD born in prison."
Cue the DUH-DUH-DUH swelling music. Yes, pregnancy, the convenient wrench thrown into all soap-opera stories.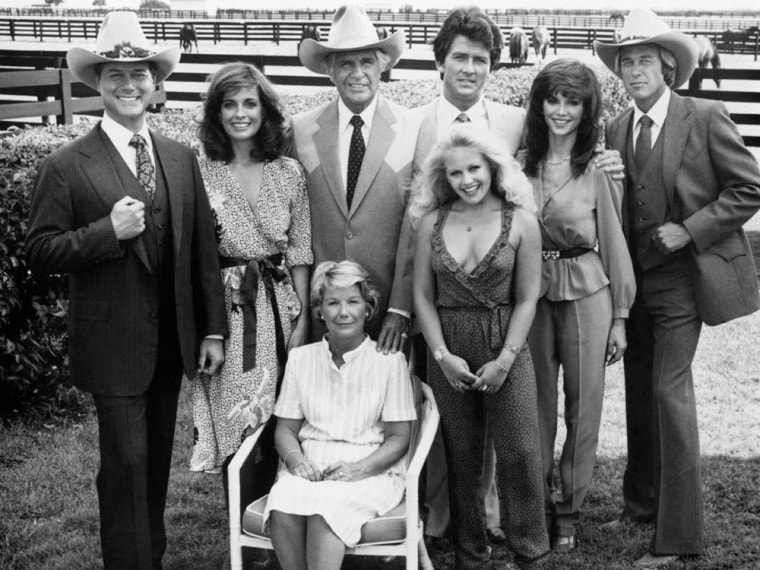 It didn't end well for Kristin, however. After hightailing it out of Dallas, she miscarries J.R.'s child, and delivers another with her husband before dramatically falling off a balcony and drowning in the Southfork pool. Her son, Christopher, would be adopted by J.R.'s brother Bobby and his wife Pam, and is now played by Jesse Metcalfe on the "Dallas" revival show, beginning June 13.
But "Who Shot J.R.?" had an influence that went beyond that November episode. The show was the highest-rated TV episode until the "M*A*S*H" finale beat it in 1983. "Dallas" was hugely popular worldwide, and it's estimated that 83 million people tuned in for the revelation.
It changed TV forever. Suddenly, Hollywood realized they could use cliffhangers to keep viewers buzzing about their shows even in the off-season. New 24-7 news network CNN got a boost from the attention given to the show, as it kept reporting on rumors and twists. And TIME critic Richard Corliss credits "Dallas" with paving the way for more addictive shows to come, including "Hill Street Blues" and "thirtysomething."
Larry Hagman would later call it the "shot heard round the world," and indeed, in the world of television, it was just that.
From 1978 to 1991 they enthralled America with the scandals of the Ewing clan. Here's a look at how the "Dallas" cast has fared.
Other summer 1980 events:
"The Shining" makes Big Wheels and snowy hotels terrifying
Lipps Inc took us all to "Funkytown"
The Olympics were held in Moscow, but the U.S. stayed home
Men aged 18-to-25 had to register for the draft
Terry Fox was on his inspiring run across Canada
Do you remember watching "Who Shot J.R.?" Did you suspect Kristin from the beginning, or did you blame Clayton, Cliff, Sue Ellen or one of the many other suspects? Tell us on Facebook.
Related content:
More in The Clicker: