Esther Williams, a swimming champion who dove into success in Hollywood "aqua-movie" musicals geared to showing off her skills, has died in Beverly Hills, Calif., at 91, her spokesperson has confirmed to NBC News.
She had not been ill, but had been experiencing health issues related to her age, Harlan Boll said. She passed away in her sleep early Thursday morning.
Her stepson Lorenzo Lamas also tweeted a confirmation. Fernando Lamas was her third husband; they were married from 1969 until his death in 1982.
In a statement to NBC News, Lamas called Williams his "soul mom."
"As a little boy struggling with the back and forth of being the product of divorce, Essie was my rock," Lamas said. "She filled in the gaps with love and humor. She was the bridge to my father's heart and the best swim coach on the planet."
Esther Williams was one of the rare athletes who managed to turn physical skill -- her swimming grace and seemingly unlimited ability to stay underwater -- into a Hollywood career. Born in California, she set national and regional swimming records before she was out of her teens while competing as a member of the Los Angeles Athletic Club swim team. She would have been a natural at the Olympics, but the 1940 event was canceled due to the outbreak of World War II. Instead, she joined a traveling swimming show and attracted Hollywood's attention, specifically studio reps from MGM -- the home of the big, glitzy musicals of mid-last century.
Once in Hollywood, Williams became one of the biggest box office stars of the 1940s and 1950s, with films tailored to fit her specific talents: Swimming and staying under water. The musicals often featured elaborately-choreographed swim routines, sparklers, multiple swimmers arranged in artful designs (filmed from above for maximum effect) and underwater "dances." "Million Dollar Mermaid" (1952) became a calling card; not only was it reportedly her nickname at the studio, her autobiography was called, "The Million Dollar Mermaid."
She was married four times, and met future husband Lamas on the set of "Dangerous When Wet." She had three children with second husband Ben Gage, and and lived with fourth husband Edward Bell at the time of her passing.
Still, she reportedly became tired of the repetitive nature of the musicals, reportedly saying, "All they ever did for me at MGM was change my leading man and the water in my pool."
Williams retired from acting in the early 1960s.

"The life she had goes without saying," said Boll, who had worked with her for 15 years. "She stood out among other people. She's the godmother of synchronized swimming and is the reason it became an Olympic sport."

Williams also achieved something only nine other American women have: Her career was inducted into the Smithsonian Institution. "Her MGM scrapbooks, which are huge and amazing, are all there," Boll said.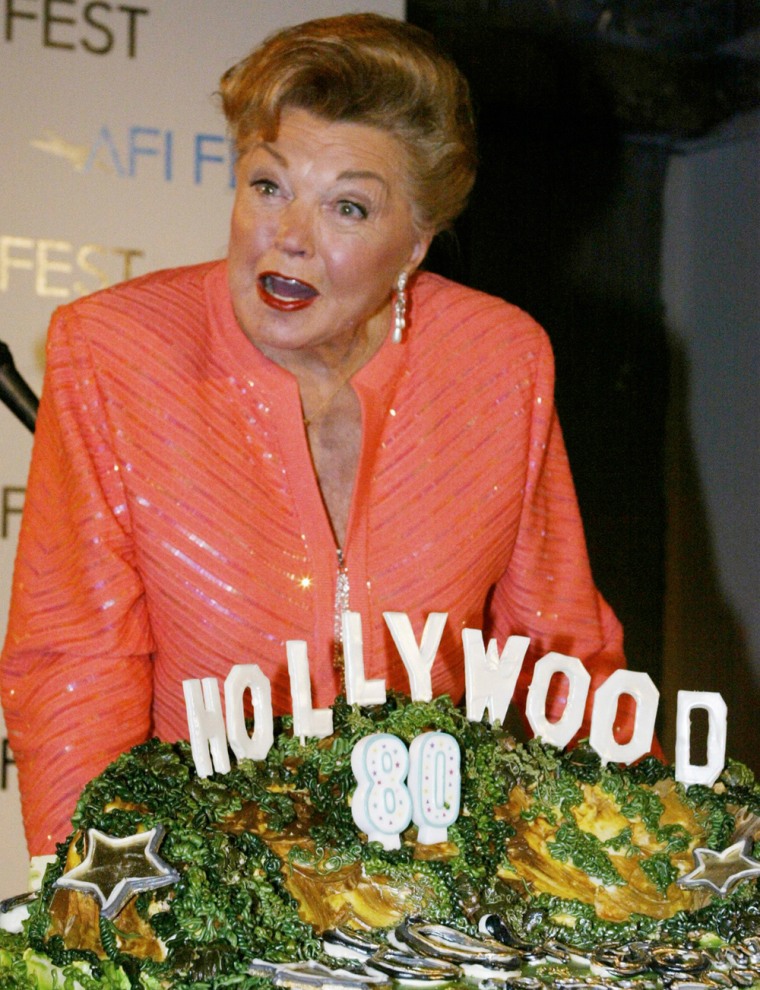 In her later years, Williams put her name on a line of retro swimwear, featured on her website. "Women worldwide are fighting a thing called gravity,'' she told the New York Times in 1999. ''I say to women when I talk to them, 'You girls of 18 have until about 25, 30 at the most, and then you have to report to me.' My suits are quality fabric.''
In that interview she also discussed Lamas' controlling during the time they were together (her three children were disallowed from living with them), and her therapeutic use of LSD in the late 1950s.
Boll said he will really miss Williams' "bawdy personality. She could use colorful metaphors in a way no one expected. She loved to tease me, to tease everybody. My favorite part was her stories. She'd have me for lunch and she'd just telling me stories and say, 'This is your book, you're gonna write one day.'"
She was excited about the Broadway show, "A Million Dollar Mermaid," which he said was in the works and based on her life.
"Sadly, she won't get to see it," he said..