Erin Moran, the actress best known for playing Joanie Cunningham on the classic 1970s sitcom "Happy Days," has died. She was 56.
The Harrison County, Indiana, Sheriff's Department told NBC News that dispatchers received a 911 call Saturday afternoon regarding an unresponsive female. First responders later found Moran deceased. An autopsy is pending.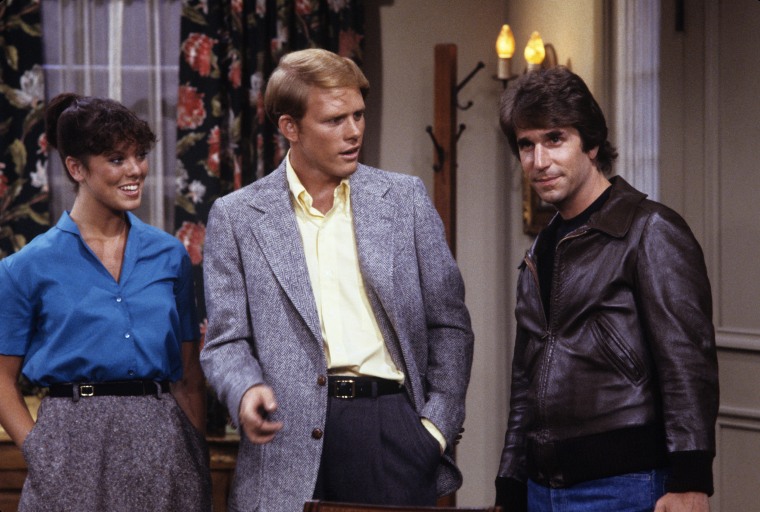 Ron Howard, who played Richie Cunningham, the older brother of Moran's Joanie, on "Happy Days," tweeted Saturday night, "Such sad sad news. RIP Erin. I'll always choose to remember you on our show making scenes better, getting laughs and lighting up tv screens."
Henry Winkler, who rose to fame on "Happy Days" as The Fonz, wrote, "OH Erin... now you will finally have the peace you wanted so badly here on earth ...Rest In It serenely now.. too soon."
After hearing the news of Moran's death, the actress' on-screen mother, Marion Ross, commented, "This breaks my heart."
"She was the quickest, fastest little kid. Wonderful," Ross said in a telephone interview with NBC Los Angeles.
RELATED: Erin Moran, who played Joanie on 'Happy Days', dead at 56
Moran had fond memories of her time on "Happy Days," reflecting on the experience during a cast reunion on TODAY in 2008.
"It was so much fun with these guys," she said at the time. "They made it better, they made it easier. I loved it. I had such a good time."
Moran's other major credits included the early-1980s "Happy Days" spin-off "Joanie Loves Chachi," co-starring Scott Baio as Chachi, and "The Love Boat."
Baio offered his "sincere condolences" in a tweet on Sunday.
"Many people remember Erin for her contagious smile, warm heart and animal loving soul," he wrote. "I always hoped she could find peace in her life. God has you now, Erin."