Wedding bells rang for Erin Andrews on Saturday, when she married former NHL player Jarret Stoll in Montana.
TODAY confirms that the "Dancing With the Stars" host, 39, and Stoll said "I do" in a sunset ceremony witnessed by a small group of friends and family.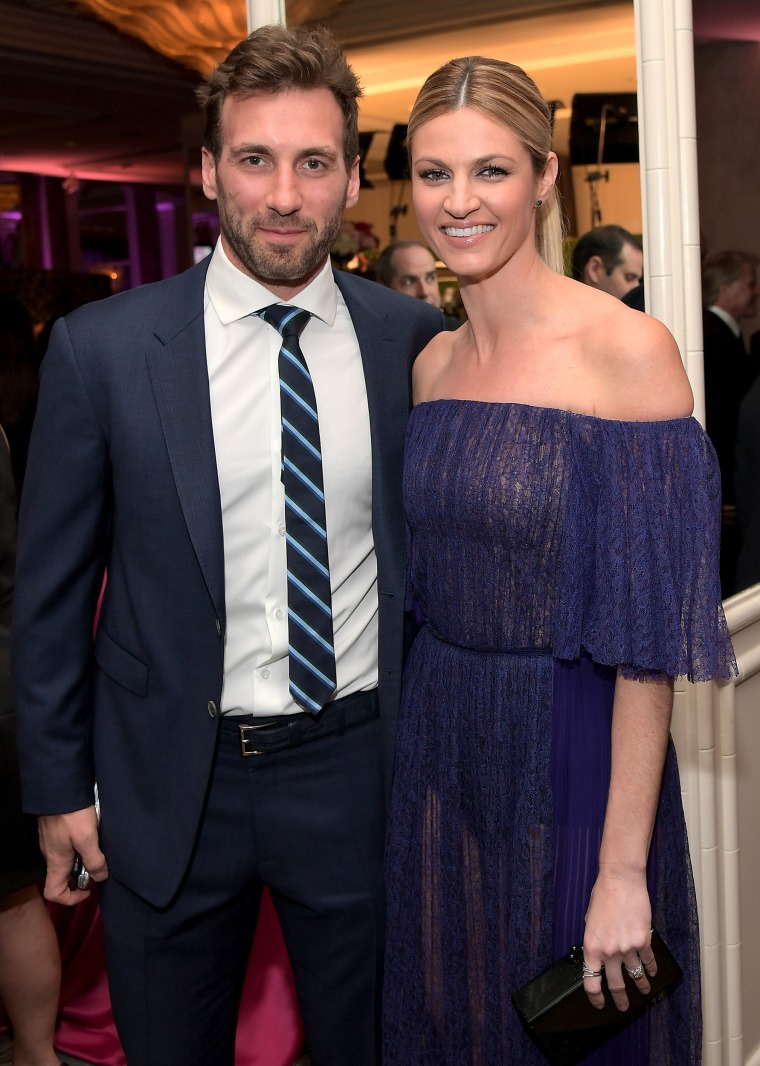 Celebrity wedding planner Yifat Oren designed the woodsy affair, held at the Yellowstone Club in Big Sky on what was Stoll's 35th birthday.
Andrews' sister, Kendra, posted a photo of herself and Andrews smiling in their wedding clothes alongside their parents, Paula and Steve, with rustic trees behind them.
Andrews' hairstylist, Ryan Randall, also posted a photo from the wedding site.
"Such a magical weekend. Congrats @erinandrews and @stolly28 on the nuptials, and throwing such a chic affair," he captioned a photo that showed a flag with the bride and groom's first initials, waving in front of a forest of trees.
While Andrews has yet to post any of her own photos from the wedding, she did give her 729,000 Instagram followers a peek of the Montana landscape.
"Stop," she captioned a sunset photo posted last week.
Andrews and the Canadian-born Stoll started dating in 2012 and became engaged in December 2016 after Stoll proposed to Andrews at Disneyland. This is the first marriage for both.
In an interview with Health magazine published earlier this month, Andrews explained how her battle with cervical cancer impacted her relationship with Stoll.
"You don't know if a guy is going to want to sit in with an oncologist and see, 'OK, so this is your cervix, and this is your uterus, and we are cutting out this part,'" she said at the time. "We hadn't even been discussing marriage. We hadn't discussed babies! It really puts things on the fast track for you — because you have an oncologist saying to you, 'We highly recommend that you guys do your embryos right now, freeze them.' I'm like, 'Hi, hon. I love you. I hope we're spending our lives together.' And he was amazing."
She added that she'd frozen her eggs a few years ago.
"I'm not young, we don't know when we're gonna have a baby, we don't know if this is going to come back," she said. "One thing I love my future husband for is that our oncologist said the smart thing to do would be to have some insurance waiting — so we have frozen embryos because we've taken the steps. If we need 'em, we need 'em; and if we don't, we don't. We just wanna be smart."
She noted to Health that she had to delay her photo shoot for the magazine because she was in the middle of an in vitro fertilization (IVF) cycle.
"I'm doing all these (IVF) shots and in these bathing suits, and I was like, 'Yay, look at my pin marks!'" she said.