Kim Kardashian West went through a frightening experience six months ago, when she was robbed at gunpoint in Paris. It's not easy for her to discuss the incident, but it's one she believes was "meant to happen."
In an emotional interview on Ellen DeGeneres' talk show Thursday, the reality star recalled what happened to her in the early-morning hours of Oct. 3, 2016, and how it's changed her life.
"It was meant to happen to me. I really feel like things happen in your life to teach you things," a teary-eyed Kardashian West said.
"I was definitely materialistic before, and not that there's anything bad with having things and working hard to get those things. And I'm really proud of everyone around me that's successful. But I'm so happy that my kids get this 'me' and that this is who I'm raising my kids. Because I just don't care about that stuff anymore. I really don't."
She walked DeGeneres through the moments that preceded the robbery. She said the robbers held a gun to the concierge and asked to see the "rapper's wife," referring to Kardashian West's husband, Kanye West.
"How dare them not know your name," DeGeneres quipped. The line got a smile out of her guest, but the conversation quickly turned serious again as Kardashian West shared what was going through her mind when the intruders entered her apartment.
"Your stomach drops, it's a feeling you can't even explain, and I knew that was it for me," Kardashian West, 36, said.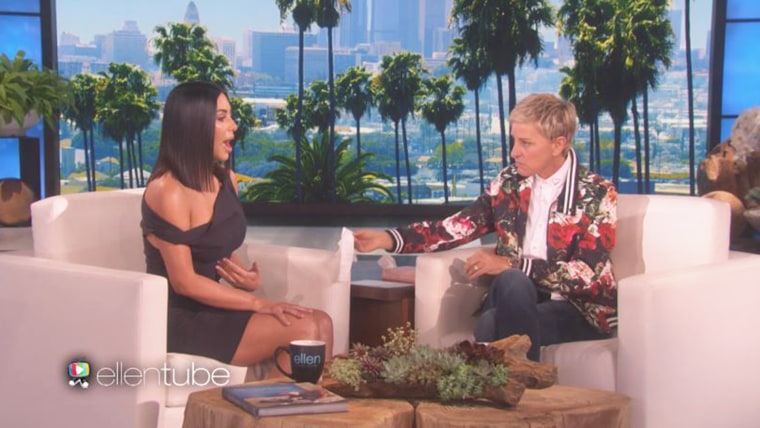 "You thought you were going to die?" DeGeneres asked.
"One hundred percent," Kardashian West answered. "I said a prayer, I'm like, 'I know I'm going to heaven. I hope my kids are OK, my husband.'… But it does happen really fast. It was a good seven or eight minutes of torture, but when I look back and I analyze it, I'm like, OK, they weren't really aggressive. It could have been way worse."
RELATED: Kim Kardashian relives robbery: 'I just knew they're just going to shoot me in the head'
More than 10 million dollars' worth of jewelry was stolen from her that night, but as she told DeGeneres, she's grateful that she's safe and she's "such a better person."